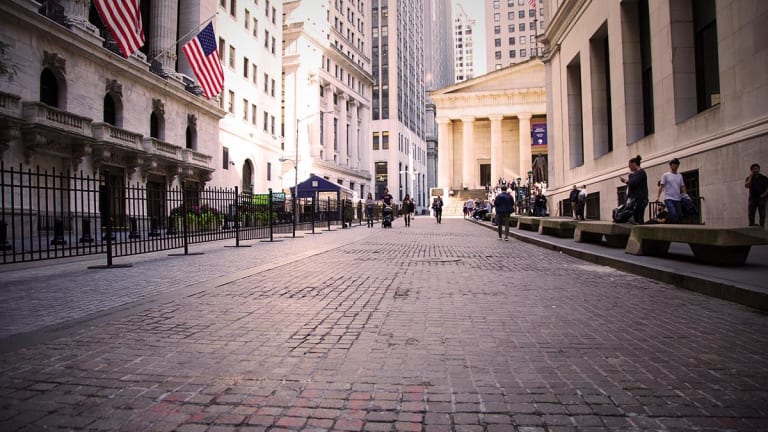 Silver Lining to Tech Selloff; More Weed Cos. Head to U.S. Exchanges -- ICYMI
Here's what you need to know now for Oct. 10.
Phew, Wednesday was a rough day for most investors (unless you were short the market -- nice call, so far) as the major U.S. indexes declined the most in a single day of trading since Brexit. But with sell-offs, we should talk buying opportunities. TheStreet's Eric Johnsa points out a number of tech companies that could be reaching buyable levels from a valuation perspective. Among them is Box BOX, which trades at about 3.7 times expected fiscal 2020 (ends in Jan. 2020) billings of $827 million. "Though its growth has slowed a bit and competition from Microsoft MSFT and others remains intense... the company still has a lot of room to increase usage of its cloud content-storage and collaboration platform at many Global 2000-type accounts," Jhonsa writes noting projected 17% growth in fiscal 2019 and 20% in fiscal 2020. Among other tech stocks to trade lower Wednesday were DocuSign DOCU, Adobe ADBE, AMD AMD, Inuit INTU and a number of others. FAANG stocks, the most notable of tech stocks, all closed down more than 4%, big moves for companies with such large market caps.
Want to Buy Stocks for a 10% or Greater Discount? You can with certain so-called "closed-end" mutual funds - an often overlooked investment class. Click here to register for a free online video in which TheStreet's retirement expert Robert Powell and an all-star panel run down all you need to know.
For those looking for a reprieve from the carnage, TheStreet's co-founder Jim Cramer explains that the hurting may continue until the Fed gets its head on straight. Cramer explains the rotation out stocks and into bonds has hurt equity appetite more than anything and that it "really can't be broken until the Fed walks things back.
OK, enough of the bad news for today. How about some good news?
Investors hungry for more U.S. exchange-listed cannabis companies are in luck as two more Canadian companies seemed to be headed south of the border. The cross-border exchange that finds U.S. cannabis companies listing in Canada and Canadian companies coming south continues as Aurora Cannabis readies for a New York Stock Exchange listing and Aleafia Health Inc. sets for a Nasdaq spot. In a statement from the company, Aurora says it expects to be trading on the NYSE by the end of the month. Currently it's listed on the Toronto TSC Venture Exchange, on OTC Group's QB level and in Germany. When the listing on the NYSE is approved, Aurora says it will discontinue trading at OTC. Aleafia also trades on the Toronto TSC Venture Exchange as ALEF and OTC's QB level. The company will continue to trade in Canada but will drop its OTC listing after Nasdaq gives its blessing. Aurora joins Canadian neighbor Canopy Growth CGC on the Big Board. Besides Aleafia, Nasdaq already lists cannabis companies like Cronos Group Inc. CRON as well as Tilray Inc. TLRY from Canada and 11 other companies including GW Pharmaceuticals GWPH, Arena Pharmaceuticals Inc. ARNA and Cara Therapeutics Inc. CARA, The Deal's Bill Meagher points out. Elsewhere in the cannabis industry, Mile High Labs, a big CBD producer based in Colorado, is eyeing a potential IPO after raising the largest Series A round of funding ever in the budding cannabis industry, The Deal's Steve Gelsi reports.
Markets Today: The Dow Jones Industrial Average ended off more than 800 points on Wednesday, Oct. 10, as waves of selling hit Wall Street amid questions over the pace of economic growth and the impact of the still-simmering trade dispute between Washington and Beijing. The Dow fell 831.83 points, or 3.1%, to 25,598. The S&P 500 declined 3.3%, and the Nasdaq was down 4% as the tech sector was the market's worst performer on Wednesday.
This is an excerpt from "In Case You Missed It," a daily newsletter brought to you by TheStreet. Sign up here.