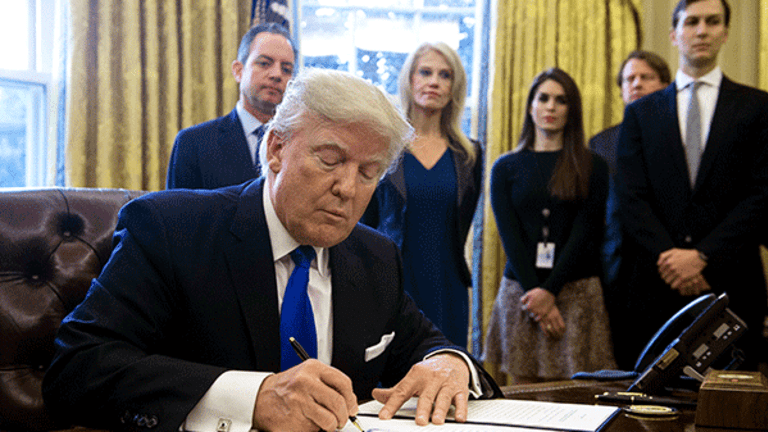 A Report Card on Trump's Agenda
Where do things stand on The Donald's economic plans?
(Editor's note: This is the first column for TheStreet from bond expert Peter Tchir. Click here to learn more about what he'll be writing about and how investors can benefit from his insights.)
With the Donald Trump era getting underway, let's take a look at what the new president has on his plate and how likely some or all it is to become a reality.
Here's a "heat map" I put together that measures how big of a priority various things that Trump has talked about are and how easy or tough they'll be to actually pass:
Let's see where some of items of interest to investors currently stand:
Obamacare
The chart above separates repealing Obamacare into two parts: "Repeal" and "Replace."
I thought the difficulty in replacing Obamacare would put the whole thing on the back burner, but it seems like the "repeal" part is moving full steam ahead while there's little to nothing being done on the "replace" portion.
So far, the behavior on this subject gives me some real concerns about the Trump administration's ability get things done effectively. I don't want to overreact, but I'm not impressed.
Cabinet Appointments
This is going more smoothly than I thought. Trump seems to be fully able to use the Senate's confirmation system to get the people he wants in the roles he wants.
However, I'm a little discouraged by how few appointees have been named. From what I've read, the new president is way behind in terms of the number of nominees named. He needs to correct this going forward, but so far the administration has done an effective job in this time-consuming task.
Infrastructure
I expected infrastructure-spending details to take the backburner in Trump's early days, and that seems to be the case (with the exception of energy, as I note below).
My concern about the infrastructure spending is that that Congress will have no trouble passing a massive infrastructure-spending plan in principle, but will struggle to figure out how to divvy up the spoils.
However, I do strongly believe that "builders build," and Trump is a builder. Coupled with his strong desire to get into the trenches personally, that could really help move infrastructure spending forward.
Energy Infrastructure
Energy infrastructure is so important that it deserves a separate section. This administration will focus on energy, with energy distribution/transmission companies making out particularly well.
Energy projects have the advantage of support from:
"Pro-energy" Republicans, of which there are many;
"Pro-defense" Republicans, as energy self-sufficiency makes America stronger;
Those who want to show change, as energy was an area where the Obama administration put up many roadblocks in terms of regulations.
This won't be great news for oil or natural-gas prices, as it will allow America to turn on the spigots, creating supply issues. But I expect companies focused on transmission systems like pipelines to do very well.
These policies should benefit smaller U.S. companies more than they'll help large integrated multinationals. So, focus on firms that could be acquired for their domestic businesses.
Dodd-Frank
I expect the new administration to underfund enforcement of the Dodd-Frank law's Volcker Rule, despite some support that Treasury Secretary-nominee Steven Mnuchin made for it during congressional questioning.
Personally, I think the Volcker Rule is one of Dodd-Frank's worst part. It's costly, has hurt liquidity and I don't think it even addressed a real problem (market-making desks were never the issue). Defunding the rule's enforcement would be good for banks and investors.
On the larger issue of repealing Dodd-Frank in toto, investors need to accept that the measure is largely here to stay for large banks. That said, there will probably be "carve-outs" for smaller banks, which I think will be a good policy because thriving community and regional banks should help the U.S. economy.
Corporate Taxes
This is potentially the most radical change that could occur. The range of outcomes is extremely wide, and some of them are potentially mind boggling in their implications.
Of course, it's extremely difficult to figure out what will actually happen, as there seem to be as many proposals as there are politicians in Washington. A border tax, coupled with taxes (albeit reduced ones) on repatriated overseas cash and an end to the corporate interest-expense deduction could fund a massive cut to the headline corporate-tax rate.
What does a General Electric (GE) - Get Free Report or an Apple (AAPL) - Get Free Report look like after an initial overseas-cash repatriation and a world where America has border taxes and no corporate-interest deduction?
I think this has the potential to turn earnings projections on their heads. Ironically, some of the firms that have operated most efficiently in the current tax and regulatory regime are less likely to benefit from these changes. I think this is yet another example of small- and mid-cap companies having more to gain that large ones.
Any views or opinions expressed herein are those solely of Peter Tchir. This information is for educational and/or entertainment purposes only, so use this information at your own risk. Peter Tchir is not a broker-dealer, legal adviser, tax adviser, accounting adviser or investment adviser of any kind, and does not recommend or advise on the suitability of any trade or investment, nor provide legal, tax or any other investment advice.