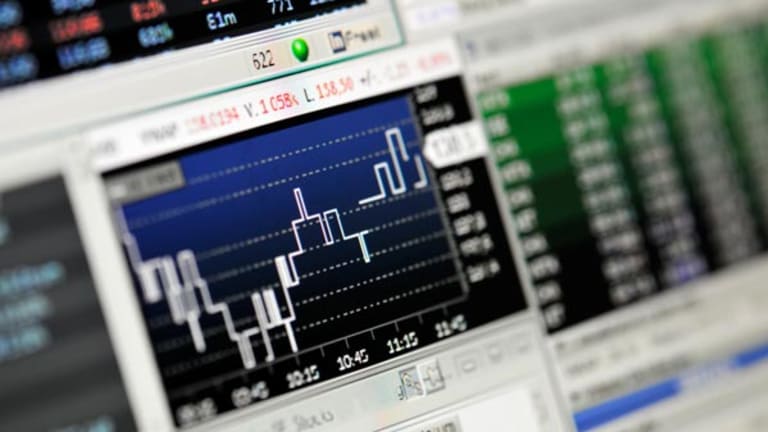 A Mobile Price War Looms
If sales in Asia slow this winter, Motorola and Nokia could flood the global market with cheap phones.
This column was originally published on RealMoney on July 18 at 2:00 p.m. EDT. It's being republished as a bonus for TheStreet.com readers.
On Wednesday and Thursday, the big questions about the phone market in the second quarter of 2006 will be answered. As
Motorola
(MOT)
,
Texas Instruments
(TXN) - Get Free Report
,
Nokia
(NOK) - Get Free Report
and
LG
report within 24 hours of each other, I would argue that investor focus is going to be almost exclusively on their phone sales volumes.
There are periods during which markets fixate on average sales-price numbers, but this is not one of them. The biggest fears now center on handset-volume growth, and this likely will drive the market reaction to Motorola and Nokia and, by extension, component supplier Texas Instruments.
All three are well positioned to deliver volume upside surprises. Some are worried about inventory buildup and third-quarter prospects, but in my view it isn't likely these companies will offer detailed commentary on their third-quarter outlooks. They all have edged away from being too proactive on guidance, and this is likely to continue unless there is rapid deterioration in the marketplace right now, which I don't believe.
Waiting for the Next Slowdown
When
Sony Ericsson
raised its 2006 global handset unit estimate to 900 million, the markets didn't bat an eyelid. Estimates by independent research firms had already raced to 950 million and beyond by last spring. Given that global handset sales hit 517 million units in 2003, we are looking at a near doubling of annual sales in only three years.
This, of course, cannot continue. Global handset volume isn't going to be 1.8 billion in 2009. The big question is whether the key players handle the growth slowdown better than the last one.
The mobile-phone industry experienced its first year-on-year unit decline in 2000-01, and it pushed every major vendor, apart from Nokia, into the red. The relatively mild 10% drop in sales pushed
Sony
undefined
and
LM Ericsson
undefined
into merging their handset units, and devastated the Japanese vendors, which never recovered. NEC and Panasonic (both of which flirted with 10% global market shares during the 1990s) were replaced by Samsung and LG during the following upswing.
The 2001 blowup was driven by Europe and North America. As upgrade sales in affluent markets dried up, phone prices came under strong pressure, even as some developing markets chugged along. The next crisis is probably going to be driven by markets such as India and China. Nokia and Motorola have ramped up their Chinese production volumes feverishly over the past three years. Smaller brands such as Sony Ericsson, Samsung and LG have been unable to crack the Chinese mass market, and as a result, their handset production facilities in China are trailing far behind the big two.
When Chinese handset-sales growth finally slows down, Nokia and Motorola will be able to flood the world with low-cost phones from their cutting-edge Chinese factories. Their new production lines can switch between different production runs faster than ever -- they can be reassigned to produce phones popular in Germany or Brazil at the drop of a hat. In 2001, production was far more regional; capacity and logistics for dumping phones from China to Europe didn't quite yet exist. Nokia's production tech is still a step ahead of Motorola's, but the gap is not as wide as it was five years ago.
Investors are aware of the new structure of the global phone market, and they are likely to watch Nokia's and Motorola's second-quarter volume figures for any sign of softness. Globally, phone volumes have surprised to the upside for three years running. The first slip is what the markets are waiting for, and what investors have now priced in over the past month.
Volume Code
Ben Wood from Collins Consulting crystallizes the rumblings that are emerging from several independent research outfits: "We're expecting Nokia and Motorola to have a strong Q2 as the relentless demand for mobile phones continues. Q3 might be a different story, as we have heard that there has been some inventory building in certain European channels toward the end of Q2."
For the second quarter, Nokia is expected to report sales of 79 million units and Motorola, 49 million. I think the bottom line here is that to soothe market anxiety, Nokia needs to crack 80 and Motorola needs to crack 50. Investors are aware of inventory buildup issues in Europe and need to see numbers a tick above consensus to calm down for a while. Both goals are doable; Samsung had a bit of a cave-in during the second quarter and basically handed over 3 million units for Nokia and Motorola to split.
European consumers may be wobbling a bit, but ultimately, the handset market now pivots on the China-India axis. Even amid continuing warning signs on U.S. consumer spending -- most recently from the
Target
warning -- the Chinese economy is stuck in overdrive. However, its 10.9% GDP growth rate for the first half of 2006 is very likely a peak. The Chinese government is highly likely to take some measures here -- and that may happen just as U.S. orders start declining in the third quarter.
If Asian sales growth slows down by the fourth quarter, next winter may well be a battle of logistics and price-cutting prowess. If global volumes start to disappoint, Nokia and Motorola will try to turn their massive new Chinese manufacturing bases into giant engines of global price wars that are likely to be more devastating than what we witnessed in 2001.
This is a battle that Motorola is likely to lose, as it didn't catch up to Nokia in either production-line technology or overall volumes during the boom period of 2002-06. I would guess that Motorola's phone margins will hit zero before Nokia's hit 12%.
That may be the big race of 2007, but for now, both companies are positioned to deliver solid second-quarter phone sales numbers. Both also are likely to put in dreadful mobile-infrastructure performances, so the phone numbers need to be big enough to offset that.
P.S. from TheStreet.com Editor-in-Chief, Dave Morrow:
It's always been my opinion that it pays to have more -- not fewer -- expert market views and analyses when you're making investing or trading decisions. That's why I recommend you take advantage of our
to TheStreet.com's
RealMoney
premium Web site, where you'll get in-depth commentary
and
money-making strategies from over 50 Wall Street pros, including Jim Cramer. Take my advice --
At time of publication, Kuittinen had no positions in the stocks mentioned.
Tero Kuittinen is a senior product specialist for Nordic Partners, Inc., a pan-Nordic brokerage firm. Although Kuittinen is an employee of Nordic Partners, Inc., the statements above are being made in Kuittinen's personal capacity and are in no way are the statements of Nordic Partners, Inc., nor attributable to the company. Under no circumstances does the information in this column represent a recommendation to buy or sell stocks. Kuittinen appreciates your feedback;
to send an email.