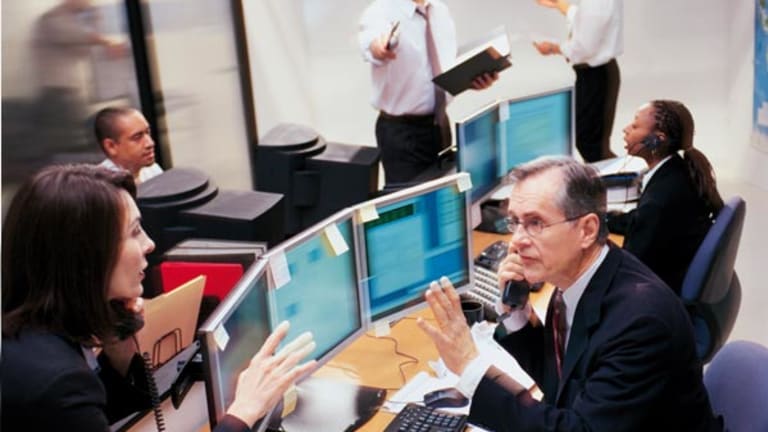 A Few Fears for Sears
I don't think support has broken yet, but if the stock stalls at the 50-day MA, it might be time to get out.
This column was originally published on RealMoney on Dec. 27 at 11:00 a.m. EST. It's being republished as a bonus for TheStreet.com readers. For more information about subscribing to RealMoney, please click here.
Every so often I get email from readers that I think might be of interest to folks, so I'll post it in an article (which is the best I can do without a
RealMoney
blog). In this case, I was asked if I was starting out today and wanted to learn about chart analysis and options, were there any particular books I would read.
First, chart analysis and options are two different -- but related -- animals. To start, the best book on chart analysis I've read in quite some time is written by Bruce Kamich, titled "
How Technical Analysis Works." At nearly 300 pages, it really takes the reader from A to Z. The book is very well-written and should be read methodically from front to back and not as a reference book. Read that book, and you've got a good starting point to explore integrating chart analysis into your trading approach.
As for options, I would seriously suggest they be avoided until you have become adept at chart analysis. I have been trading options for almost 10 years and will tell you the options market is a very expensive school to attend. The most critical aspect of trading options is timing. If your timing is off, you wind up having big issues in respect to discipline and money management. The value of your option can decline to an extent that you really feel you must close your position as a function of trading discipline and capital preservation, even though the price action is not giving you much indication that you are wrong (as opposed to just early) on your trade.
Because trading is inherently speculative, being wrong is part of the game. The best traders are wrong often -- but they take small losses and can make them up fairly quickly. But trading options does not give you much leeway for error unless you are very sophisticated and well-financed. Some will tell you that the beauty of options is that your downside is limited. They are correct -- the most you can lose is 100%, and not a penny more.
With that said, the seminal book on options was written by Larry McMillan, "
McMillan on Options."But you can also go to
www.cboe.com and find some good introductory tutorials to options trading.
If you do decide to trade options, I'd recommend paper trading first, using rigid stops including intraday prices. You'll be surprised at the variation in price throughout the day. Simply looking at end-of-day data for paper trading is not realistic. When your money is on the line, every price matters, and a 30% intraday drop in the value of your option is always enough to bring you back to reality.
Let's look at some reader requests.
On the left side of this
Electronic Arts
undefined
daily chart, I've drawn an arc along the
Price-by-Volume bars to highlight the decline in volume between $52 and $42. As volume declines, the level of financial commitment diminishes. After all, folks remember the price level they bought or sold. When a stock returns to that price, their reaction is fairly predictable. And if few shares trade at a particular level, a price trend will often just slice right through it until it finds the next meaningful level. Since ERTS has now fallen below prior support at $52, further price declines are likely because of the emotional vacuum created by a lack of trading.
The daily chart of
Sears
(SHLD)
is starting to resemble a short-term top, with a series of lower highs and horizontal support at $168 - $170. But if you're looking to short SHLD, it pays to consider how far the stock is likely to fall before attracting buyers. I've circled three likely support levels.
But what about now? Has support really broken down? I don't think so -- not yet. And with stochastics now at an oversold level, I'd look for a rally over the next few days. Assuming SHLD does start catching some bids, the real battleground should be the 50-day moving average. If the stock stalls at that level, I'd use the rally as an opportunity to sell.
The daily chart of
Goldman Sachs
(GS)
shows a stock slowly falling below support. The middle Bollinger Band has been defining support for the last couple of months, but that's rolling over. In fact, you'll notice they have started to tighten up, indicating the beginnings of a volatility squeeze. If you are long GS, then why not try putting a stop below the 50-day moving average? That's where the recent uptrend began on a breakout from the 50-day moving average back in early September.
Advanced Micro Devices
(AMD)
has been holding at $20 for the last couple of months after the mid-October breakdown. The sharp rally from $20 to almost $23 a couple of weeks ago did not hold up at all, and I'd look for any breach of $20 to flush out a whole new batch of sellers.
The rally that began in late September now appears complete in this daily chart of
Alcan
(AL)
. I've drawn the uptrending channel that contains the November to mid-December trading range. The support line coincided with the middle Bollinger Band (the 20-day simple moving average), but that's now history. I'd look for support at the 50-day moving average now. We'll quickly know whether any rally has legs by watching how the stock acts at $49. That's the level where the uptrend broke down. If the stock returns to that level and fails to move higher, I'd be looking at AL as a potential short candidate. But if the stock moves back above $49, then this December pullback will likely turn out to be the pause that refreshes.Be careful out there.
At the time of publication, Fitzpatrick had no positions in the stocks mentioned, though positions may change at any time.
Fitzpatrick is a freelance writer and trading consultant who trades for his own account in Encinitas, Calif., and contributes to
. He is a former co-manager of a hedge fund and teaches seminars on technical analysis, options trading and asset-protection strategies for traders and business owners. Fitzpatrick graduated from the McGeorge School of Law and was a fellow at the Pacific Legal Foundation, a nonprofit public interest firm specializing in constitutional law. He also practiced law in the private sector before pursuing trading as a full-time career. Under no circumstances does the information in this column represent a recommendation to buy or sell stocks. While Fitzpatrick cannot provide investment advice or recommendations, he appreciates your feedback;
to send him an email.
TheStreet.com has a revenue-sharing relationship with Amazon.com under which it receives a portion of the revenue from Amazon purchases by customers directed there from TheStreet.com.