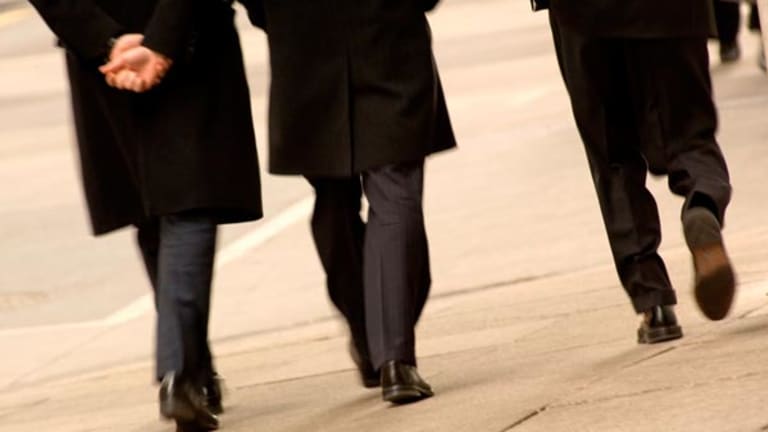 Publish date:
A Black Friday for Stocks
The Dow falls 300 points, hit by Cat, Honeywell and 3M. Google fails to lift the tech sector.
The Dow falls 300 points, hit by Cat, Honeywell and 3M. Google fails to lift the tech sector.
Updated from 4:10 p.m. EDT
Stocks in New York were pummeled Friday as the outlooks from the industrial sector disappointed investors and added to worries about the U.S. economy.
The
Dow Jones Industrial Average
sank 366.94 points, or 2.64%, to 13,522.02. The
S&P 500
was off 39.45 points, or 2.56%, at 1500.63, and the
Nasdaq Composite
plunged 74.15 points, or 2.65%, to 2725.16.
"This is a bad way to close a Friday afternoon," said Paul Mendelsohn, chief investment strategist with Windham Financial. "Now there are serious questions about earnings going forward."
At the end of it all, the major averages saw their string of five consecutive winning weeks come to an end. The selloff also came 20 years to the day of the infamous Black Monday crash that erased more than 500 points, or nearly 23%, from the Dow in a single session.
For the week, the Dow and the S&P 500 each lost 4%, and the Nasdaq gave back 2.9%. It was the worst downturn for the indices in two months.
Linda Duessel, senior portfolio manager and market strategist with Federated Investors, said "sentiment has been getting too euphoric, which set the market up for a consolidation of gains. We went through too many levels to the upside, and we found a reason to pull back today."
Breadth was decidedly negative to end the week. On the
New York Stock Exchange
4.10 billion shares changed hands, and volume on the Nasdaq reached 2.42 billion shares. Losers outpaced winners roughly 5 to 1.
Ahead of the open, earnings came in at a rapid clip, including results from several Dow components.
Caterpillar
(CAT) - Get Report
dragged on the index after missing Wall Street's target for third-quarter earnings. The company also cut its full-year outlook to a range below forecasts and offered gloomy comments about the U.S. economy.
Shares shed $4.09, or 5.3%, to end at $73.57.
Fellow industrial giants
3M
(MMM) - Get Report
and
Honeywell
(HON) - Get Report
also stumbled after their profit reports. 3M beat the Thomson First Call earnings estimate, but fell short of revenue targets. Honeywell posted in-line results.
3M dropped 8.6% to $86.62, and Honeywell finished down 3.9% at $58.32.
Another Dow component,
McDonald's
(MCD) - Get Report
, fared better, with shares down 0.7% at $56.42 after the fast-food giant posted profits that met recently raised targets.
Treasury prices rallied again as traders moved into the so-called safe haven of the bond market. The 10-year note was up 22/32 in price, cutting the yield to 4.40%. The 30-year bond added 1-11/32 in price, yielding 4.69%.
"The Fed should lower rates when it meets at the end of the month, but the lower yields on the bonds don't necessary mean that," said John Canavan, market analyst with Stone & McCarthy Reseach Associates. "It's a reaction to what equities did this week as well as growing concerns in the credit market. It's far from over."
The financial sector was among the hardest hit. The NYSE Financial Sector Index dropped 2.7%, the Nasdaq Financial 100 Index slumped 2.6%, and the KBW Bank Index lost 2.4%.
"Financial name after financial name has given us a stacking effect with worse-than-expected results," said Steven Sheldon, principal with SMS Capital Management. "Seeing this, there is a fear and likelihood that the rest of businesses will start to slow. If these financials are having massive writedowns, then you have to question how this affects the entire economy."
Crude oil, which has set a series of new record highs in recent days, slid 87 cents to close at $88.60 a barrel. Still, it gained nearly 6% this week.
Last time out, record crude prices coupled with miserable earnings from
Bank of America
(BAC) - Get Report
and
Washington Mutual
(WM) - Get Report
to pressure stocks. The Dow finished down 3.58 points to 13,888.96, and the S&P was off 1.16 points to 1540.08.
The Nasdaq gained 6.64 points, or 0.24%, to 2799.31.
Tech stocks were unable to carry over that momentum even with
Google
(GOOG) - Get Report
, which delivered a third-quarter earnings report after the close that beat both top- and bottom-line estimates. Shares advanced $5.09, or 0.8%, at $644.71.
Also after the previous session, chipmakers
Xilinx
(XLNX) - Get Report
and
SanDisk
(SNDK)
exceeded estimates on an earnings-per-share basis.
Advanced Micro Devices
(AMD) - Get Report
posted a big loss.
SanDisk dove 15.1% to $42.71, shares of AMD slid 5.5% to $13.80, and Xilinx was lower by 2.5% to $25.31.
Oil giant
Schlumberger
(SLB) - Get Report
posted a 35% rise in profit from a year ago, handily beating estimates.
Boston Scientific
(BSX) - Get Report
swung to a third-quarter loss, but it surpassed the Thomson First Call consensus of 7 cents a share on an adjusted basis.
Schlumberger, though, tanked 11% to $99.32, while Boston Scientific rallied 4.1% to end the day at $14.42.
Elsewhere,
Wachovia
(WB) - Get Report
echoed the same issues other lenders had last quarter, reporting earnings that missed estimates due to writedowns related to the recent credit crisis. Wachovia was off $1.74, or 3.6%, to close at $46.40.
The major averages were further upset after
Federal Reserve
Chairman Ben Bernanke offered cautious comments on the central bank's ability to depend on economic data going forward during a speech in St. Louis.
"The fact that the public is uncertain about and must learn about the economy and policy provides a reason for the central bank to strive for predictability and transparency, avoid overreacting to current economic information, and recognize the challenges of making real-time assessments of the sustainable level of real economic activity and employment," Bernanke said.
"Most fundamentally, our discussions of the pervasive uncertainty that we face as policymakers is a powerful reminder of the need for humility about our ability to forecast and manage the future course of the economy," he concluded.
Overseas markets were lower. In Asia, Japan's Nikkei 225 slid 1.7%. In Europe, London's FTSE 100 dropped 1.2%, and Germany's Xetra Dax was off 0.5%.