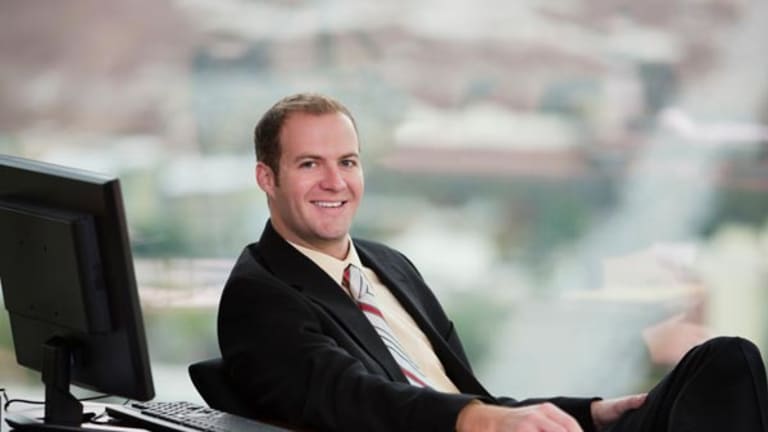 A Better Energy Alternative: Efficiency
No matter what fuel source we use, Intermagnetics and Echelon should benefit.
No matter what fuel source we use, Intermagnetics and Echelon should benefit.
This column was originally published on RealMoney on May 1 at 11:04 a.m. EDT. It's being republished as a bonus for TheStreet.com readers.
There is a feeding frenzy going on in alternative-energy stocks. It is not difficult to identify the source of everyone's excitement. With oil at $75 threatening the economy's buoyancy and our reliance on the Middle East for energy facing myriad pressures, not the least of which is a nuclear Iran, alternatives to oil seem like a terrific solution.
Whether it is ethanol, solar or hydrogen, stocks of companies in these areas are all experiencing huge interest and appreciation.
Pacific Ethanol
(PEIX) - Get Report
has tripled since President Bush first uttered the word ethanol, and even perennial cash destroyers such as
Ballard Power
( BLPD) have seen share prices double. But the long-term viability of these technologies as suitable substitutes is still in question.
Given the cost issues and uncertainty surrounding the prospects for the different alternative-energy sources, I have identified two companies that should benefit regardless, simply by adding efficiency to existing platforms:
Intermagnetics
( IMGC) and
Echelon
(ELON)
. Both offer technologies that improve energy efficiency and reduce costs for providers.
Problematic Alternatives
The trouble with most of these alternatives is cost. While from an environmental standpoint the technologies represent significant improvements, without subsidy there is no significant cost savings. In the case of hydrogen there is doubt whether it is even a viable alternative, considering all the energy needed to produce the fuel itself.
Quoted in an article titled "The Price of Power," Penn State economist Tim Considine is not positive on the prospects for hydrogen. The article, written by Dana Bauer and published on
Research PennState
, states:
According to a 2004 report from the National Academy of Engineering, "the vision of the hydrogen economy is based on the expectation that hydrogen can be produced from domestic energy sources in a manner that is affordable and environmentally benign," and that "applications using hydrogen -- fuel cell vehicles, for example -- can gain market share in competition with the alternatives." The conclusion of the committee that authored the report? A transition to a hydrogen economy is, at best, decades away.
The case with ethanol isn't much different; this is from U.S. Department of Energy Web site:
Although ethanol is more expensive to produce than gasoline, federal tax incentives reduce the price to a competitive level. Ethanol prices tend to vary regionally due to availability and promotional efforts by retailers.
But no matter what the fuel source, Intermagnetics and Echelon offer technologies that improve energy efficiency and reduce costs for providers.
Intermagnetics
Intermagnetics specializes in technologies based on magnets. The main business is superconductive magnets and coils for MRI (magnetic resonance imaging). This has been a great growth business that still offers tremendous opportunity. The uses for MRI are expanding beyond usual applications, creating greater demand for IMGC products. Also, as the technology and capabilities expand, so does the complexity of the magnets and coils, forcing many MRI original equipment manufacturers to outsource magnets from companies with more specialized and sophisticated research programs.
Intermagnetics is a leader in the field. In 2004, Intermagnetics acquired the MRI patient-monitoring company Invivo. This product line offers good growth potential as MRI applications expand. Invivo recently announced a partnership with the Office of Naval Research to develop advanced MRI system to diagnose and treat brain injuries. This technology could replace CT, or computed tomography, as a more effective tool for these applications.
The energy-efficiency component of the company is its superconductive materials subsidiary, Superpower. Intermagnetics has aimed its technological know-how at high-temperature superconductivity, which promises to offer a new generation of power cables capable of substantially more efficient transmission of energy. The company's annual report explains, "High-temperature superconducting ('HTS') materials could become a key solution to what the U.S. Department of Energy has described as a national electrical transmission and distribution infrastructure that is rapidly becoming incapable of meeting the demands of our modern economy."
The company has achieved world-record performance from its technology. In its annual report, it stated that the 2005 Energy Policy Act, which was signed into law by the president on Aug. 8, 2005, will serve as a major stimulus for accelerating the development and adoption of HTS technology.
This technology reduces energy loss during transmission by half, and the cables can carry three to five times as much power density as conventional cable. Superconducivity enables the transmission of more power, faster and more efficiently, with substantially increased capacity. The blackouts of 2003 highlight the capacity limitations of the current infrastructure.
Unlike conventional copper cables, superconductive cables don't require oil to operate and are therefore a safer and cleaner alternative. As the world energy community investigates ways of getting more from existing power sources, these types of efficiency-enhancing technologies will become attractive investments. For the longer term, HTS has the opportunity to penetrate other markets, such as motors and generators.
Intermagnetics' current market cap is $920 million on sales of just more than $300 million, with expected earnings for the current year of 72 cents per share. The only direct HTS competitor that is publicly traded is
American Superconductor
(AMSC) - Get Report
, which sports a $350 million market cap. American Superconductor is already developing HTS-based motors and generating more than $50 million in revenue -- but also incurring losses.
Intermagnetics' more diverse portfolio could translate into a premium valuation to its competitors'; management has indicated it intends to spin out or sell Superpower. If the spinoff can secure a valuation between $200 million and $350 million, Intermagnetics' remaining core business would be valued between $550 million and $700 million, or about 2 times revenue with a price-to-earnings-to-growth ratio close to 1 time the long-term growth rate.
That is a reasonable price to pay for a consistent double-digit revenue grower with strong R&D and a diverse product pipeline. As an added benefit, with a few positive developments, a Superpower spinoff may be very well received, providing additional gains.
Echelon
Echelon is a global networking company that provides technology for controls, energy and environment management and smart metering. In addition to interconnecting and monitoring heating, ventilation and air conditioning (HVAC), control systems are used in buildings to manage such functions as energy usage and consumption, elevators, lighting, security and access control. Electric utilities may use control systems to remotely turn power on or off to a customer, read usage information from a meter or detect a service outage.
According to the latest studies, up to 65% of lighting energy and up to 35% of heating and cooling energy can be saved through LON (local operating network) building automation. Primary energy demand can be lowered by up to 50%. Without LonWorks-enabled devices, buildings consistently have lights operating on floors where there is no need and heat distributed where it is not required.
The city of Oslo is using Echelon technology to reduce streetlight energy costs by 30%. With LonWorks, light failure is now immediately recognized by the system, and lights can be dimmed or brightened in response to environmental feedback, translating into significant energy savings. By avoiding unnecessary lamp operation, lamp life is extended, reducing replacement costs.
Oslo is the first major European city to implement this initiative, so there remains tremendous opportunity for the company. According to a recent press release, The China Academy of Rail Sciences and Sifang Rolling Stock Research Institute have recently standardized on Echelon's LonWorks networking platform for safety monitoring on next-generation passenger trains, effectively making it a standard for high-speed rail travel in the world's largest passenger rail transport market.
Echelon and
Enel
( EN), the leading energy supplier in Italy, developed a remote-metering technology incorporating Echelon's LonWorks technology for Enel's Italian customers. Through this project, Enel replaced its existing stand-alone electricity meters with networked electricity meters to about 27 million customers throughout Enel's service territory in Italy. That project is now complete, and it demonstrates the benefits of the technology.
Echelon currently offers utilities its advanced remote-metering networked energy services system (NES). NES' advantages over more typical metering systems include automated scheduled reads of electric, gas, water and heat meters and on-demand immediate reads, thus eliminating most meter-reading costs. The technology also enables utilities to employ flexible tariffs for consumers, such as time of use/peak use pricing, and allows remote connect and disconnect features. The system's detailed per-meter supply statistics allows usage analysis for more efficient distribution of energy.
After the Enel project was completed in 2005, Echelon suffered a period of declining revenue. Recently, the company has regained some traction, gaining two new customers for its metering technology, including the Swedish utility
Vattenfall AB
, which will initially install the technology to 300,000 customers, with the potential to reach 700,000. More importantly, this could signal the start of an upgrade cycle for utilities to more sophisticated monitoring platforms.
Echelon's current market cap is $330 million. The company has a stellar balance sheet, with $154 million in cash and no debt. While the company is expected to post losses this year and next, revenue is expected to grow 60% next year to $120 million, pushing the company close to profitability. Echelon was profitable from 2001 through 2004. One additional utility installation should quickly return the company to profits.
Looking to the future, Echelon's LonWorks platform should gain momentum as additional businesses and governments recognize the cost and energy savings. Home automation represents another opportunity; many major appliance manufactures, such as
Samsung
and
Fuji Electric
, are dedicating resources to developing next-generation networked home appliances on the LonWorks platform. I believe that, at current prices, Echelon offers a solid platform from which investors can build profits.
Please note that due to factors including low market capitalization and/or insufficient public float, we consider Echelon and American Superconductor to be small-cap stocks. You should be aware that such stocks are subject to more risk than stocks of larger companies, including greater volatility, lower liquidity and less publicly available information, and that postings such as this one can have an effect on their stock prices.
P.S. from TheStreet.com Editor-in-Chief, Dave Morrow:
It's always been my opinion that it pays to have more -- not fewer -- expert market views and analyses when you're making investing or trading decisions. That's why I recommend you take advantage of our
to TheStreet.com's
RealMoney
premium Web site, where you'll get in-depth commentary
and
money-making strategies from over 50 Wall Street pros, including Jim Cramer. Take my advice --
At the time of publication, Bulwa was long Intermagnetics and Echelon, although holdings can change at any time.
Steven Bulwa is an independent portfolio manager based in Toronto. Under no circumstances does the information in this column represent a recommendation to buy or sell stocks. Bulwa appreciates your feedback;
to send him an email.