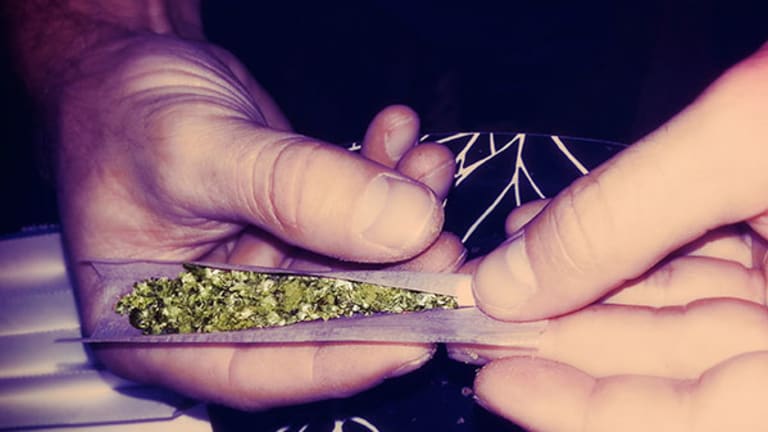 The 5 States Most Likely to Legalize Pot Next
The times, they are a-changin' for marijuana use as longtime prohibition laws risk going up in flames. TheStreet investigates the eight states likely to change cannabis laws next.
NEW YORK (TheStreet) -- The times, they are a-changin' for marijuana, as long-time prohibition laws risk going up in flames.
Over the weekend, The New York Times advocated for legalization of pot at a national level, arguing that the "social costs" of the current prohibition laws are vast -- unreasonable prison sentences, a judicial system skewed against minority groups and the disadvantaged, the turning of law-abiding citizens into petty criminals.
While the road to legalizing and regulating marijuana use will not be one without challenge, The Times (the first mainstream media outlet to issue an opinion so strong) remains optimistic that creating the systems for the "manufacture, sale and marketing" of the drug are solvable problems.
Already, calls for legalization are growing louder, albeit at a state-by-state level rather than federal. Colorado was the first state to pass and implement legal marijuana laws with its first sale on January 1 this year; next was Washington which opened the doors to legal recreational pot stores on July 8. Meanwhile, in the rest of the country, grassroots activists fight and campaign, while politicians teeter on whether to relax laws.
According to a national survey by Pew Research Center earlier this year, 75% of Americans believe the sale and use of marijuana will eventually be legal nationwide, a majority opinion even among those who oppose its use.
It's a lucrative move for states to legalize the drug, too. Since Colorado embraced legalization, the state's coffers have gotten fuller. In the first quarter of the year, Colorado generated nearly $11 million from tax and licensing fees on recreational marijuana sales alone, a figure likely to grow as kinks in the supply chain are teased out.
Even President Obama has weighed in on the debate of whether or not to legalize. In an interview with The New Yorker earlier this year, Obama supported Colorado and Washington's legalization efforts but stopped short of making any statement on whether it could play out on a federal level.
"It's important for it to go forward because it's important for society not to have a situation in which a large portion of people have at one time or another broken the law and only a select few get punished," he told the publication.
The dominoes are stacked but which will be the next to fall? TheStreet investigates the five states likely to next embrace marijuana law reform...
Oregon
Possibly swayed by its northern-border state Washington, Oregon is making strides to make recreational cannabis use legal. The northwestern state already has both medical and decriminalization laws in force.
Oregonians are due to vote on the Control, Regulation and Taxation of Marijuana Act in November 2014. If passed, the law would allow for cannabis to be sold and used by adults over 21 beginning July 2015.
A recent report by ECONorthwest estimates the state will generate $38.5 million in excise tax revenue over the first fiscal year of recreational sales. 
Alaska
Cannabis reformers in Alaska have been committed and they've been loud, managing to turn a predominantly red state into the next likely region to allow recreational pot use. Alaska's citizen-run group Campaign to Regulate Marijuana currently has three initiatives which will be voted on in the November general election.
One statewide ballot initiative proposes legalizing possession of limited amounts of marijuana for those 21 years and older, while cultivation and sales will be regulated in a way similar to alcohol.
"The proposed initiative will take marijuana sales out of the underground market and put them in legitimate, taxpaying businesses," said Tim Hinterberger, one of the campaign's major activists and sponsors, in a January statement. "Replacing marijuana prohibition with a system of taxation and sensible regulation will bolster Alaska's economy by creating jobs and generating revenue for the state." The initiative was originally for the August ballot, but has since been moved to November.
Decriminalization and legalization of medical marijuana was passed in 1998 after a majority 59% of Alaskan voters approved the measures.
New York
New York State is the latest to vote in favor of medicinal marijuana legislation. On July 8, Governor Andrew Cuomo signed the Compassionate Care Act, a law which allows doctors to prescribe non-smokable forms of marijuana to those with serious ailments, including cancer, AIDS, and Parkinson's disease.
A month earlier, the bill was passed by the State Assembly and Senate.
"There is no doubt that medical marijuana can help people," Cuomo said in a statement. "We are here to help people. And if there is a medical advancement, then we want to make sure that we're bringing it to New Yorkers."
Minnesota
Minnesota has one of the most restrictive medical cannabis laws but it's still a step forward. The legislation passed this year provides access to medical marijuana for a narrow scope of conditions, including cancer and epilepsy. The law authorizes the end products will only be available from a mere eight dispensaries statewide.
The passing of the bill was a compromise between House, Senate and Democrat Governor Mark Dayton, restricting use to those with the medical conditions covered by the law.
Florida
In early May, the Florida House overwhelmingly voted in support of a bill to exempt patients with cancer and other severe conditions from criminal laws pertaining to the use of medicinal marijuana. The bill will allow limited access to cannabinol, or CBD, for treatment of such illness. Governor Rick Scott signed the bill on June 16.
Separately, November's Florida ballot will include an amendment on the legalization of medical marijuana thanks to a public petition campaign. If that amendment receives 60% support, the 2015 Legislature will need to determine legislation on how a medical marijuana program would operate.
Read Also: The 10 Dumbest States in America
Read Also:  The 10 Drunkest States in America