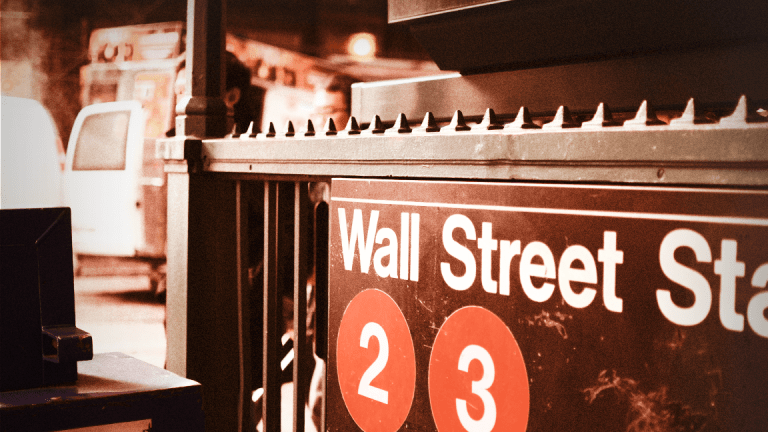 Dow Futures, Disney, Activision, Gap, Alibaba - 5 Things You Must Know Friday
U.S. stock futures decline amid uncertainty about trade negotiations between the U.S. and China; Walt Disney posts stronger-than-expected fourth-quarter earnings as studio revenue surges past estimates; Activision Blizzard falls on weak bookings forecast; Gap CEO Art Peck to step down.
Here are five things you must know for Friday, Nov. 8: 
1. -- Stock Futures Dip Amid Trade Uncertainty
U.S. stock futures declined Friday and shares in Europe and Asia were mostly lower amid uncertainty about trade negotiations between the U.S. and China.
Contracts tied to the Dow Jones Industrial Average fell 1 points, futures for the S&P 500 declined 1.40 points, and Nasdaq futures were off 8.25 points.
The Dow and the S&P 500 finished at record highs Thursday but lost some steam on a report the White House was resisting certain aspects of the tentative deal between the world's two largest economies.
Reports Thursday said the U.S. and China had agreed to roll back tariffs on each other's goods in stages as trade negotiations continued. White House economic adviser Larry Kudlow confirmed the reports, telling Bloomberg that if "there's a 'phase one' trade deal, there are going to be tariff agreements and concessions."
Trade adviser Peter Navarro, however, told Fox Business: "There is no agreement at this time to remove any of the existing tariffs as a condition of the phase one deal and the only person who can make that decision is President Donald J. Trump and it's as simple as that."
The economic calendar in the U.S. Friday includes Consumer Sentiment for November at 10 a.m., and Wholesale Trade for September at 10 a.m.
Earnings reports are expected Friday from Duke Energy (DUK) , Revlon (REV)  and E. W. Scripps (SSP) .
2. -- Walt Disney's Earnings Get Strong Boost From 'The Lion King'
Walt Disney (DIS)  rose 5.13% in premarket trading Friday to $139.78 after the media giant posted stronger-than-expected fourth-quarter earnings as studio revenue surged past analysts' estimates.
The gains, thanks in part to the success of "The Lion King" and "Toy Story 4," come ahead of next week's launch of the Disney+ streaming entertainment service.
Disney said adjusted earnings for the quarter were $1.07 a share, down 27.7% from the same period last year but firmly ahead of the Wall Street consensus forecast of 95 cents. Revenue rose 34% to $19.01 billion, just shy of analysts' forecasts of $19.04 billion.
Cable networks revenue rose 20% to $4.2 billion, while studio entertainment revenue soared 52% to $3.3 billion, lifting operating income 79% to $1.08 billion.
"Our solid results in the fourth quarter reflect the ongoing strength of our brands and businesses," said CEO Bob Iger. "We've spent the last few years completely transforming The Walt Disney Company to focus the resources and immense creativity across the entire company on delivering an extraordinary direct-to-consumer experience, and we're excited for the launch of Disney+ on November 12."
Disney+ also notched Amazon.com (AMZN) as a new distribution partner. The online retailer and tech giant agreed to add Disney+ to Amazon Fire TVs, Iger said Thursday.
"Overall, while the previous earnings raised some fears about the health of the core business, we think Disney shot those concerns down with strong execution this time around," said Jim Cramer and the Action Alerts PLUS team, which holds Disney in its portfolio.
3. -- Activision Blizzard Falls on Soft Fourth-Quarter Guidance
Activision Blizzard
(ATVI)
 fell 1.28% to $53.85 in premarket trading after the videogame maker issued softer fiscal fourth-quarter guidance that overshadowed stronger-than-expected earnings for the three months ended in September.
The company behind the "Call of Duty" franchise reported third-quarter adjusted earnings of 38 cents a share on adjusted revenue of $1.21 billion. Analysts were expecting the company to report earnings of 23 cents on revenue of $1.16 billion.
However, the stock was falling after the company said that it expects fourth-quarter net bookings of $2.65 billion, below analysts' expectations.
"Our third quarter results exceeded our prior outlook for both revenue and earnings per share," said CEO Bobby Kotick. "Recent launches have enabled significant growth in the size of our audiences for our 'Call of Duty' and 'World of Warcraft' franchises."
"As we introduce mobile and free-to-play games based on our franchises we believe we can increase audience size, engagement and monetization across our wholly owned franchises," he added. "With a strong content pipeline and momentum in mobile, esports and advertising, we are confident we will remain a leader in connecting and engaging the world through epic entertainment."
"Looking ahead, while we do believe the upcoming holiday season to be a 'Call of Duty' story, we see strength sustaining beyond the end of 2019 and into 2020 as Activision's pipeline appears to be as strong as ever following the unveiling of 'Diablo 4' and 'Overwatch 2,'" said Jim Cramer and the Action Alerts PLUS team, which holds Activision in its portfolio.
4. -- Gap Cuts Profit Outlook, Says CEO Art Peck Will Step Down
Gap (GPS)  shares fell sharply in premarket trading after the retailer announced CEO Art Peck will be stepping down and it would be cutting its profit outlook for the fiscal year.
"On behalf of the entire Board, I want to thank Art for his many contributions to Gap Inc., spanning a nearly 15-year career with the company," said Robert Fisher, the current non-executive chairman of the board, who will now serve as interim CEO. "Under Art's tenure as CEO, we have made progress investing in capabilities that bode well for the future such as expanding the omni-channel customer experience and building our digital capabilities."
Gap said a search for Peck's permanent replacement will be conducted by its board.
For the third quarter, the clothing retailer said it expects adjusted earnings of 50 cents to 52 cents a share, below analysts' forecasts of 55 cents. Gap said it expects earnings for the year of between $1.70 and $1.75 a share vs. its previous guidance of between $2.05 and $2.15.
"This was a challenging quarter, as macro impacts and slower traffic further pressured results that have been hampered by product and operating challenges across key brands," said Teri List-Stoll, executive vice president and chief financial officer.
The stock declined 9.52% to $16.34 in premarket trading.
5. -- Alibaba Reportedly Plans $15 Billion Hong Kong Listing
Alibaba (BABA) is planning to raise as much as $15 billion in a Hong Kong share sale, Bloomberg reported, citing people with knowledge of the matter.
The Chinese retail giant and Asia's largest company by market value is now preparing for a listing hearing as mandated by companies that debut on the
Hong Kong bourse early next week, the people told Bloomberg. 
Alibaba's share sale could be the largest globally in 2019, according to Bloomberg.