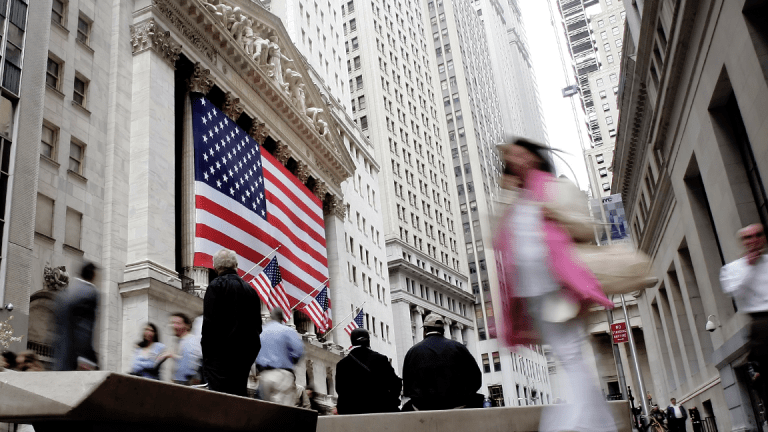 TGIF.
1. -- Stocks Narrowly Higher as Geopolitical Aims Come into Focus
U.S. stock futures were trading slightly higher Friday, May 11, as markets continued to navigate a bumpy global atmosphere. While the U.S. looks to make progress with North Korea, trade talks continue with China.
Contracts tied to the Dow Jones Industrial Average I:DJI  climbed 0.15%, those linked to the broader S&P 500 undefined  rose 0.16% and Nasdaq I:IXIC futures gained 0.06%.
President Donald Trump announced on Twitter Thursday that he and North Korean President Kim Jong Un will meet in Singapore on June 12.
The highly anticipated meeting between the two leaders will come about one month after Trump championed the return of three Americans being held hostage in North Korea this week. 
As the U.S. and North Korea work toward the groundbreaking summit, congressional and White House leaders are preparing to talk trade with China. 
Representatives from the U.S. and China, which are the world's two largest economies, are set to meet in Washington on Friday to discuss ongoing trade disputes, a U.S. Treasury official told Reuters. The talks are reported to be a follow-up to high-level discussions that took place in Beijing last week and a precursor to Chinese Vice Premier Liu He's upcoming visit to Washington.
Trade talks led by Treasury Secretary Steven Mnuchin last week failed to come up with any meaningful compromise to thwart promised U.S. tariffs on up to $150 billion worth of Chinese goods and China's intention to retaliate with similar levies. 
Despite geopolitical uncertainty abroad, the Cboe Volatility Index I:VIX fell for a sixth-straight session Thursday, reaching a low not seen since before the stock market correction began in February. While the measure, commonly referred to as Wall Street's "fear gauge," has climbed more than 24% in the last year, it's lower 60% in the past three months.
The U.S. economic calendar on Friday includes consumer sentiment for May, expected at 10:00 a.m. ET. Economists polled by FactSet expect the reading to come in at 98.0, down slightly from the last reading of 98.8.
If you'd like to receive the free "5 Things You Must Know" newsletter, please register here.
2. -- AT&T, Novartis Scramble in Wake of Cohen Drama
Following the recent news that AT&T Inc. (T) - Get AT&T Inc. Report and Novartis AG (NVS) - Get Novartis AG Sponsored ADR Report entered into contracts with Essential Consultants, the firm of President Trump's private attorney Michael Cohen, to gain insights on the Trump administration, the two companies are working to save face as the story widens.
According to the Washington Post, AT&T's $600,000 contract with Cohen specified that Cohen would advise the company on its $85 billion merger with Time Warner Inc. (TWX) . President Trump had taken issue with the deal during his campaign for the White House, and his administration decided to fight it once in office. The Justice Department field suit in November, and the case has yet to be decided. 
AT&T announced this week that it hired Cohen in 2017 to advise it on working with the new administration. Company officials said they cooperated fully with Special Counsel Robert Mueller in the Russian meddling probe in November and December. 
AT&T stock rose 0.44% premarket Friday.
Also this week, Novartis CEO Vasant Narasimham told employees in an internal memo obtained by CNBC that the company "made a mistake" in entering into a $1.2 million contract with Cohen. "As a consequence, [we] are being criticized by a world that expects more from us," the CEO continued. Narasimham was not the chief executive of Novartis when the one-year contract began. Novartis also said it complied with Mueller and his investigation in late-2017.
3. -- Cisco Yanks Ads from YouTube
Cisco Systems Inc. (CSCO) - Get Cisco Systems, Inc. Report announced that it is pulling all online ads from YouTube, the video sharing site owned by Action Alerts PLUS holding Alphabet Inc. (GOOGL) - Get Alphabet Inc. Class A Report , amid fears that the company's advertisements could appear next to sensitive content on the site. 
The announcement was posted on a Cisco blog on Wednesday, May 9, by Karen Walker, the company's chief marketing officer. By Thursday, May 10, the blog post had been removed, Reuters reported. The blog said Cisco didn't want its ads to "accidentally end up in the wrong place, such as on a streaming video with sensitive content."
The decision comes after reports in April that ads from more than 300 companies, including Cisco, were appearing on extremist content on YouTube. 
"We have partnered with advertisers to make significant changes to how we approach monetization on YouTube with stricter policies, better controls and greater transparency. We are committed to continuing this dialogue and getting this right," a Google spokesperson told Reuters.
Cisco stock dipped 0.32% in after-hours trading Thursday evening.
Meanwhile, TheStreet's Executive Editor Brian Sozzi reports on TheStreet's sister publication, The Deal, Cisco could be nearing a round of acquisitions. 
4. -- JPMorgan to Overhaul Stock Trading Business
Action Alerts PLUS holding JPMorgan Chase & Co. (JPM) - Get JPMorgan Chase & Co. (JPM) Report is planning to completely revamp its stock trading business with an overhaul to its management team, CNBC reported. 
The world's biggest investment bank by revenue named Chris Berthe as head of global cash execution, tasked with overlooking teams that electronically match buyers and sellers in the stock market. JPMorgan also named Dennis Fitzgerald as head of global cash risk, responsible for managing the bank's use of its own balance sheet in facilitating trades.
The two new appointments will help further the bank's work to meet the needs of a growing set of clients who want to trade with algorithms on electronic platforms. 
JPMorgan stock declined 0.15% in after-hours trading Thursday.
5. -- Nvidia Earnings Beat but Stock Falls
Action Alerts PLUS holding Nvidia Corp. (NVDA) - Get NVIDIA Corporation Report shares slipped 1.78% in premarket trading Friday after the chipmaker posted stronger-than-expected first quarter earnings but spooked investors by revealing details that indicate an increasing reliance on volatile cryptocurrency mining activity.
The red-hot graphics processors maker late-Thursday reported earnings per share of $1.98 on a GAAP basis compared to analysts' consensus estimates of $1.46. Nvidia also reported revenue of $3.21 billion, compared to estimates of $2.89 billion. The company issued July quarter sales guidance of $3.1 billion (plus or minus 2%), above a consensus estimate of $2.95 billion.
Group revenues also topped forecasts, rising 65% to $3.21 billion for the three months ending in March. However, around 10% of that top line total -- $289 million -- came from cryptocurrency mining, Nvidia said, and that number is expected to fall sharply -- by around two thirds -- in the current quarter.
"Cryptominers bought a lot of our GPUs during the quarter, and it drove prices up. And I think that a lot of the gamers weren't able to buy into the new GeForces as a result," CEO Jensen Huang told investors on a conference call late Thursday. "And so we're starting to see the prices come down. We monitor spot pricing every single day around the world. And the prices are starting to normalize."