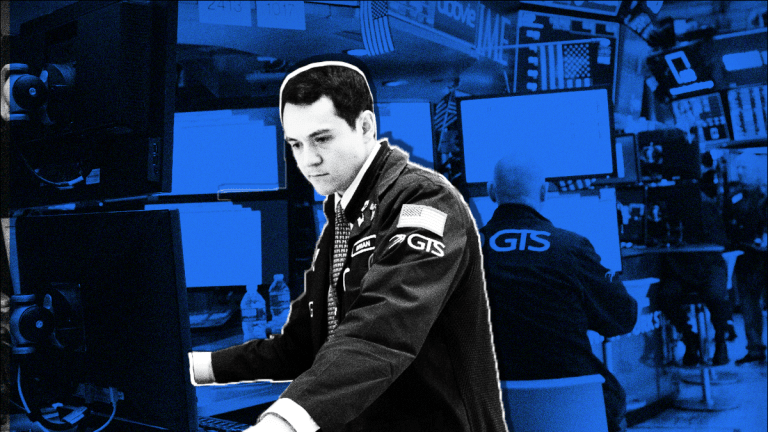 Dell, HP Inc., Deere, Boeing and Thanksgiving - 5 Things You Must Know Wednesday
U.S. stock futures rise after Donald Trump says negotiators are close to reaching an initial trade agreement between the U.S. and China; Deere reports earnings; HP Inc. beats earnings forecasts and remains quiet on Xerox's takeover bid.
Here are five things you must know for Wednesday, Nov. 27: 
1. -- Stock Futures Indicate More Wall Street Records
U.S. stock futures were rising modestly Wednesday, pushing Wall Street further into record territory, after Donald Trump said negotiators were close to reaching an initial trade agreement between the U.S. and China.
The president told reporters outside the White House Tuesday that the U.S. was in the "final throes of a very important deal" with China, while officials in his administration briefed the media on the possibility of a phase one agreement before the end of the year.
"It's going very well but at the same time we want to see it go well in Hong Kong," Trump said following passage by U.S. lawmakers of a bill  supporting human rights in the China-backed territory. "I think that (Chinese) President Xi can make that happen. I know him and I know he'd like to make it happen."
China's impetus for a near-term agreement was made even more apparent Wednesday with data showing the world's second-largest economy continues to struggle with slowing domestic demand and tariff-led pressures on exports. China's industrial profits fell 9.9% in October, the third consecutive month of declines and the steepest drop in eight months.
Contracts tied to the Dow Jones Industrial Average were up 13 points, futures for the S&P 500 gained 4.05 points, and Nasdaq futures rose 20.50 points.
The Dow, S&P 500 and the Nasdaq finished at all-time closing highs Tuesday amid renewed signs of progress in U.S.-China trade talks.
The Dow gained 55.21 points, or 0.2%, to close at 28,121.68, the S&P 500 rose 0.22% to 3,140.52, and the Nasdaq advanced 0.18% to 8,647.93.
The stock market will be closed Thursday in the U.S. for Thanksgiving. It will resume normal trading hours Friday but will close early at 1 p.m. ET.
2. -- GDP, Durable Goods, Deere Earnings Are Wednesday Highlights
The economic calendar in the U.S. Wednesday includes the second estimate for third-quarter GDP at 8:30 a.m., Durable Goods Orders for October at 8:30 a.m., weekly Jobless Claims at 8:30 a.m., Personal Income and Outlays for October at 10 a.m., Pending Home Sales for October at 10 a.m. and Oil Inventories for the week ended Nov. 22 at 10:30 a.m.
Deere (DE) - Get Report , the tractor maker, posted modestly stronger-than-expected fourth-quarter earnings but cautioned that construction and agricultural equipment sales in the coming financial year are likely to decline sharply as trade uncertainty hammers demand.
The stock fell 3.91% in premarket trading to $169.74.
3. -- HP Inc. Beats Earnings Forecasts, Stays Mum on Xerox Takeover Bid
HP Inc. (HPQ) - Get Report  posted fiscal fourth-quarter adjusted earnings of 60 cents a share, beating analysts' estimates by 2 cents, on revenue of $15.41 billion that also topped forecasts.
For the fiscal 2020 first quarter, the computer and printer maker said it expects adjusted earnings of 53 cents to 56 cents a share; analysts predict profit of 53 cents. For all of fiscal 2020, HP estimates it will earn an adjusted $2.24 to $2.32, higher than Wall Street forecasts of $2.22.
HP is facing a proxy challenge from Xerox (XRX) - Get Report , which wants to negotiate a combination.
Xerox said Tuesday it would take its $33 billion takeover proposal for larger rival HP directly to shareholders unless the two sides are able to agree on access to private financial information.
In a letter to HP's board, Xerox said it has a "compelling proposal" for a tie-up that will allow HP shareholders to "realize immediate cash value and enjoy equal participation in the substantial upside" and denied charges its takeover bid was "uncertain," as HP declared in a letter over the weekend.
HP CEO Enrique Lores told investors on a conference call that he would not add to comments on the proposed takeover bid from Xerox, but noted that he still considers HP shares undervalued, despite the 20% gain they've recorded since the first Xerox offer.
"The key thing that we see is (the) gap between the current value of the stock, but the net present value of the cash flow projections that we have in our plan," Lores said. "And this is what drives our comment and think about being undervalued."
"What we have proven this quarter and we have proven in the past is that we have a clear ability to execute, and that we deliver on our commitments," he added. "And our expectation is that by executing every quarter and meeting our guidelines we will be seeing that gap to be reduced."
4. -- Dell Falls as It Warns of Intel Chip Shortage
Shares of Dell Technologies (DELL) - Get Report  fell 2.91% to $51.64 in premarket trading Wednesday after the computer maker said a shortage of chips from its main supplier, Intel (INTC) - Get Report , would hit sales for the final months of the year.
Dell said sales in its client solutions group, which includes its PC business, rose 4.6% in the third quarter to $11.41 billion, helping total revenue rise 1% to $22.9 billion, just shy of the Wall Street forecast of $23 billion.
Adjusted earnings in the quarter of $1.75 a share topped analysts' forecasts, but Dell said the Intel chip shortage has "worsened" and was now impacting shipment forecasts for the final months of the year. Dell now sees fiscal 2020 revenue in the range of $91.5 billion to $92.2 billion, a $2 billion reduction from the higher end of its prior forecast.
"The reduction of the range is principally due to the Intel supply dynamic," Chief Financial Officer Thomas Sweet told investors on a conference call. "We continue to see macro headwinds in China and softening client solutions demand post the Win 10 refresh."
"That coupled with the Intel's CPU supply constraints in the global macro environment leads a slightly more cautious on fiscal 2021 growth," he added. "We also expect the benefit of the fiscal year 2020 component cost deflation to wane as component cost of forecast is to be inflationary in fiscal 2021."
5. -- FAA Will Have Final Say on Approvals for Boeing's 737 MAX Jet
The Federal Aviation Administration will have the final say on all approvals for Boeing (BA) - Get Report 737 MAX jets, the agency said in a statement.
The 737 MAX has been grounded since the spring following crashes in Ethiopia and Indonesia that killed 346 people.
"The FAA notified Boeing (Tuesday) that the agency will retain authority over the issuance of Airworthiness Certificates for
all newly manufactured 737 Max aircraft," the FAA said. Previously, company employees were allowed to handle routine sign-offs before the planes were delivered, Bloomberg noted.
In an email to The Wall Street Journal, a Boeing spokesman said: "We continue to work with the FAA on the safe return to service of the MAX fleet."
Boeing has estimated a mid-December return to service for the grounded 737 MAX, but the FAA's move could cause delays in the plane maker's plans.