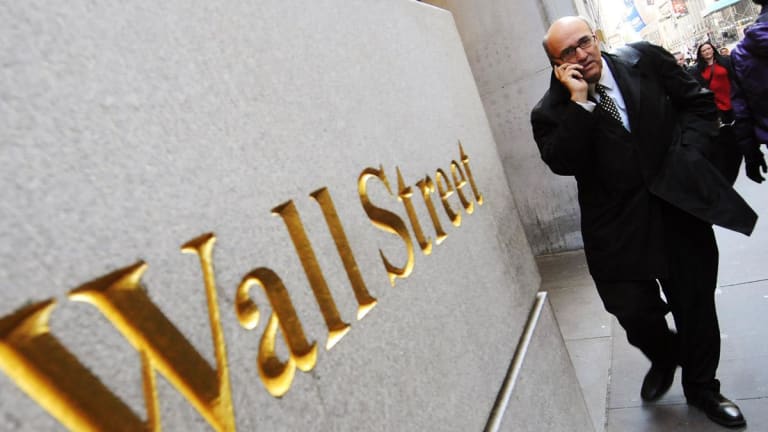 Google, Slack, Palo Alto Networks, Tyson and Dorian - 5 Things You Must Know
U.S. stock futures rise, suggesting a strong rebound for Wall Street, as investors react to fading event risks in Asia and Europe; Slack, Palo Alto Networks and Cloudera report earnings; Google is the target of a new state attorneys general antitrust probe, a report says.
Here are five things you must know for Wednesday, Sept. 4: 
1. -- Stock Futures Rise as Global Political Worries Ease
U.S. stock futures rose on Wednesday, suggesting a strong rebound for Wall Street, as investors reacted to fading event risks in Asia and Europe.
Stocks in Hong Kong rose nearly 4% after the South China Morning Post reported that Hong Kong leader Carrie Lam was ready to authorize the withdrawal of an extradition bill in parliament that had triggered months of protests in the China-controlled territory. Lam announced the bill had been withdrawn after markets in Hong Kong closed. Also lifting sentiment were stronger-than-expected data from China's broad services sector in August.
Contracts tied to the Dow Jones Industrial Average jumped 200 points, futures for the S&P 500 rose 23.35 points, and Nasdaq futures soared 87 points.
U.S. stocks closed lower Tuesday as new U.S.-China trade tariffs kicked in, political turmoil grew in Europe and U.S. manufacturing activity contracted.
The Dow, which fell as much as 425 points at one point, finished down 285 points, or 1.08%, to 26,118. The S&P 500 slid 0.69%, and the Nasdaq was off 1.11%.
In Europe, a defeat in parliament for Prime Minister Boris Johnson likely means lawmakers will vote Wednesday for another extension to the country's Brexit debate, with Johnson countering with a move to call fresh elections. Both decisions essentially remove the risk of a damaging "no Deal" exit from the European Union and settled investor nerves in the region and elsewhere.
The economic calendar in the U.S. Wednesday includes International Trade for July at 8:30 a.m., and the Federal Reserve's "Beige Book" at 2 p.m.
Earnings reports are expected Wednesday from Slack Technologies (WORK) , American Eagle Outfitters (AEO) , Palo Alto Networks (PANW) , Barnes & Noble (BKS) , Vera Bradley (VRA) , Pivotal Software (PVTL) , MongoDB (MDB) , Cloudera (CLDR) , Navistar International (NAV) and Finisar (FNSR) .
Palo Alto Networks is a holding in Jim Cramer's Action Alerts PLUS member club. Want to be alerted before Jim Cramer buys or sells the stock? Learn more now.
2. -- Hurricane Dorian Slows to Category 2 Storm
Hurricane Dorian's wind speeds continued to slow, with the National Hurricane Center downgrading the storm to Category 2 status as it inched "dangerously" along Florida's northeast coast.
Dorian is now carrying wind speeds of around 105 mph and is located about 90 miles east of Daytona Beach, Florida, the center said, and is expected to weaken further over the next two days. However, Dorian is still considered a "powerful hurricane" capable of leaving billions in damages in its wake.
Tropical storm and storm surge warnings remain in place between Georgia and Virginia, and Hurricane-force winds from Dorian's center could extend as far as 60 miles inland, the National Hurricane Center cautioned.
3. -- Google Is Target of New State Attorneys General Antitrust Probe - Report 
More than half of the nation's state attorneys general are planning an investigation into Alphabet's (GOOGL) Google for potential antitrust violations, The Washington Post reported.
The investigation is expected to be unveiled at a news conference on Monday in Washington, The Post reported, citing three people familiar with the matter
It was unclear, the report said, whether some or all of the attorneys general also plan to open or announce additional probes into other tech giants, including Amazon.com (AMZN) and Facebook (FB) , which have faced similar U.S. antitrust scrutiny.
The effort by the states is expected to be bipartisan and could include more than 30 attorneys general, one of the people told the Post.
Further details of the probe weren't disclosed. But the investigation of Google's practices is another sign that state officials continue to question the influence of the tech giants. 
"Google's services help people every day, create more choice for consumers, and support thousands of jobs and small businesses across the country," Google spokesman Jose Castaneda said in a statement. "We continue to work constructively with regulators, including attorneys general, in answering questions about our business and the dynamic technology sector."
Alphabet shares rose 1.19% to $1,183.50 in premarket trading after falling 1.76% in Tuesday's session.
Alphabet, Amazon and Facebook are holdings in Jim Cramer's Action Alerts PLUS member club. Want to be alerted before Jim Cramer buys or sells GOOGK, AMZN or FB? Learn more now.
4. -- Tyson Foods Falls After Lowering Guidance
Tyson Foods (TSN)  fell 5.21% to $88.43 in premarket trading Wednesday after the chicken, beef and pork processing giant lowered its guidance for the fiscal year because of a number of "challenges" including volatility in commodity markets. 
Tyson Foods forecast adjusted fiscal-year earnings of $5.30 to $5.70 a share, down from a previous forecast of $5.75 to $6.10. Analysts had been expecting earnings of $5.93 a share.
"These challenges include margin compression related to a reversal of a gain on mark to market grain derivatives recognized in our third quarter, commodity market volatility, implementation of enhanced food safety initiatives, a beef processing plant fire, and slower than expected operational improvements in the chicken segment," the company said in a statement.
5. -- Coupa Software Jumps After Boosting Revenue Forecast
Coupa Software (COUP)  rose 11.68% in premarket trading to $150.10 after posting second-quarter earnings and revenue ahead of Wall Street forecasts, and raising its forecast for fiscal 2020 revenue.
The cloud company reported adjusted earnings of 7 cents a share on revenue of $95.1 million, 54% higher than a year earlier. Revenue from subscription services jumped to $83.5 million, up about 51%.
Analysts were calling for a loss of 10 cents a share on revenue of $85.4 million.
The company raised its revenue forecast for fiscal 2020 to between $369 million and $372 million, up from its previous forecast of $342 million to $344 million. 
Shares of Coupa Software have risen nearly 114% so far this year, according to FactSet.