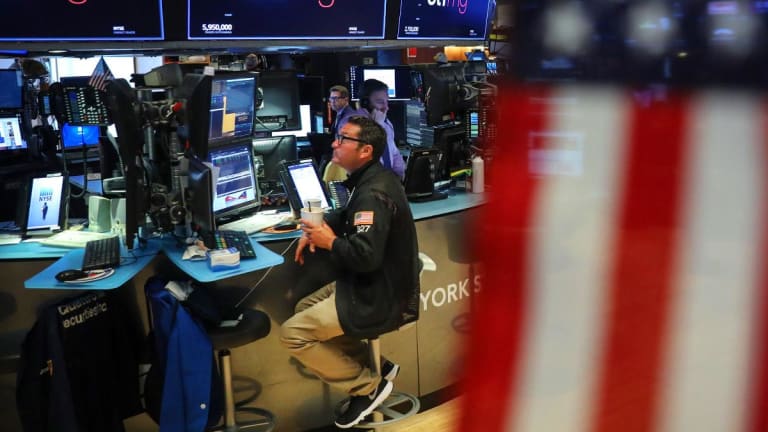 Dow Futures, Purdue Pharma, HPE, BP and Tiffany - 5 Things You Must Know
U.S. stock futures turn lower as investors deal with recession worries and uneasiness over the ongoing trade war between the U.S. and China; Tiffany, Five Below and Okta report earnings; Purdue Pharma is prepared to settle more than 2,000 opioid-related lawsuits for $10 billion to $12 billion, according to reports.
Here are five things you must know for Wednesday, Aug. 28: 
1. -- Stock Futures Point Turn Lower
U.S. stock futures turned lower on Wednesday as investors dealt with recession worries and uneasiness over the ongoing trade war between the U.S. and China, the world's two largest economies.
Contracts tied to the Dow Jones Industrial Average fell 28 points, futures for the S&P 500 declined 1.65 points, and Nasdaq futures slipped 7.75 points.
Stocks ended lower Tuesday as the U.S. Treasury yield curve inverted further - inversions often serve as a warning sign about a recession - and amid skepticism over trade negotiations between the U.S. and China. The Dow sank 120 points, or 0.47%, to close at 25,777, the S&P 500 fell 0.32% and the Nasdaq fell 0.34%.
The 10-year yield on Tuesday fell to its lowest level against the two-year rate since 2007. On Wednesday, the two-year Treasury yield was 1.516%, while the yield on the 10-year was at 1.468%. The 30-year yield hit a new record low of 1.9072% on Wednesday and recently traded at 1.918%.
The trade war between Washington and Beijing has entered its second year. Optimism rose Monday after Donald Trump claimed that China had contacted U.S. trade officials and said "let's get back to the table." But sentiment was dented after China's foreign ministry denied knowledge of any such calls.
Investors are "finding it difficult to put a finger as to where the ongoing U.S.-China trade issue is headed," said Jingyi Pan, a strategist with IG. "The saying that we are a tweet (from Trump) away from the next trade escalation between U.S. and China had certainly grown to become the broad view."
2. -- Tiffany, Five Below and Okta Report Earnings
Tiffany (TIF) reported second-quarter earnings that beat Wall Street forecasts but were still lower than year-earlier numbers as the company struggled with slowing demand, exchange rate pressures and business disruptions resulting from ongoing protests in Hong Kong.
Earnings reports are also expected from Five Below (FIVE) , Box (BOX) , Williams-Sonoma (WSM) , Okta (OKTA) , Zuora (ZUO) and H&R Block (HRB) .
The economic calendar in the U.S. Wednesday includes Oil Inventories for the week ended Aug. 23 at 10:30 a.m.
3. -- Purdue Pharma Reportedly Offers $10 Billion to $12 Billion to Settle Opioid Lawsuits
Purdue Pharma is prepared to settle more than 2,000 opioid-related lawsuits for $10 billion to $12 billion, according to reports.
NBC News cited sources familiar with an Aug. 20 meeting at which the settlements were discussed.
The attorneys general of at least 10 states as well as the plaintiffs' attorneys were at the meeting with David Sackler, whose family has owned the company since its founding in the 1950s.
Purdue Pharma, the maker of OxyContin, has been accused in the lawsuits of using deceptive sales practices to help market the painkillers.
According to The Wall Street Journal, the latest proposal would put Purdue into bankruptcy and have it emerge as a public benefit trust corporation, with proceeds going toward the governments bringing the lawsuits.
The Sackler family would cede ownership as part of the bankruptcy reorganization, the Journal reported, citing people familiar with the matter.
The report comes after an Oklahoma judge found Johnson & Johnson (JNJ)  on Monday responsible for helping fuel the opioid crisis in the state and ordered the healthcare giant to pay $572 million.
4. -- Hewlett Packard Enterprise Rallies After Lifting Fiscal-Year Guidance
Hewlett Packard Enterprise (HPE)  rose 5.34% to $13.62 in premarket trading Wednesday after the business-technology provider posted better-than-expected fiscal third-quarter earnings and raised its outlook for the year.
The company reported adjusted earnings of 45 cents a share, 1 cent ahead of analysts' estimates. Revenue of $7.22 billion fell 7% from a year earlier and came in just below Wall Street forecasts of $7.26 billion.
Hewlett Packard Enterprise said it expects adjusted fiscal-year earnings of $1.72 to $1.76 a share, higher than its previous guidance of $1.62 to $1.72.
The company also said it also expects to close its acquisition of Cray, the supercomputer maker, by the end of its fiscal year in October.
5. -- BP to Exit Alaska After $5.6 Billion Sale to Hilcorp
BP (BP) will sell its interests in Alaska's North Slope to Hilcorp Alaska, an affiliate of Texas-based Hilcorp Energy, for $5.6 billion.
The sale includes interests in the Prudhoe Bay oil field, Point Thomson gas field and the trans-Alaska pipeline system.
The sale is part of BP's attempt to divest $10 billion in assets by 2020.
BP has operated in Alaska for about 60 years.
BP is a holding in Jim Cramer's Action Alerts PLUS member club. Want to be alerted before Jim Cramer buys or sells BP? Learn more now.
Save 57% With Our Labor Day Sale. Join Jim Cramer's Action Alerts PLUS investment club to become a smarter investor! Click here to sign up!