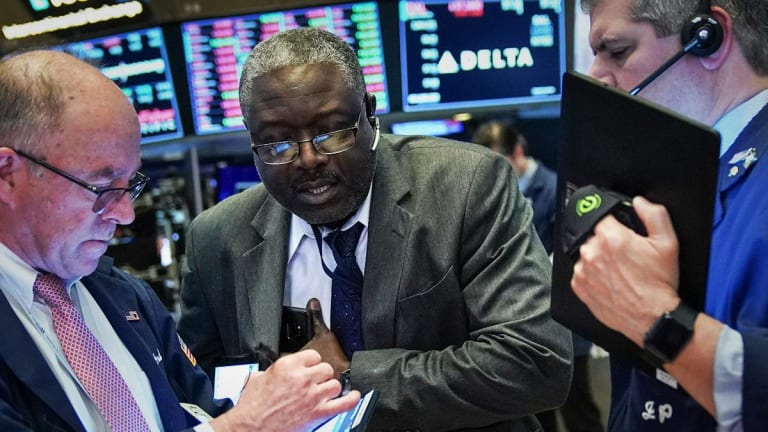 Jerome Powell, Levi Strauss, Apple, U.S. Women's Soccer - 5 Things You Must Know
U.S. stock futures fall as investors prep for an appearance from Federal Reserve Chairman Jerome Powell before Congress; Levi Strauss slides on indications that sales likely will slow in the second half of the year; T-Mobile will replace Red Hat in the S&P 500; New York hosts ticker tape parade for U.S. women's soccer team.
Here are five things you must know for Wednesday, July 10: 
1. -- Stock Futures Fall as Powell Heads to Capitol Hill
U.S. stock futures pointed to a lower open for Wall Street on Wednesday as investors prepped for an appearance from Federal Reserve Chairman Jerome Powell before lawmakers in Washington.
Contracts tied to the Dow Jones Industrial Average fell 77 points, futures for the S&P 500 were down 9.10 points, and Nasdaq futures declined 27.75 points.
Powell will begin his two days of testimony to U.S. lawmakers on Capitol Hill by taking questions from the House Financial Services committee at 10 a.m. ET on Wednesday. Powell's appearance will be followed at 2 p.m. by the release of minutes from the Fed's meeting on June 19, when the central bank made no changes to key lending rates but signaled the potential for easier policy in the months ahead.
The Fed chairman will sit before the Senate Banking committee on Thursday.
Investors are hoping Powell will add more context to the Fed's broader plans to monitor incoming data while assessing the impact of slowing global growth on the U.S. economy, given that trade talks with China look set to re-start and the U.S. employment report for June showed a much stronger-than-expected gain of 224,000 new jobs. The twin developments have pretty much erased market bets on a rate cut of 50 basis points from the Fed when it meets later in July, though investors are still pricing in a 100% chance of a cut of 25 basis points.
The economic calendar in the U.S. on Wednesday also includes Wholesale Trade for May at 10 a.m., and Oil Inventories for the week ended July 5 at 10:30 a.m.
Bed Bath & Beyond (BBBY) is expected to issue its quarterly earnings report on Wednesday.
2. -- Levi Strauss Slides on Forecast of Slower Sales
Jeans maker Levi Strauss (LEVI)  posted fiscal second-quarter adjusted earnings ahead of forecasts but indicated sales likely would slow in the second half of the year.
The stock slid 6.55% in premarket trading to $22.11.
On an adjusted basis, Levi Strauss earned $69 million, or 17 cents a share, including $29 million of costs associated with the San Francisco company's initial public offering in April. Analysts had been expecting earnings of 15 cents a share.
Net profit in the quarter was $29 million, or 7 cents a share, vs. $77 million, or 19 cents a share, a year earlier.
Revenue of $1.31 billion rose 5.4% from a year earlier. Analysts were expecting revenue of $1.29 billion.
Levi Strauss said for the fiscal year it expects revenue growth "at the high end of the mid-single digit range" and an adjusted profit margin that is "slightly up in the range of 10 basis points."
"While underlying business trends remain positive, there are a few reasons we expect second-half sales growth to moderate relative to the first half, particularly in the United States," Chief Financial Officer Harmit Singh told investors on a conference call. "First, the lack of a Black Friday in Q4, which we expect will adversely impact the second half by roughly 100 basis points."
"Additionally, we anticipate that pressure in the wholesale channel will adversely impact us by roughly 200 basis points in the second half due to the bankruptcies and door closures since a year ago, the overall softening," he added. "U.S. wholesale environment and the lower off-price channel sales, reflecting our healthier inventory position."
3. -- Apple Starts Program in China for App Developers - Report
Apple (AAPL) has started a program in Shanghai to help Chinese developers create apps as part of the tech giant's efforts to build out its services business in China, one of the iPhone maker's most critical overseas markets, Reuters reported.
The program will hold lectures, workshops and networking sessions for developers regularly, the company said. More than 2.5 million developers for Apple's platforms are from greater China, a region that includes Taiwan, Hong Kong, and mainland China, Reuters noted.
As iPhone sales have slowed across the globe, Apple has begun shifting away from its iPhone-centric worldview and has made a serious push into services.
Research firm Evercore ISI noted Tuesday that Apple's services revenue likely had risen over June quarter, driven in part by growth in China.
4. -- T-Mobile to Replace Red Hat in the S&P 500
T-Mobile US (TMUS)  will replace Red Hat (RHT) in the S&P 500, effective on July 15, following the closing Tuesday of International Business Machines' (IBM) $34 billion acquisition of the software company. 
The deal for Red Hat represented IBM's largest acquisition in its history. 
IBM will pay $190 a share in cash for Red Hat, a 63% premium over the stock's price before the merger was announced. Red Hat closed at $187.71 on Tuesday.
T-Mobile announced more than a year ago a deal to buy Sprint (S) for about $26 billion but the transaction still awaits approval from the Justice Department. According to reports, T-Mobile has reached a deal to sell certain assets to Dish Network (DISH) to facilitate the merger's clearance.
5. -- New York Hosts Ticker Tape Parade for U.S. Women's Soccer Team
A ticker tape parade for the U.S. women's national soccer team will begin at 9:30 a.m. in New York on Wednesday following the squad's second straight World Cup title.
It will be the city's first ticker tape parade since the women's team won the World Cup in 2015. The U.S. on Sunday became just the second team to win consecutive Women's World Cup championships and the first country to win the title four times.
The procession will move up the Canyon of Heroes, a section of Broadway between the Battery and City Hall in Manhattan.