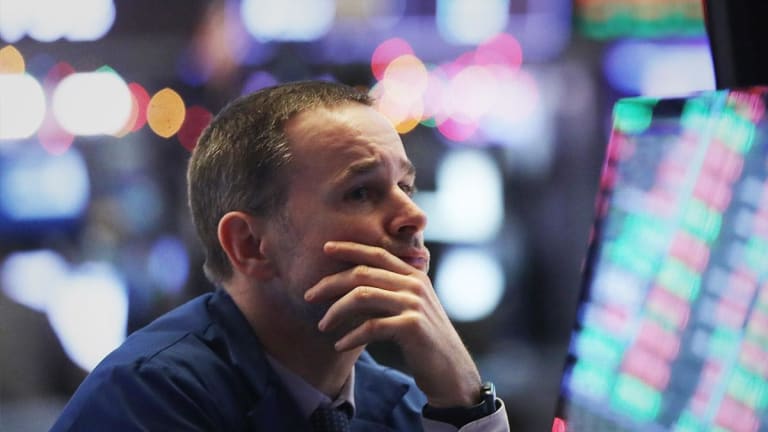 Tesla, Medidata, United Tech-Raytheon, Dave & Buster's - 5 Things You Must Know
U.S. stock futures decline as optimism fades over a near-term trade deal between Washington and Beijing; Tesla CEO Elon Musk says there's a 'decent shot of a record quarter' for the electric vehicle maker; France's Dassault Systemes to buy Medidata Solutions for $5.8 billion.
Here are five things you must know for Wednesday, June 12:
1. -- Stock Futures Fall Amid Trade Uncertainty
U.S. stock futures declined on Wednesday as optimism faded over a near-term trade deal between Washington and Beijing and Wall Street awaited a reading on U.S. inflation.
Contracts tied to the Dow Jones Industrial Average fell 71 points, futures for the S&P 500 declined 8.65 points, and Nasdaq futures were down 37 points.
Donald Trump said Tuesday he wouldn't agree to a trade deal unless China agrees to four or five "major points" that the president didn't specify.
"China wants to make a deal very badly," Trump said. "It is me right now that is holding up the deal. And we're going to either do a great deal with China or we're not going to do a deal."
"We had a deal with China and then they went back on the deal," he said. "They said we don't want to have four major points, five major points." 
Stocks fell Tuesday for the first time in six days amid the trade uncertainty.
Trump also took aim at the Federal Reserve, a favorite target of his, saying the Fed had raised rates "way too high" and that the central bank had "no clue" what it was doing.
The economic calendar in the U.S. on Wednesday includes the Consumer Price Index for May at 8:30 a.m. ET. Economists surveyed by FactSet expect consumer prices to have risen 0.1% last month, while core CPI, which excludes food and gas costs, is expected to increase 0.2%. CPI year over year is forecast up 1.9%.
The calendar also includes Oil Inventories for the week ended June 7 at 10:30 a.m.
Earnings reports are expected Wednesday from Lululemon Athletica (LULU) - Get Lululemon Athletica Inc Report , Tailored Brands (TLRD) - Get Tailored Brands, Inc. Report , Finisar (FNSR) - Get Finisar Corporation Report and RH (RH) - Get RH Report .
Stocks in Hong Kong fell 1.74% on Wednesday after police fired tear gas and high-pressure water hoses on protesters who had massed outside government headquarters in opposition to a proposed extradition bill. The bill would allow criminal suspects in Hong Kong to be sent for trial in mainland China.
2. -- Tesla's Elon Musk: 'Profitability Is Always Challenging' for Fast-Growing Companies
Tesla (TSLA) - Get Tesla Inc Report  CEO Elon Musk said there's a "decent shot of a record quarter" for the electric vehicle maker, but he appeared to back away from previously expressed hopes for sustained profitability.
Musk, speaking at Tesla's annual meeting, said the Model 3 has been outselling all competitors and generating the highest revenue of any car model sold in the U.S.
Tesla shares have had a rough few months given controversies involving Musk and the Securities and Exchange Commission, as well as growing doubts over the company's ability to reach sustainable profitability.
The stock has fallen by more than a third so far this year, ending Tuesday at $217.10 a share, up 2%. In premarket trading Wednesday, the stock gained 2.7% to $222.98.
In response to shareholder questions, Musk said "profitability is always challenging if you're a fast growing company." He added that Tesla "can be cash-flow positive despite being a fast growing company."
In its first-quarter shareholder letter, Tesla forecast it would return to profitability in the third quarter and see positive free cash flow during the last three quarters of 2019.
For the current second quarter, analysts expect Tesla to report a loss of $94.9 million, or 57 cents a share, on sales of $6.5 billion.
3. -- France's Dassault Systemes to Buy Medidata for $5.8 Billion
Dassault Systemes reached a deal to buy Medidata Solutions (MDSO) - Get Medidata Solutions, Inc. Report , the New York-based health software company, for $5.8 billion in cash. 
Dassault Systemes, the French technology company, will pay $92.25 a share of Medidata, which closed Tuesday up 4.4% to $94.75 on speculation of the Dassault deal. In premarket trading Wednesday, Medidata fell 4.2% to $90.75.
The offer price is a premium of 6.6% to Medidata's 50-day average price of $86.50 over the last 50 days, according to Reuters, which cited analysts.
Medidata posted earnings in 2018 of $51.9 million on revenue of $635.7 million. Its market cap is about $5.9 billion.
"It's a logical evolution of the scope of what we do," Bernard Charles, chairman and CEO of Dassault Systemes, told CNBC. 
"Life science is going to go through an accelerated digitization of its own processes, basically. That's the motivation for Dassault Systemes to buy Medidata Solutions," Charles said.
4. -- Ackman Opposes United Technologies-Raytheon Merger
Activist investor Bill Ackman argued that the merger between United Technologies (UTX) - Get United Technologies Corporation Report and Raytheon (RTN) - Get Raytheon Company Report makes "no sense" in an email to United Technologies' CEO Greg Hayes, saying United Tech shareholders would be diluted in an all-stock acquisition of an "inferior" company, the New York Post reported.
"We cannot comprehend the strategic logic behind such a transaction," Ackman continued in an email that was made public on Tuesday.
"If the company intends to go forward with such a transaction, we will oppose it, publicly if necessary," Ackman wrote.
Dan Loeb's Third Point also opposes the deal, a source told the Post.
Raytheon Technologies Corp. is the proposed name for the combination of United Technologies and Raytheon. It will have combined sales of about $74 billion and will be listed on the New York Stock Exchange. Raytheon, which makes the Tomahawk and Patriot missile systems for the U.S. military, will own 43% of the combined company, which will be led by Hayes. Raytheon's Tom Kennedy will serve as executive chairman for a minimum of two years.
The merger agreement was announced Sunday.
5. -- Dave & Buster's Sinks After Earnings Miss, Guidance Cut
Dave & Buster's Entertainment (PLAY) - Get Dave & Buster's Entertainment, Inc. Report  sank 20.1% in premarket trading Wednesday to $41.20 after the restaurant chain reported fiscal first-quarter earnings and sales below estimates and issued fiscal-year guidance lower than its previous forecasts.
Earnings in the quarter were $1.13 a share vs. $1.04 a year earlier but were below analysts' forecasts of $1.15. Revenue of $363.6 million also came in higher than a year earlier but it too missed forecasts of $372 million.
Dave & Buster's said earnings in the fiscal year would be $103 million to $113 million vs. prior guidance of $105 million to $117 million. The company said it anticipates revenue for the year of $1.365 billion to $1.39 billion; its previous outlook called for revenue between $1.37 billion and $1.4 billion.