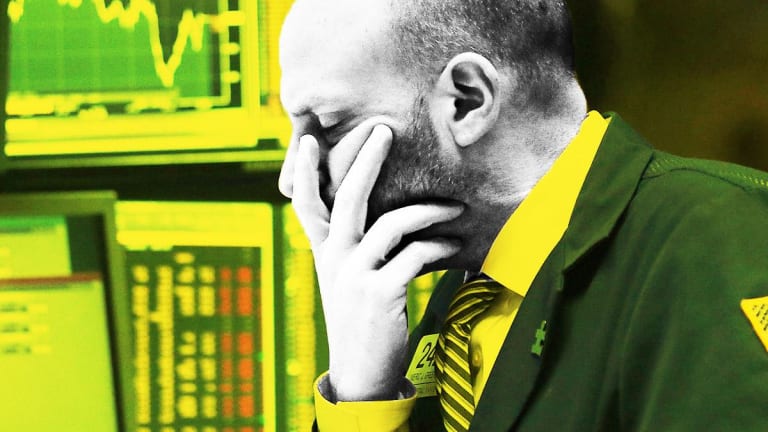 Target, Lowe's, Nordstrom, Urban Outfitters, Qualcomm - 5 Things You Must Know
U.S. stock futures turn mixed on a report the United States could blacklist more Chinese companies; Lowe's and Target report earnings; Urban Outfitters sinks after announcement of new women's apparel rental service, Nuuly; Nordstrom tumbles after cutting its fiscal-year forecast.
Here are five things you must know for Wednesday, May 22:
1. -- Stock Futures Mixed on Report U.S. Could Blacklist More Chinese Companies
U.S. stock futures turned mixed on Wednesday after the boost equities received from a move by the White House to ease restrictions on China's Huawei Technologies faded on a report the United States may target more Chinese companies.
Contracts tied to the Dow Jones Industrial Average rose 6 points, futures for the S&P 500 were down 0.60 points, and Nasdaq futures fell 6.25 points.
The New York Times reported the White House was prepared to target Hangzhou Hikvision Digital Technology and Zhejiang Dahua Technology for the so-called Entities List as it tightens the screws on Beijing in an effort to force concessions on trade.
Hikvision is one of the world's largest makers of video surveillance products and is central to China's ambitions to be the top global exporter of surveillance systems, according to the Times. The Commerce Department may require that U.S. companies obtain government approval to supply components to Hikvision, limiting its access to technology that helps power its equipment.
China's ambassador to the United States, Cui Tiankai, said in television interview with Fox News, however, that Beijing was ready to resume trade talks with Washington.
"It's quite clear it is the U.S. side that more than once changed its mind overnight and broke the tentative deal already reached." Cui said. "So we are still committed to whatever we agree to do, but it is the U.S. side that changed its mind so often."
Qualcomm (QCOM) sank 9.3% to $70.65 in premarket trading after a federal judge ruled in favor of the Federal Trade Commission in a long-running antitrust dispute over patents and licensing.
2. -- Lowe's and Target Report Earnings Wednesday
Lowe's (LOW)  earned an adjusted $1.22 a share in the first quarter, missing estimates of $1.33. Revenue of $17.74 billion topped forecasts of $17.64 billion, and same-store sales rose 3.5% vs. estimates of 3.2%. Lowe's trimmed its full-year outlook and the stock fell 8.7% in premarket trading to $101.45.
Target (TGT)  posted adjusted earnings in the first quarter of $1.53 a share, topping forecasts by 10 cents. Same-store sales rose 4.8% vs. expectations of 4.1%. Shares jumped 8.1% to $77.78.
Earnings reports are also expected Wednesday from VF Corp. (VFC) , NetApp (NTAP) , Synopsys (SNPS) , L Brands (LB) and Analog Devices (ADI) .
The economic calendar in the U.S. Wednesday includes Oil Inventories for the week ended May 17 at 10:30 a.m. ET, and minutes from the April 30-May 1 meeting of the Federal Open Market Committee at 2 p.m.
3. -- Nordstrom Sinks After Cutting Fiscal-Year Forecast
Nordstrom (JWN)  declined 9.3% to $34.35 in premarket trading Wednesday after the retailer posted first-quarter earnings and sales below Wall Street estimates, and lowered its fiscal-year forecast.
Adjusted earnings in the quarter were 23 cents a share vs. expectations of 42 cents, while sales fell to $3.4 billion from $3.6 billion a year ago and missed forecasts of $3.6 billion.
"While we expected softer trends from the fourth quarter to continue into the first quarter, we experienced a further deceleration," said said Erik Nordstrom, co-president. "We had executional misses with our customers, and we're committed to better serving them. This is well within our control to turn around."
The company said it "began taking steps to drive improvement, which include: resolving executional issues associated with the launch of its enhanced loyalty program; further investing in its digital marketing; and re-balancing its merchandise assortment to better align with customer expectations."
Nordstrom also lowered its expectations for the fiscal year, saying it expects earnings of $3.25 to $3.65 a share vs. previous guidance of $3.65 to $3.90. Analysts were expecting earnings of $3.72 a share. Net sales expectations were revised down to a 2% decrease to flat vs. prior company estimates of a 1% to 2% increase.
Nordstrom's report followed disappointing earnings from both Kohl's (KSS) and J.C. Penney (JCP) .
4. -- Urban Outfitters Slides as Costs Related to Launch of 'Nuuly' Pressure Shares
Urban Outfitters (URBN)  declined 8.6% to $24.69 in premarket trading after the fashion retailer said it would launch a women's apparel rental service that analysts think will cut into second-quarter earnings.
Urban Outfitters surprised Wall Street with stronger-than-expected first-quarter revenue of $864 million, a 1% increase from the same period last year, and earnings of 31 cents a share. However, given that the first-quarter beat was linked to lower expenses, an increase in costs this quarter to launch Nuuly, an $88-a-month subscription service aimed at increasing women's apparel sales, pressured the stock.
"We believe there is a large opportunity to reshape the $120 billion women's apparel market in the U.S. Nuuly anticipates approximately 50,000 subscribers within 12 months of operation, which would exceed a revenue run rate of $50 million at the periods close," Nuuly President David Hayne told investors on a conference call late Tuesday. "We are prepared to react to stronger subscriber interest and believe several hundred thousand subscribers in our first few years is possible. However, as with all new businesses, the forecasts are speculative until operations are under way."
Selling, general and administrative expenses were essentially flat for the three months ended in April when compared with a year earlier, while Chief Financial Officer Frank Conforti told investors the figure could grow by 2% in the current quarter as the group works to shift a buildup in inventories and launches Nuuly later this summer.
5. -- Avon Reportedly Nears Sale to Brazil's Natura
Avon Products (AVP)  is nearing a sale to Brazil's Natura Cosmeticos, The Wall Street Journal reported, citing people familiar with the matter.
The boards of the two companies have approved the deal and it is expected to be announced Wednesday, according to the Journal. The price couldn't immediately be learned.
Avon closed at $3.20 on Tuesday, giving the company a market value of about $1.4 billion. Shares were rising 26.3% to $4.04 in premarket trading Wednesday.
The Wall Street Journal first reported last September that Natura and other parties had approached Avon about a deal.