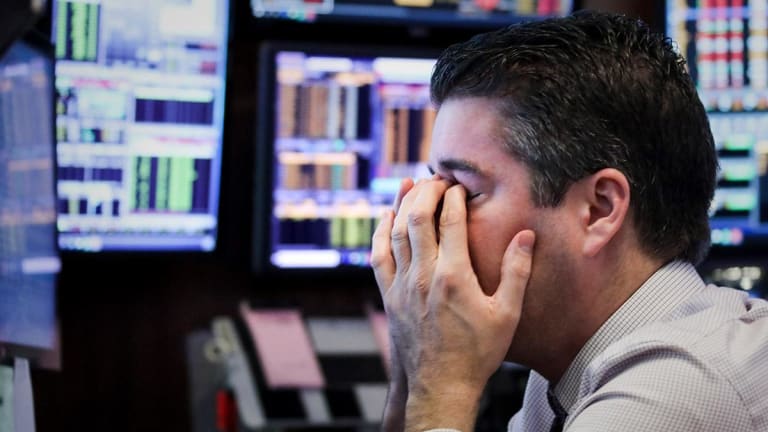 Lyft, Electronics Arts, Disney, Bitcoin, Trade War - 5 Things You Must Know
U.S. stock futures are falling as investors hold onto hopes that this week's talks in Washington will salvage months of negotiations on trade between the U.S. and China; Lyft posts $1.1 billion quarterly loss; Walt Disney to report earnings; Electronic Arts surges as 'Apex Legends' helps drive gains.
Here are five things you must know for Wednesday, May 8:
1. -- Stocks Point Lower Amid Trade War Uncertainty
U.S. stock futures were falling on Wednesday following a nearly 500-point decline for the Dow Jones Industrial Average in Tuesday's session as investors held onto hopes that this week's talks in Washington will salvage months of negotiations on trade between the U.S. and China.
Shares in Asia tumbled as investors grew increasingly concerned about what kind of impact a collapse in U.S.-China trade talks would have on an already-fragile world economy.
Contracts tied to the Dow Jones Industrial Average fell 95 points, futures for the S&P 500 dropped 11.80 points, and Nasdaq futures were down 40.25 points.
While Wall Street has finished lower the past two trading days, the backdrop remains extremely favorable for U.S. equities amid rising corporate profits, improving labor market and wage gains, an economy growing at a near 3% clip and a dovish central bank that isn't prepared to signal rate hikes until at least the latter part of 2019.
The Dow slumped more than 470 points Tuesday to 25,965, the index's first close below 26,000 since March 29, amid the trade standoff. The U.S. has set Friday for when it will impose higher tariffs on China, a day after representatives from both countries are scheduled to resume trade talks in Washington. 
The economic calendar in the U.S. Wednesday includes Oil Inventories for the week ended May 3 at 10:30 a.m. ET.
Earnings reports are expected Wednesday from Walt Disney (DIS) - Get The Walt Disney Company Report , Sinclair Broadcast Group (SBGI) - Get Sinclair Broadcast Group Inc. Report , Hostess Brands (TWNK) - Get Hostess Brands Inc. Report , Etsy (ETSY) - Get Etsy Inc. Report , e.l.f. Beauty (ELF) - Get e.l.f. Beauty Inc. Report , CenturyLink (CTL) - Get CTL Report , Marathon Petroleum (MPC) - Get Marathon Petroleum Corporation Report , New York Times (NYT) - Get New York Times Company (The) Report , Wendy's (WEN) - Get Wendy's Company (The) Report , Dropbox (DBX) - Get Dropbox Inc Report , Fossil Group (FOSL) - Get Fossil Group Inc. Report , Microchip Technology (MCHP) - Get Microchip Technology Incorporated Report and Roku  (ROKU) - Get Roku Inc. Report .
Walt Disney is a holding in Jim Cramer'sAction Alerts PLUS Charitable Trust Portfolio. Want to be alerted before Cramer buys or sells DIS? Learn more now.
2. -- Lyft Posts $1.1 Billion Loss in First Report as Public Company
Lyft (LYFT) - Get Lyft Inc. Report  was down 0.6% in premarket trading Wednesday to $59 after the ride-sharing company reported a wider-than-expected first-quarter loss but better-than-expected revenue and guidance.
Lyft reported a first-quarter loss of $1.14 billion, or $48.53 a share, on revenue of $776 million. The adjusted loss in the quarter was $9.02 a share. Analysts were calling for a loss of $3.77 a share on sales of $739.9 million.
"The first quarter was a strong start to an important year, our first as a public company," said Logan Green, co-founder and CEO of Lyft. "Our performance was driven by the increased demand for our network and multi-modal platform, as active riders grew 46% and revenue grew 95% year over year."
Lyft guided for revenue of $800 million and $810 million in the second quarter.
On a conference call, Lyft executives said that 2019 will be a "peak year" for losses, after which the company will begin moving toward profitability on a consolidated basis. 
Lyft also announced a new partnership with Waymo, the self-driving car unit of Google parent Alphabet (GOOGL) - Get Alphabet Inc. Report , to add 10 Waymo autonomous vehicles in the Phoenix area.
Separately, a strike by Lyft and Uber drivers in more than a dozen cities is planned for Wednesday, a day before Uber's initial public offering will be priced. 
The strikes are expected to happen across major U.S. cities, and in the U.K., Australia and South America. In New York, the drivers will strike from 7 a.m. to 9 a.m. ET.
3 -- Electronics Arts Surges as 'Apex Legends' Drives Gains
Electronic Arts (EA) - Get Electronic Arts Inc. Report  jumped 8.2% to $100.32 in premarket trading after the videogame maker posted fiscal fourth-quarter revenue and net bookings that were better than expected, and said demand for its new "Apex Legends" release will help drive gains in the coming fiscal year.
Revenue in the quarter was $1.24 billion, down from $1.58 billion a year earlier but ahead of analysts' forecasts of $1.2 billion.
Net bookings in the period were $1.36 billion, higher than estimates of $1.2 billion.
Electronic Arts reported earnings of 69 cents a share, but didn't release a non-GAAP figure comparable to the analysts' estimate of 96 cents.
The company issued fiscal 2020 revenue guidance of $5.38 billion, ahead of consensus of $5.17 billion, operating cash flow of around $1.58 billion and earnings in the range of $8.56 a share, as "Apex Legends," a hugely successful "Battle Royale"-type game, sparks user growth and new releases such as "Star Wars Jedi: Fallen Order" add to sale momentum later in the year.
"'Apex Legends' is the fastest-growing new game we've ever had, quickly reaching the milestone of 50 million players, and millions more have continued to join," CEO Andrew Wilson told investors on a conference call. "It has also helped us tap into new player audiences, as nearly 30% of 'Apex Legends' players are new to EA. We're incredibly excited and humbled by the passion that fans around the world have for 'Apex Legends.'"
4. -- $40 Million of Bitcoin Stolen From Cryptocurrency Exchange Binance
Cryptocurrency exchange Binance, one of the world's largest, was hacked and about 7,000 bitcoin, valued at more than $40 million, were stolen.
"We have discovered a large scale security breach today, May 7, 2019 at 17:15:24 (UTC). Hackers were able to obtain a large number of user API keys, 2FA codes, and potentially other info. The hackers used a variety of techniques, including phishing, viruses and other attacks. We are still concluding all possible methods used. There may also be additional affected accounts that have not been identified yet," Binance said in a statement on its website.
"The hackers had the patience to wait, and execute well-orchestrated actions through multiple seemingly independent accounts at the most opportune time," Binance said."The transaction is structured in a way that passed our existing security checks. It was unfortunate that we were not able to block this withdrawal before it was executed. Once executed, the withdrawal triggered various alarms in our system. We stopped all withdrawals immediately after that."
Binance said it would cover the incident in full and "no user funds will be affected."
Bitcoin has surged this week, topping $5,900 on Tuesday before falling slightly.
The cryptocurrency has risen about 3% this week and has gained close to 20% since April 1, when a private investor reportedly purchased $100 million in cryptocurrency.
5. -- Sprint Tumbles After Subscriber Numbers Drop 
Sprint  (S) - Get SentinelOne Inc. Class A Report was tumbling 0.9% in premarket trading after the No. 4 wireless carrier said it lost 189,000 phone subscribers in its fiscal fourth quarter, much wider than analysts' forecasts that called for a net loss of 117,000.
Sprint also reported a wider-than-expected adjusted loss in the quarter of 4 cents a share. Analysts had expected a loss of 1 cent.
Sprint is awaiting regulatory arrival to merge with T-Mobile U.S. (TMUS) - Get T-Mobile US Inc. Report in a $26 billion deal.
The wireless carrier said it expects earnings to fall between $400 million to $500 million over the June quarter as wireless revenue retreats, and it trimmed its capex plans to around $2.9 billion even as it launches 5G networks in nine cities around the U.S. and prepares a new line-up of 5G-compliant phones for release over the next few months.
"We remain sidelined on Sprint due to the merger, though believe that Sprint would have difficulty remaining competitive as a standalone company," said Oppenheimer analyst Timothy Horan. "While 5G rollouts should soften churn and help subscriber metrics early on, the path ahead isn't clear."