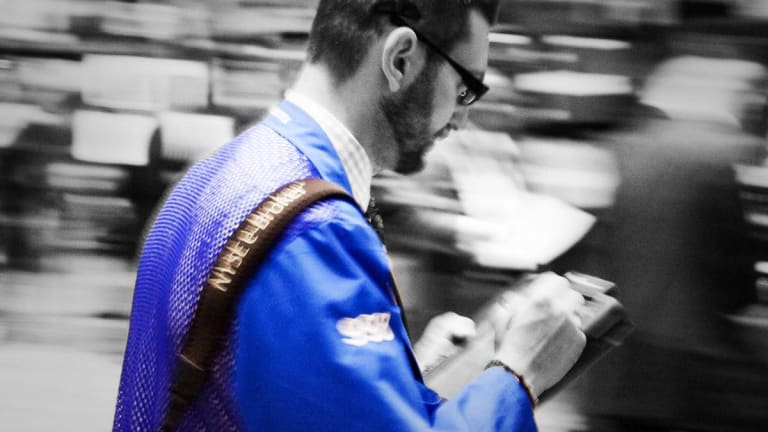 China Trade, Theresa May, Nvidia and Tencent Music - 5 Things You Must Know
U.S. stock futures rise as investors cheer progress in U.S.-China trade talks; U.K. Prime Minister Theresa May faces a leadership challenge that could deepen the country's political crisis; SoftBank reportedly plans a sale of its stake in chipmaker Nvidia; Chinese hackers are behind the massive breach at Marriott, The New York Times reports.
Here are five things you must know for Wednesday, Dec. 12:
1. -- Stocks Rise on Trump's Comments About China Trade Discussions
U.S. stock futures rose on Wednesday, Dec. 12, and global stocks traded higher as investors cheered progress in U.S.-China trade talks but kept a watchful eye on developments in the United Kingdom, where Prime Minister Theresa May faced a leadership challenge that could deepen the country's political crisis.
Contracts tied to the Dow Jones Industrial Average rose 178 points, futures for the S&P 500 gained 19.50 points, and Nasdaq futures jumped 61.50 points.
Donald Trump told Reuters he was pleased with the early progress in trade talks with Beijing, and said he would be prepared to meet with Chinese President Xi Jinping if it would bring the sides closer to a comprehensive agreement. He also said he was willing to intervene in the legal proceedings surrounding Huawei Technologies Co. Chief Financial Officer Meng Wanzhou, who was granted bail in Canada Tuesday but still faces extradition to the United States on charges she helped the company evade sanctions on Iran.
"If I think it's good for the country, if I think it's good for what will be certainly the largest trade deal ever made - which is a very important thing - what's good for national security - I would certainly intervene if I thought it was necessary," Trump said in an interview with Reuters in the Oval Office.
Trump's comments, as well as the bullish sentiment linked to a report that China was ready to slash tariffs on U.S.-made cars - which Trump appeared to confirm - lifted stocks in Asia and boosted European shares on Wednesday.
Sentiment was capped, however, by concerns that Britain's Brexit crisis could claim the country's top politician, as members of the ruling Conservative Party vote later Wednesday in a leadership challenge to May.
The economic calendar in the U.S. on Wednesday includes the Consumer Price Index for November at 8:30 a.m. ET. Economists surveyed by FactSet expect no change for CPI in November vs. a 0.3% increase in October. Core CPI, excluding food and energy, is expected to rise 0.2%.
The calendar also includes Oil Inventories for the week ended Dec. 7, at 10:30 a.m.
Earnings reports are expected Wednesday from Vera Bradley Inc. (VRA) - Get Report and Nordson Corp. (NDSN) - Get Report .
American Eagle Outfitters Inc. (AEO) - Get Report  fell 4.9% in after-hours trading on Tuesday after the clothing and accessories retailer issued a weak holiday forecast.
2. -- SoftBank Reportedly Plans Sale of Nvidia Stake
Shares of Nvidia Corp.  (NVDA) - Get Report  rose 1.4% in premarket trading, rebounding from Tuesday's 2.4% decline after Bloomberg reported that SoftBank Group Corp. (SFTBY)  was planning to sell its stake in the giant chipmaker.
SoftBank owned roughly 4.4% of Nvidia through its Sb Investment Advisers as of the end of September, according to FactSet, with the stake currently worth about $4 billion. SoftBank hasn't disclosed how much of Nvidia it wants to sell, or even if it will sell its entire stake, according to Bloomberg.
Nvidia has declined about 23% this year. Fears of slowing demand for chips have hurt not only Nvidia but the entire semiconductor industry. Nvidia missed estimates in its quarter ended in November, as TheStreet's Jim Cramer had predicted, partly due to slowing demand from cryptocurrency miners.
Meanwhile, Nvidia insiders have been shedding some of their positions in the company. Insiders have sold 178,000 shares in the last few months, according to FactSet, with CEO Jensen Huang having sold 41,000 shares over that time.
3. -- Tencent Music's IPO Is Priced at Low End of Range
Tencent Music Entertainment Group's initial public offering was priced at $13 per American depositary share, at the low end of the expected range of $13 to $15 a share.
At $13, the Chinese music-streaming raised roughly $1.1 billion for the company and its selling shareholders, The Wall Street Journal reported.
Tencent Music is valued at $21.3 billion on a fully diluted basis, according to Dealogic, making it one of the largest traditional IPOs by market value in the U.S. since Alibaba Group Holding Ltd. (BABA) - Get Report went public in 2014 at $169.4 billion, according to the Journal.
Tencent Music, a part of Tencent Holdings Ltd. (TCEHY) , will begin trading on the New York Stock Exchange on Wednesday under ticker symbol "TME." 
4. -- China Hackers Behind Massive Marriott Breach - Report
The cyberattack on the Marriott International Inc. (MAR) - Get Report hotel chain that collected personal details of about 500 million guests was the work of Chinese hackers, The New York Times reported.
The Chinese intelligence-gathering effort also hacked health insurers and the security clearance files of millions more Americans, the Times reported, citing two people briefed on the investigation.
The hackers, the people said, are suspected of working on behalf of the Ministry of State Security, the country's Communist-controlled civilian spy agency. The discovery comes as the Trump administration is planning actions targeting China's trade, cyber and economic policies, perhaps within days, the Times noted.
5. -- American Eagle Slumps on Weak Holiday Forecast
The company reported third-quarter net income of 48 cents a share, which met analysts' estimates. Revenue of $1 billion, however, came in under expectations of $1.02 billion. Comparable-store sales also missed estimates, rising 8% but below forecasts of 8.5%.
For the fourth quarter, American Eagle said it expects earnings of 40 cents to 42 cents a share, below Wall Street estimates of 47 cents.