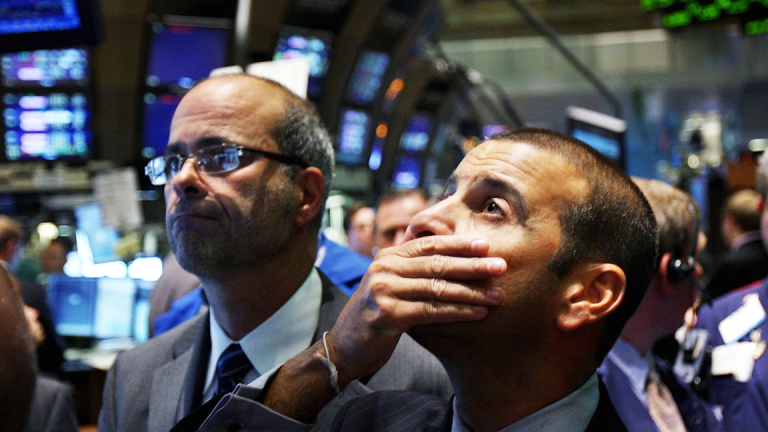 China Tariffs, Fox-Sky, Pfizer, Apple, Free Slurpees - 5 Things You Must Know
U.S. stock futures fall sharply on Wednesday, after the White House publishes a list of $200 billion worth of China-made goods it says will be hit with fresh tariffs; Twenty-First Century Fox increases its bid to buy Britain's Sky; Pfizer to 'defer' raising drug prices following talks with Donald Trump.
Here are five things you must know for Wednesday, July 11:   
1. -- Stocks Sink as Trump Ramps Up Trade War With China
U.S. stock futures fell sharply on Wednesday, July 11, and global stocks tumbled following the latest escalation in trade war rhetoric from the White House, which published a list of $200 billion worth of China-made goods it said will be hit with fresh tariffs.
The list, which includes products across sectors such as consumer technology, agriculture and automobile parts and equipment, came just days after Donald Trump unveiled $34 billion in tariffs on Chinese goods that were immediately reciprocated by Beijing.
Join Jim Cramer's monthly call with Action Alerts PLUS club members today. Register here.
"For over a year, the Trump administration has patiently urged China to stop its unfair practices, open its market, and engage in true market competition," U.S. Trade Representative Robert Lighthizer said in a statement. "Rather than address our legitimate concerns, China has begun to retaliate against U.S. products ... There is no justification for such action."
China's Commerce Ministry said Wednesday that the latest tariff threat was "bad for China, the U.S. and the rest of the world" and promised to retaliate with both "quantitative and qualitative" measures.
Contracts tied to the Dow Jones Industrial Average undefined  slumped 195 points, futures for the S&P 500 undefined  fell 17.50 points and Nasdaq undefined futures were down 53.75 points.
The economic calendar in the U.S. on Wednesday includes the Producer Price Index for June at 8:30 a.m. ET, Wholesale Trade for May at 10 a.m., and Oil Inventories for the week ended July 6, at 10:30 a.m.
Fastenal Co. (FAST) rose 6.5% in premarket trading after the maker of industrial and construction fasteners posted second-quarter earnings that beat analysts' estimates.
2. -- Fox Raises Its Bid for Sky
Twenty-First Century Fox Inc.  (FOXA) increased its bid to buy Britain's Sky PLC on Wednesday, just a day ahead of expected clearance from U.K. authorities in a deal that could pressure Comcast Corp.'s  (CMCSA) ability to top Walt Disney Co.  (DIS) in the race for Rupert Murdoch's U.S. media assets.
Fox will pay £14 a share for the 61% of Sky that it doesn't already own, up from the original bid price of £10.75 per share it put on the table in December 2016. The deal values Europe's biggest pay-TV company at £24.5 billion ($32.5 billion) and tops the £12.50 bid that Comcast made earlier this year.
Investors have targeted Sky as the key asset in the battle between Disney and Comcast for the U.S. media assets of Fox. Last month, Disney said it would pay Fox $38 a share in either cash or stock for most of Fox's assets, again topping Comcast's offer of $35 a share. Disney's bid for Fox is valued at $71.3 billion.
Comcast is a holding in Jim Cramer's Action Alerts PLUS member club. Want to be alerted before Jim Cramer buys or sells the stock? Learn more now.
3. -- Pfizer to Defer Drug Price Hikes
Pfizer Inc. (PFE)  said Tuesday, July 10, it would hold off raising drug prices following an "extensive discussion" with Donald Trump.
The price increases went into effect on July 1. But Pfizer, in a statement, said it would "defer" the price hikes to "give the president an opportunity to work on his blueprint to strengthen the healthcare system and provide more access for patients."
Pfizer said drug prices will return to their pre-July 1 levels as soon as possible, and will remain there "until the earlier of when the president's blueprint goes into effect or the end of the year - whichever is sooner."
Trump tweeted on Tuesday that Pfizer was "rolling back price hikes, so American patients don't pay more."
Pfizer declined slightly in premarket trading on Wednesday.
4. -- Japan Watchdog Says Apple May Have Breached Antitrust Rules
Japanese regulators said Wednesday that Apple Inc. (AAPL) may have breached antitrust rules by forcing mobile service providers to sell its iPhones cheaply and charge higher monthly Reuters reported.
The Fair Trade Commission said that Apple's Japanese unit had forced NTT Docomo Inc., KDDI Corp. and SoftBank Group Corp. to offer subsidies and sell iPhones at a discount, according to Reuters.
The commission, which began looking into Apple's sales practices in 2016, didn't punish Apple as the U.S. tech giant had agreed to revise its contracts with the carriers, the Fair Trade Commission said.
Separately, a former Apple employee who worked on the company's secretive autonomous car project has been charged in federal court with stealing trade secrets from the iPhone maker, authorities said, the Mercury News reported.
The charges against Xiaolang Zhang were filed Monday in the U.S. District Court of Northern California and alleged that Zhang, a hardware engineer for Apple, planned to take some of the company's secrets with him when he took a job with another company.
"Apple takes confidentiality and the protection of our intellectual property very seriously," Apple spokesman Tom Neumayr said in an email to the Mercury News. "We're working with authorities on this matter and will do everything possible to make sure this individual and other individuals involved are held accountable for their actions."
Apple is a holding in Jim Cramer's Action Alerts PLUS member club. Want to be alerted before Jim Cramer buys or sells AAPL? Learn more now.
5. -- Get Your Free Slurpee
July 11 is "7-Eleven Day" and the convenience store chain will be giving away a free small Slurpee at stores across the U.S. from 11 a.m. to 7 p.m. The featured Slurpee is Cap'n Crunch's Crunch Berries.
7-Eleven, which is celebrating its 91st anniversary, estimated it will give away about 9 million Slurpees by the end of the day.
Free White Paper: 7 Things All Investors Must Know in 2018. Start the second half off right with our free white paper on seven key things to watch this year. From how much cash to have on hand to the three reasons this bull market might die, our white paper features key takeaways from an all-star panel that TheStreet and Fisher Investments recently hosted in New York. Click here to register for your free online copy.