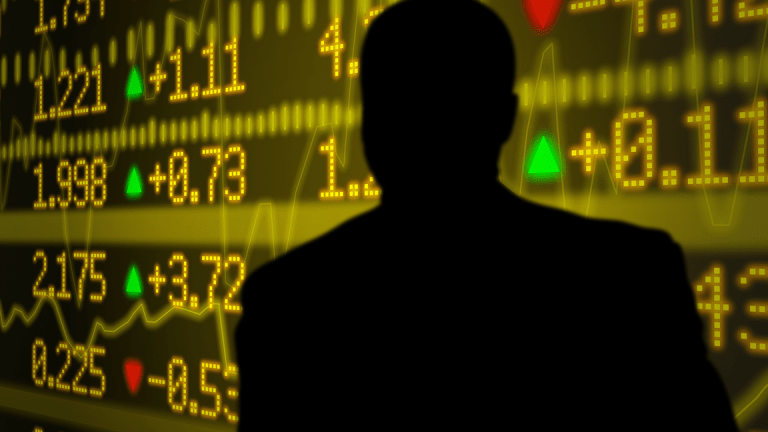 Dow Futures, Uber, Shake Shack and China Trade - 5 Things You Must Know Tuesday
U.S. stock futures rise a day after the three major U.S. benchmark indexes posted record closing highs on positive trade developments between the U.S. and China and strong corporate earnings; Uber posts $1.2 billion loss but sees profitability in 2021; Shake Shacks sinks on a weak same-store sales forecast.
Here are five things you must know for Tuesday, Nov. 5: 
1. -- Stock Futures Point to More Records on Wall Street
U.S. stock futures rose Tuesday, a day after the three major U.S. benchmark indexes posted record closing highs on positive trade developments between the U.S. and China and strong corporate earnings.
Contracts tied to the Dow Jones Industrial Average gained 82 points, futures for the S&P 500 rose 8.05 points, and Nasdaq futures jumped 28.50 points.
Stocks were indicated to move further into record territory on Tuesday following reports that said the United States was considering whether to remove  existing tariffs on $112 billion of Chinese goods as a concession to seal the phase one" trade agreement.
The Financial Times reported the Trump administration was considering whether to roll back levies on such items as clothing, appliances and flat-screen monitors that were introduced at a 15% rate on Sept. 1.
However, the U.S. would want something in return, according to the Financial Times, such as beefed up provisions on the protection of intellectual property for U.S. companies.
The three major U.S. stock indexes closed at record highs on Monday as investors shifted into buying mode following a stronger-than-expected U.S. jobs report and signs of progress in U.S.-China trade talks.
The Dow, which has gained about 19% year to date, finished up 114 points, or 0.42%, to 27,462.11, the S&P 500 advanced 0.37% to 3,078.27, and the Nasdaq climbed 0.56% to 8,433.20. 
During the session, the Dow hit an intraday high of 27,517.60 while the S&P reached 3,085.20 and the Nasdaq hit 8,451.37.
The economic calendar in the U.S. Tuesday includes International Trade for September at 8:30 a.m. ET, the ISM Non-Manufacturing Index for October at 10 a.m. and the Job Openings and Labor Turnover Survey for September at 10 a.m.
2. -- Uber Posts $1.2 Billion Loss but Sees Profitability in 2021
Uber Technologies (UBER)  declined 6.37% to $29.10 in premarket trading Tuesday even after the ride-hailing giant posted a quarterly loss narrower than expected and revenue higher than forecasts.
Uber also narrowed its loss forecast for the full year, and said it will be profitable in 2021.
The adjusted loss in the quarter was 68 cents a share, narrower than Wall Street's expected loss of 70 cents. Revenue jumped 30% to $3.81 billion, beating analysts' estimates of $3.63 billion.
The net loss for the three months ended Sept. 30 was $1.2 billion.
However, gross bookings, an indication of how much Uber took in on its platform before paying driver and other fees, were $16.5 billion, missing estimates of $16.7 billion. In addition, the number of monthly active users on the platform was 103 million vs. the expected 107 million. 
The company's average ride-hailing take-rate, or the cut of the total ride fee Uber keeps, was 22.8%, above estimates of 20.9%. Gross bookings at Uber Eats rose 73% to $3.66 million but missed estimates of $3.96 million.
Uber said it expects an adjusted Ebitda loss for 2019 of between $2.8 billion and $2.9 billion, narrower than its previous guidance for a loss of $3 billion to $3.2 billion.
CEO Dara Khosrowshahi told investors on a conference call that the company primarily is focused on improving efficiencies across the business and will be profitable on a consolidated basis for the full year 2021. 
Profits will arrive "as we see the benefits of global scale and efficiency," said Khosrowshahi on the call. Among other cost-cutting efforts, Uber laid off hundreds of employees during the third quarter, its third round of layoffs since going public in May 2019.
3. -- Allergan, Caesars, Dish Network, Mylan Report Earnings Tuesday
Earnings reports are expected Tuesday from Allergan (AGN) , Booking Holdings (BKNG) , Emerson Electric (EMR) , Match (MTCH) , Caesars Entertainment (CZR) , Peloton Interactive (PTON) , Tapestry (TPR) , Red Robin Gourmet Burgers (RRGB) , Arconic (ARNC) , DISH Network (DISH) , Newmont Goldcorp (NEM) , Henry Schein (HSIC) , Microchip Technology (MCHP) and Mylan (MYL) .
4. -- Adobe's Forecast for Fiscal 2020 Exceeds Expectations
Adobe (ADBE)  jumped in premarket trading after the software company issued an earnings forecast for fiscal 2020 that exceeded analysts' expectations.
At a financial analyst meeting, Adobe estimated revenue will total $13.15 billion in the year beginning Dec. 1, compared to analysts' forecast of $13.14 billion. The company also projected adjusted earnings $9.75 a share for fiscal 2020, compared with analysts' predictions of $9.70.
Adobe put net new annual recurring revenue for digital media, which tracks new demand for the company's creative and document software, at $1.55 billion for fiscal 2020. That tops analysts' forecast of $1.53 billion, according to Bloomberg. Investors care about that number because of Adobe's general slowdown in revenue growth.
"Our strategy to unleash creativity, accelerate document productivity and power digital businesses is driving our growth and represents a $128 billion opportunity in 2022," Adobe CEO Shantanu Narayen said in a news release announcing the estimates.
The stock rose 4.43% to $289.79 in premarket trading. The stock has gained 22.66% so far in 2019.
5. -- Shake Shack Sinks on Weak Same-Store Sales Forecast
Shake Shack  (SHAK)  sank 17% to $69.88 in premarket trading Tuesday on a disappointing sales forecast even after the burger chain's third-quarter earnings topped analysts' estimates.
Adjusted earnings in the quarter were 26 cents a share, higher than Wall Street forecasts of 20 cents. Revenue of $157.8 million came in slightly above estimates.
However, weak quarterly same-store sales - up 2% vs. estimates of 2.5% - and a weak same-store sales forecast for the full year more than offset the current quarter's performance.
Shake Shack raised its full-year revenue forecast to a range of $592 million to $597 million but trimmed its full-year forecast for same-store sales growth to 1.5% from previous expectations of 2%.