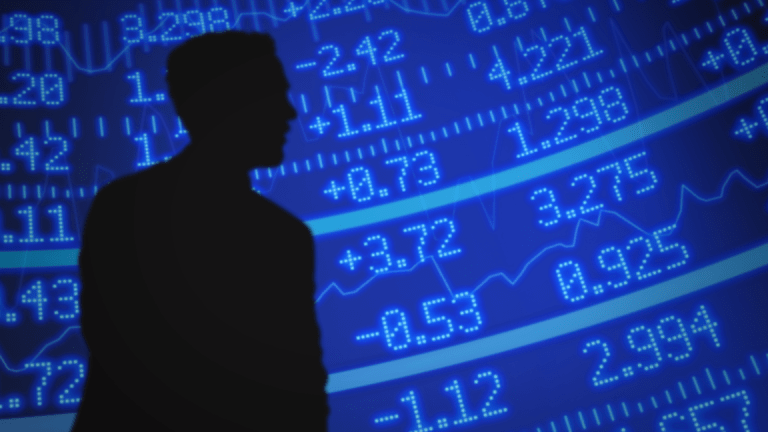 China Blacklist, Houston Rockets, Southwest, Domino's - 5 Things You Must Know
U.S. stock futures fall as investors eye a move by the U.S. to blacklist several China-based tech companies that could affect the trade talks that begin this week in Washington; Domino's Pizza and Levi Strauss report earnings; Chinese state TV suspends broadcast of NBA games; Southwest pilots sue Boeing.
Here are five things you must know for Tuesday, Oct. 8: 
1. -- Stock Futures Fall as High-Level U.S.-China Trade Talks Set to Begin
U.S. stock futures declined Tuesday as investors eyed a move by the United States to blacklist several China-based tech companies that could affect the trade talks that begin this week in Washington.
The Commerce Department unveiled the blacklist late Monday, targeting China-based tech companies operating in the artificial intelligence space that were deemed to have been "implicated in human rights violations and abuses in the implementation of China's campaign of repression, mass arbitrary detention, and high-technology surveillance against Uighurs, Kazakhs, and other members of Muslim minority groups."
The censure prevents the eight companies from buying components from U.S. corporations without prior government permission. More importantly, however, the move comes just days ahead of high-level trade talks between the world's two largest economies and could spark reprisals against U.S. companies from Beijing.
The high-level trade talks that begin Thursday will be only the second time senior officials from both sides have met since June.
White House Economic Adviser Larry Kudlow told reporters in Washington on Monday that progress has been made ahead of the talks, adding the U.S. was open to any deal China brings to the table, after reports suggested Beijing was no longer interested in a broad-based agreement after more than a year of wrangling with the Trump administration.
Contracts tied to the Dow Jones Industrial Average fell 205 points, futures for the S&P 500 declined 22 points, and Nasdaq futures were down 59.50 points.
Stocks finished lower Monday amid cautious trading ahead of high-level trade negotiations.
2. -- Producer Price Index, Domino's Earnings Are Tuesday Calendar Highlights
The economic calendar in the U.S. Tuesday includes the Producer Price Index for September at 8:30 a.m. ET.
Federal Reserve Chairman Jerome Powell is scheduled to speak at the 61st National Association of Business Economics Annual Meeting in Denver at 1:50 p.m. in remarks titled "A View from the Federal Reserve Board of Governors."
Earnings are expected Tuesday from Levi Strauss (LEVI) - Get Free Report and Domino's Pizza (DPZ) - Get Free Report .
3. -- Chinese State TV Suspends Broadcast of NBA Games
China's state broadcaster said Tuesday it will no longer televise NBA games, cutting off the basketball league from its second-largest market as the row over a tweet from the Houston Rockets' general manager threatened to overshadow the upcoming season.
The CCTV Sports channel of China Media Group said it will suspend NBA broadcasts, which attracted about 800 million viewers last year, after league Commissioner Adam Silver defended Daryl Morey for sending a tweet earlier this week - for which he later apologized - that expressed support for the ongoing pro-democracy demonstrations in Hong Kong.
"I think as a values-based organization that I want to make it clear ... that Daryl Morey is supported in terms of his ability to exercise his freedom of expression," Silver told Japan's Kyodo news agency Tuesday ahead of an exhibition game between the Rockets and the Toronto Raptors in Tokyo. "I accept that it is also Chinese governments' and Chinese businesses' right to react to those words and, at least from my long-time experience in the NBA, it will take some time to heal some of these issues."
The Houston Rockets, purchased by hedge fund billionaire Tilman Fertitta in 2017, have a long history with basketball in China, linked in part to the club's decision to draft Yao Ming, one of the country's biggest sport heroes, in 2002.
4. -- Southwest Pilots Sue Boeing Over Grounding of 737 MAX
The pilots union of Southwest Airlines (LUV) - Get Free Report  has sued Boeing (BA) - Get Free Report , saying its pilots are losing money because the aerospace giant rushed an unsafe plane into service only to have the 737 MAX grounded after two deadly crashes.
The Southwest Airlines Pilots Association said in the lawsuit that Boeing misled pilots and airlines by not telling them about a new flight-control system called MCAS that is now at the center of investigations into the crashes, the Associated Press reported.
The lawsuit, filed Monday in state court in Dallas, could make it harder for Boeing to gain public confidence in the plane, which was grounded in March. Boeing was hoping to use pilots in a campaign to reassure travelers once regulators approve changes that the company is making to the plane, the Associated Press noted.
"We believe this lawsuit is meritless and will vigorously defend against it," said Boeing spokesman Charles Bickers. "We will continue to work with Southwest Airlines and its pilots on efforts to safely return the AX to service."
Southwest had more MAX jets than any airline when the plane was grounded. The union said the grounding has eliminated more than 30,000 Southwest flights.
5. -- Oracle Plans to Hire 2,000 Workers in Cloud Services Push
Oracle (ORCL) - Get Free Report plans to hire nearly 2,000 additional workers as part of an aggressive plan to roll out its cloud computing services to more locations around the world, Don Johnson, executive vice president of the Oracle Cloud Infrastructure unit, told Reuters.
Jobs will be added in the company's software development hubs in Seattle, the San Francisco Bay Area and India, as well as near new data centers, Johnson said.
By the end of next year, Oracle plans to open 20 more cloud "regions" - places where Oracle operates data centers so customers can safely stash data for disaster recovery or to comply with local data storage laws, Reuters reported. It currently has 16 such regions.
The moves by Oracle are an effort to better compete in the cloud space with bigger rivals Amazon (AMZN) - Get Free Report and Microsoft (MSFT) - Get Free Report .
Separately, Jefferies analyst Brent Thill lowered his price target on Oracle to $66, a $6 reduction from the previous level, and cut his rating on the stock to hold from buy.
Oracle declined 1.13% in premarket trading to $54.18.
Amazon and Microsoft are holdings in Jim Cramer's Action Alerts PLUS member club. Want to be alerted before Jim Cramer buys or sells the stocks? Learn more now.