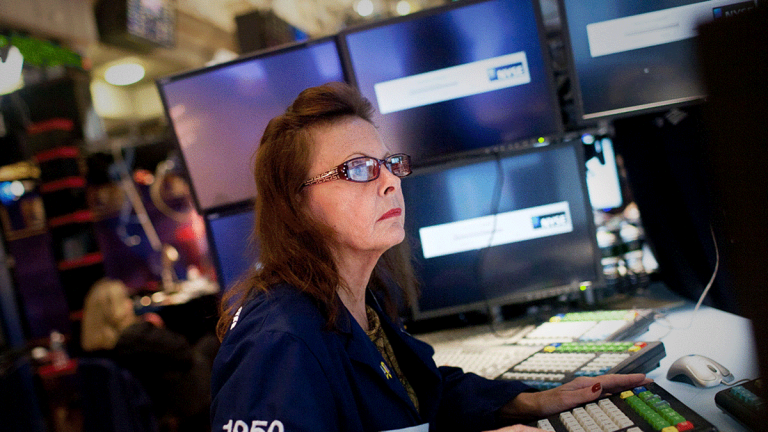 Dow Futures, Johnson & Johnson, Boeing, Papa John's - 5 Things You Must Know
U.S. stock futures rise modestly on Tuesday as investors are cautiously optimistic a trade deal between Washington and Beijing can be reached; Johnson & Johnson is found responsible for helping fuel the opioid crisis in Oklahome and is ordered to pay $572 million; Russian conglomerate Rostec confirms it filed a lawsuit in the United States to cancel its order for Boeing 737 MAX jets, a report says.
Here are five things you must know for Tuesday, Aug. 27: 
1. -- Stock Futures Rise as Optimism Remains for U.S.-China Trade Negotiations
U.S. stock futures rose modestly on Tuesday, a day after clawing back some of the sharp losses from a week earlier, as investors were cautiously optimistic a trade deal between Washington and Beijing can be reached.
Contracts tied to the Dow Jones Industrial Average rose 32 points, futures for the S&P 500 were up 4.20 points, and Nasdaq futures gained 19.25 points.
Stocks finished higher Monday after Donald Trump said he believes China "very badly" wants to make a trade deal.
The Dow surged 270 points, or 1.05%, to finish Monday at 25,899, the S&P 500 rose 1.1% and the Nasdaq gained 1.32%.
"It remains all about trade as President Donald Trump's comments on the matter had once again been the primary driver for markets at the start of the week. Even though the sentiment had taken a positive turn on the latest update, uncertainty nevertheless persists to warrant a more cautious stance," said Jingyi Pan, a market strategist at IG in Singapore.
Trump claimed Monday from the G-7 summit in France that China had contacted U.S. trade officials and said "let's get back to the table." China's foreign ministry, however, denied knowledge of any such calls.
2. -- Johnson & Johnson Ordered to Pay $572 Million Penalty in Opioid Case
Johnson & Johnson (JNJ)  rose in premarket trading Tuesday after a judge in Oklahoma found the company was responsible for helping fuel the opioid crisis in the state and ordered the healthcare giant to pay $572 million, less than expected.
Many on Wall Street were expecting Johnson & Johnson to have to pay at least $1.5 billion, according to Jefferies analyst Jared Holz.
J&J said it would appeal the judgment.
Shares rose 1.92% to $130.26 in premarket trading. 
"The opioid crisis has ravaged the state of Oklahoma," said Cleveland County District Judge Thad Balkman. "It must be abated immediately."
Oklahoma Attorney General Mike Hunter had claimed that J&J and its pharmaceutical subsidiary, Janssen, helped worsen the opioid crisis in the state through aggressive marketing to doctors while downplaying the risks of the drugs.
J&J has denied any wrongdoing, saying in court that its marketing and promotion of pain medications were "appropriate and responsible."
Before Oklahoma's trial began May 28, Oklahoma reached settlements with OxyContin-maker Purdue Pharma for $270 million and Teva Pharmaceutical (TEVA) for $85 million.
" ... keep in mind that this decision won't be the last of Johnson & Johnson's litigation risk. We would not buy shares on this pop alone," said Jim Cramer and the Action Alerts PLUS team, which holds J&J in its portfolio. "The company must still navigate through a much bigger opioid lawsuit that takes place in Ohio, as well as ongoing talc litigation. Nevertheless, we believe Johnson & Johnson is capable of handling such potential fines due to its AAA balance sheet and strong pharmaceutical franchise. Furthermore, we have said the stock reflects too much downside and no wins."
3. -- Russia's Rostec Files Lawsuit to Cancel Boeing 737 MAX Order
Russian conglomerate Rostec confirmed a subsidiary filed a lawsuit in the United States to cancel its order for 35 Boeing (BA) 737 MAX jets, a company representative told Reuters.
According to the Financial Times, which first reported about the lawsuit, Rostec subsidiary, Avia Capital Service, said it gave Boeing a cash deposit of $35 million and secured the order of 35 737 MAX jets.
Avia now wants the amount to be returned with interest, along with $75 million in "lost profit" and about $115 million in compensatory damages, plus "several times the amount" in punitive damages, according to the Financial Times.
Boeing's MAX jets have been grounded around the world since March after two deadly crashes in October 2018 and March 2019 killed a total of 346 people.
4. -- Hewlett Packard Enterprise, J.M. Smucker Report Earnings
Earnings reports are expected Tuesday from Hewlett Packard Enterprise (HPE) , J.M. Smucker (SJM) , Autodesk (ADSK) and Momo (MOMO) .
The economic calendar in the U.S. Tuesday includes the S&P Corelogic Case-Shiller Home Price Index for June at 9 a.m. ET, and Consumer Confidence for August at 10 a.m.
5. -- Papa John's to Name Arby's President Lynch as New CEO - Report
Papa John's International (PZZA) is preparing to appoint Arby's President Rob Lynch as its new CEO, Bloomberg reported, citing a person with knowledge of the matter.
Lynch will replace Steve Ritchie, who took over about 19 months ago. It's the biggest shakeup yet since activist shareholder Starboard Value set its sights on the struggling pizza chain, Bloomberg noted.
The change in Papa John's management will be made as soon as Tuesday, the person told Bloomberg.
Papa John's has suffered from dwindling same-store sales which the company attributed, in part, to issues involving former CEO John Schnatter, who generated controversy over racially charged statements. Schnatter stepped down as CEO in 2017 and resigned as chairman in January 2019.
Save 57% With Our Labor Day Sale. Join Jim Cramer's Action Alerts PLUS investment club to become a smarter investor! Click here to sign up!