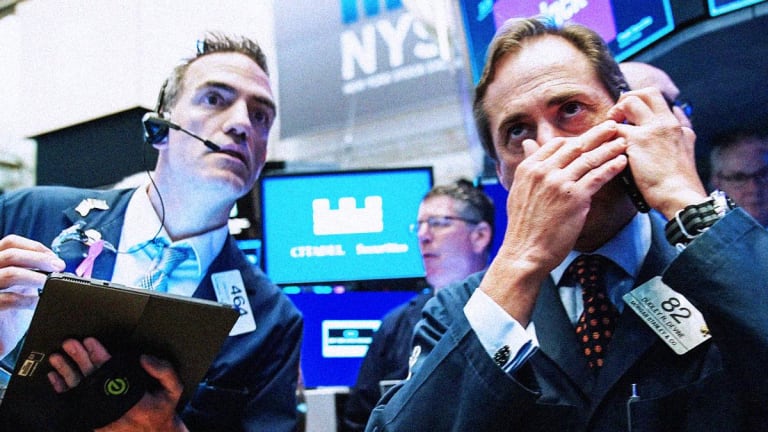 Hong Kong Protests, Gold, T-Mobile, Verizon, Tilray - 5 Things You Must Know
U.S. stock futures fall as unrest in Hong Kong and the ongoing trade tensions between the U.S and China make for jittery investors; Oregon is the 16th state to join a lawsuit blocking the merger of T-Mobile US and Sprint; Verizon reaches deal to sell blogging website Tumblr.
Here are five things you must know for Tuesday, Aug. 13: 
1. -- Stock Futures Point Lower Amid Hong Kong Unrest, Global Trade Tensions
U.S. stock futures were lower on Tuesday as unrest in Hong Kong and the ongoing trade tensions between the U.S and China made for jittery investors.
Contracts tied to the Dow Jones Industrial Average fell 32 points, futures for the S&P 500 were down 3.30 points, and Nasdaq futures slumped 18.75 points.
Stocks finished sharply lower Monday as fears of a global recession from the U.S.-China trade war weighed on Wall Street, while falling bond yields and unrest in Hong Kong dented sentiment.
The Dow, which lost as much as 462 points on Monday, ended the session down 391 points, or 1.49%, to 25,896, the S&P 500 declined 1.23% and the Nasdaq was off 1.2%.
The Hang Seng Index declined 2.1% on Tuesday as pro-democracy protesters crowded into the territory's airport for a second day and continued to disrupt flights. The index has fallen 11% since the beginning of July, when the protests turned more violent.
Hong Kong's protests were paralleled by a collapse in the Argentine peso, which plunged about 30% against the U.S. dollar following the defeat on Sunday of  incumbent President Mauricio Macri, a business-friendly politician who has helped steady the nation's finances with help from the International Monetary Fund.
Gold, meanwhile, jumped to a fresh six-year high of $1,521.98 an ounce in overnight trading.
The economic calendar in the U.S. for Tuesday includes the Consumer Price Index for July at 8:30 a.m. ET. Economists surveyed by FactSet expect consumer prices in July to have risen 0.3% from June, with core CPI - excluding food and energy - up 0.2%. Year-over-year CPI is forecast to rise 1.7%, with core CPI up 2.1%.
Earnings reports are expected Tuesday from Tilray (TLRY) - Get Tilray Brands Inc. Report , JD.com (JD) - Get JD.com Inc. Report , Elanco Animal Health (ELAN) - Get Elanco Animal Health Incorporated Report , Brinker International (EAT) - Get Brinker International Inc. Report , Advance Auto Parts (AAP) - Get Advance Auto Parts Inc. Report and YY Inc. (YY) - Get JOYY Inc. Report .
2. -- Oregon Joins Lawsuit Blocking T-Mobile and Sprint Merger
Oregon has become the 16th state to join a lawsuit blocking the merger of telecommunications giants T-Mobile US (TMUS) - Get T-Mobile US Inc. Report and Sprint (S) - Get SentinelOne Inc. Class A Report .
Attorney General Ellen Rosenblum said prices will rise and services will shrink if the merger goes through.
"It's important that Oregon join other states in opposing the Sprint-T-Mobile merger," Rosenblum said. "If left unchallenged, the current plan will result in reduced access to affordable wireless service in Oregon - and higher prices. Neither is acceptable."
The Department of Justice in July gave its formal blessing for the $26.5 billion merger, based on the concessions ironed out between the two companies, which includes selling assets to Dish Network (DISH) - Get DISH Network Corporation Report  to even out the competitive playing field.
The New York attorney general's office, along with California, are leading the lawsuit.
3. -- Verizon to Sell Blogging Website Tumblr
Verizon Communications (VZ) - Get Verizon Communications Inc. Report  will sell blogging website Tumblr to the owner of blogging platform WordPress.
Terms of Verizon's sale to WordPress owner Automattic weren't disclosed.
Tumblr, which Verizon acquired via its acquisition of Yahoo in 2017, was bought by Yahoo in 2013 for about $1.1 billion.
Yahoo wrote down Tumblr's value by $230 million in 2016.
It had been reported that Pornhub, the porn-streaming giant, was very interested in buying Tumblr.
4. -- Yum! Brands Name David Gibbs as CEO
Yum! Brands (YUM) - Get Yum! Brands Inc. Report named David Gibbs its new CEO, effective Jan. 1.
Gibbs, 55 years old, currently serves as president and chief operating officer of Yum! and oversees the global KFC, Pizza Hut and Taco Bell divisions.
He will succeed Greg Creed, 62, who is retiring at the end of the year.
5. -- Tencent Music Slumps as User Growth Slows
Tencent Music Entertainment Group (TME) - Get Tencent Music Entertainment Group American Depositary Shares each representing two Class A 腾讯音乐娱乐集团 Report was falling 3.04% to $14.01 per American depositary receipt in premarket trading Tuesday after the media streaming company posted a slowdown in user growth during the second quarter.
Mobile monthly active users rose just 1% to 652 million and monthly average revenue per user fell 1%.
Overall revenue at Tencent Music, which is controlled by Chinese tech giant Tencent Holdings, rose to 5.90 billion yuan ($835.95 million) from 4.50 billion yuan a year earlier, but missed estimates of 5.95 billion yuan, according to Refinitiv.
Monthly ARPU from Tencent Music's social entertainment services rose 16.5% to 130.2 yuan ($18.45), the slowest growth since it went public in December 2018, according to Reuters.