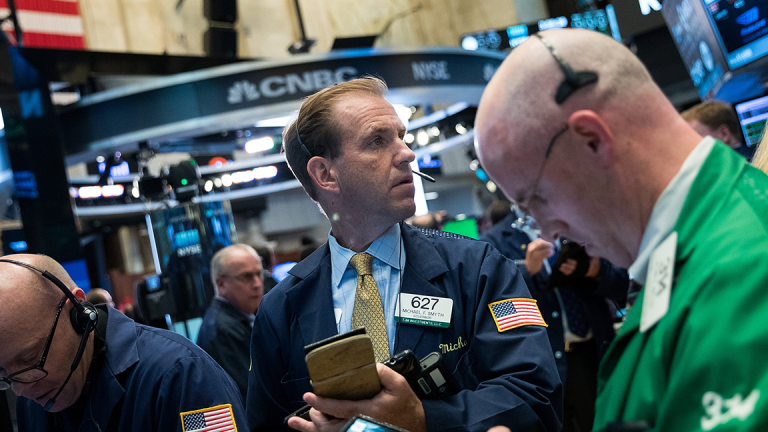 Nike, OPEC, AB InBev, Facebook and Dow Futures - 5 Things You Must Know
U.S. stock futures point lower amid a fresh tariff dispute between Europe and the United States; OPEC agrees to extend output cuts to March 2020; Nike will pull a U.S.A.-themed sneaker featuring an early American flag following complaints from former NFL quarterback Colin Kaepernick.
Here are five things you must know for Tuesday, July 2: 
1. -- Stock Futures Point Lower Amid Fresh Tariff Dispute Between Europe and U.S.
U.S. stock futures pointed lower on Tuesday as investors cheered progress in trade talks between Washington and Beijing but kept optimism in check amid a fresh tariff dispute between Europe and the United States.
Donald Trump said Monday that trade negotiations had "essentially" begun between the world's two biggest economies after he reached a deal to re-start talks with Chinese President Xi Jinping at the G-20 summit in Osaka, Japan over the weekend. He said, however, that any final agreement would need to be "somewhat titled" to advantage of the United States.
Meanwhile, the U.S. Trade Representative's office proposed to increase the value of European-made goods targeted for potential import tariffs by $4 billion - to $25 billion - amid a long-running dispute between Washington and Brussels over government subsidies to aircraft makers Airbus  (EADSY) and Boeing  (BA) .
The threat of a fresh round of tit-for-tat tariff increases, as well as U.S. manufacturing data for June that indicated the lowest level of global factory output since 2012, kept U.S. equity futures in check.
Contracts tied to the Dow Jones Industrial Average declined 44 points, while futures for the S&P 500, which closed at a record high of 2,964 on Monday, fell 4.70 points. Nasdaq futures tumbled 22.75 points. 
The economic calendar in the U.S. on Tuesday includes Motor Vehicle Sales for June from the Bureau of Economic Analysis.
Acuity Brands (AYI) is expected to issue its quarterly earnings reports on Tuesday.
2. -- OPEC Extends Output Cuts to March 2020
OPEC members agreed to extend their agreement for output cuts into March 2020, citing an improving global economy and the ongoing shale boom in the United States that has lifted domestic production to record levels.
OPEC members backed a nine-month extension to their collective production cuts, which were first agreed to in December 2018, following a meeting in Vienna late Monday that was ultimately swung by pressure from Saudi Arabia, which had pushed for the pact following a weekend meeting with non-member ally Russia at the G-20 summit. Saudi Energy Minister Khalid al-Falih said the recent trade detente between the U.S. and China, as well record American production from its recently tapped shale fields, meant global markets could weather an extension of the output cuts that will take 1.2 million barrels from the market each day until the first quarter of next year.
"I have no doubt in my mind that U.S. shale will peak, plateau and then decline like every other basin in history," Al-Falih said late Monday in Vienna. "Until it does I think it's prudent for those of us who have a lot at stake, and also for us who want to protect the global economy and provide visibility going forward, to keep adjusting to it."
Futures contracts for West Texas Intermediate crude, the U.S. benchmark, fell 0.51% early Tuesday to $58.79 a barrel, while Brent crude, the global benchmark, declined 0.43% to $64.78 a barrel.
3. -- Nike to Pull 'Betsy Ross Flag' Sneaker After Kaepernick Complains - Report
Nike (NKE)  will pull a U.S.A.-themed sneaker featuring an early American flag after former NFL quarterback Colin Kaepernick told the company it shouldn't sell a shoe with a symbol that he and others consider offensive, The Wall Street Journal reported, citing people familiar with the matter.
After images of the shoe were posted online, Kaepernick, a Nike endorser, reached out to Nike officials saying that he and others felt the Betsy Ross flag was an offensive symbol because of its connection to an era of slavery, the people told the Journal.
Nike, the athletic apparel and sneaker giant, created the Air Max 1 USA in celebration of Independence Day, and it was slated to go on sale this week. The heel of the shoe featured a U.S. flag with 13 white stars in a circle, a design created during the American Revolution and commonly referred to as the Betsy Ross flag, according to the Journal.
After shipping the shoes to retailers, Nike asked for them to be returned without explaining why, the people told the Journal. The shoes aren't available on Nike's own apps and websites.
"Nike has chosen not to release the Air Max 1 Quick Strike Fourth of July as it featured the old version of the American flag," a Nike spokeswoman told the Journal.
4. -- AB InBev Reportedly Plans $9.8 Billion IPO of Asian Business
Anheuser-Busch InBev (BUD)  , the world's biggest brewing company, reportedly is planning a Hong Kong listing of its Asian business that could raise close to $10 billion.
AB InBev, the maker of Budweiser beer, will sell around 1.6 million shares of Budweiser Brewing APAC at between HK$40 and HK$47 each, a level that would value its Asia region business at as much as $64 billion. The sale itself would raise between $8.3 billion and $9.8 billion, according to reports, and would top the $8.1 billion raised by Uber Technologies (UBER) earlier this year as the world's biggest initial public offering of 2019.
Anheuser-Busch raised the idea of listing its minority stake in Budweiser Brewing APAC earlier this year, telling investors on a conference call following its first-quarter earnings that the move would help lower the company's debt load.
"Proceeding with the listing will depend on a number of factors, including but not limited to valuation and prevailing market conditions," CEO Carlos Brito said in February. "The merits of these initiatives are based upon the creation of an APAC champion in the consumer goods space. Furthermore, our superior portfolio brands and leadership position in the beer industry provide them attractive platform for potential M&A in the region."
5. -- New York Gov. Andrew Cuomo Orders Probe Into Facebook's Advertising Practices
New York Gov. Andrew Cuomo ordered an investigation Monday into alleged discrimination on Facebook's (FB) advertising platform.
Cuomo asked the U.S. Department of Financial Services to investigate reports that state-regulated advertisers used Facebook's ad targeting tools in a discriminatory manner, Reuters reported.
According to Reuters, Cuomo cited reports that Facebook allows advertisers to block or modify ads using ZIP code information as a proxy for discrimination on the basis of race, national origin, religion, or familial status, among other classifications.
It's not the first time that Facebook has been accused of enabling discriminatory practices in its advertising platform.
In 2017, a ProPublica investigation found that landlords and employers used Facebook advertising to engage in discriminatory targeting on the basis of race and other classifications protected under federal law.
Facebook recently settled five lawsuits with civil rights organizations related to those findings and has agreed to amend its ad targeting model, but is facing another civil lawsuit by the U.S. Department of Housing and Urban Development that its advertising practices violate the U.S. Fair Housing Act.
Facebook is a holding in Jim Cramer's Action Alerts PLUS member club. Want to be alerted before Jim Cramer buys or sells FB? Learn more now.
Save 57% with our July 4 Sale. Join Jim Cramer's Action Alerts PLUS investment club to become a smarter investor! Click here to sign up!