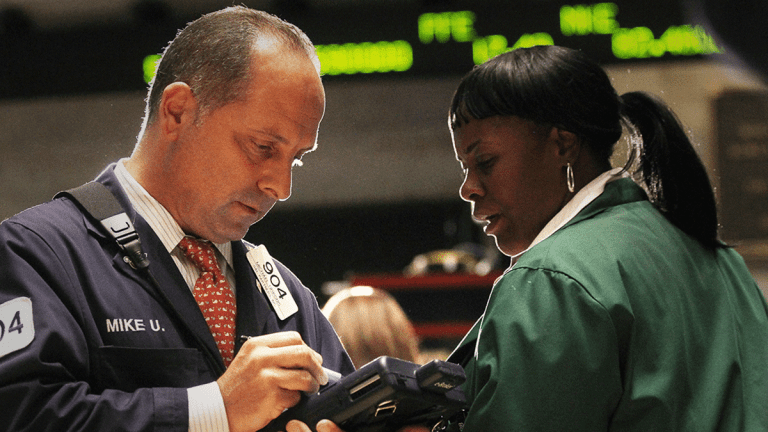 Fiat Chrysler, Renault, Alibaba, Teva and Huawei - 5 Things You Must Know
U.S. stock futures are lower as caution still prevails amid concerns over the fate of trade talks between Washington and Beijing; the French government says it jobs protected needs in order to support the proposed merger of Fiat Chrysler and Renault; Alibaba is considering raising $20 billion through a second listing in Hong Kong, a report says.
Here are five things you must know for Tuesday, May 28:
1. -- Stock Futures Fall Amid Trade Uncertainties
U.S. stock futures were lower on Tuesday as Wall Street returned from the three-day Memorial Day weekend and caution still prevailed amid concerns over the fate of trade talks between Washington and Beijing.
Contracts tied to the Dow Jones Industrial Average fell 37 points, futures for the S&P 500 were down 7.55 points, and Nasdaq futures declined 17.25 points.
Donald Trump wrapped up a four-day state visit to Japan on Monday with a series of comments that suggested little progress in the U.S.-China trade dispute, telling reporters during a press conference with Japanese Prime Minister Shinzo Abe that he's "not ready to make a deal" with Beijing.
"I think sometime in the future China and the United States will absolutely have a great trade deal, and we look forward to that," the president said, before repeating his incorrect assertion that China was responsible for paying tariffs on goods imported into the United States. "Because I don't believe that China can continue to pay these, really, hundreds of billions of dollars in tariffs. I don't believe they can do that."
Despite threats from Trump of new and "very, very substantial" levies on China imports, Chinese and Asian stocks finished with solid gains Tuesday. European markets traded lower as the weekend's European parliamentary elections showed solid gains for pro-EU parties.
The economic calendar in the U.S. Tuesday includes the S&P Corelogic Case-Shiller Home Price Index for March at 9 a.m. ET, and Consumer Confidence for May at 10 a.m.
Earnings reports are expected Tuesday from YY Inc. (YY) , Nio Inc. (NIO)  and Momo (MOMO)  .
2. -- France Wants Jobs Protected in Fiat Chrysler-Renault Merger
Shares of Italian-American carmaker Fiat Chrysler Automobiles (FCAU)   and France's Renault rose Tuesday after Fiat Chrysler proposed the companies merge in a deal that would create the world's third-biggest automaker.
The French government said it needed jobs protected and board seat guarantees in order to support the proposed $35 billion merger of the two carmakers.
France's finance minister, Bruno le Maire, said the government asked for "four guarantees" before it would back the proposal, which would create a 50-50 ownership structure while reducing the French government's stake to 7.5%.
"The first: industrial jobs and industrial sites. I told Renault Chairman Jean-Dominique Senard very clearly that it was the first of the guarantees I wanted from him in the opening of these negotiations with Fiat," le Maire said. "A guarantee on the preservation of industrial jobs and sites in France."
A merger of Fiat Chrysler and Renault would create an automaker capable of making 8.7 million cars a year, putting it in third place behind Germany's Volkswagen  (VLKAY) and Japan's Toyota  (TM) .
Under the deal, Renault could find entry into the U.S. while at the same time extracting itself from its now-combative tie-up with Japan's Nissan (NSANY) following the arrest of former CEO Carlos Ghosn last year in Tokyo amid allegations of financial misconduct.
3. -- Alibaba Mulls Raising $20 Billion Through Hong Kong Listing
Alibaba (BABA) , the Chinese e-commerce giant, is considering raising $20 billion through a second listing in Hong Kong, according to Bloomberg, which cited people with knowledge of the matter.
Alibaba currently is working with financial advisers for the potential offering.
A confidential listing could happen by later this year, said the report, and Alibaba has said on background it wouldn't rule out another listing in an effort to diversify its business.
The company broke a record with its New York Stock Exchange listing in 2014, when it raised $25 billion, according to Bloomberg.
A massive online presence, Alibaba's fiscal 2019 full-year revenue was $56 billion. In fiscal, Alibaba expects revenue of about $72.5 billion.
Watch: How Alibaba Got to Where It Is Today and Where It Could Head Next
4. -- Teva to Pay Oklahoma $85 Million in Opioid Lawsuit
Israeli drugmaker Teva Pharmaceutical (TEVA) reached an agreement with Oklahoma that includes an $85 million payment to the state, ahead of a trial slated for Tuesday over opioid claims.
The company said the agreement wasn't an admission of wrongdoing and that "Teva has not contributed to the abuse of opioids in Oklahoma in any way."
"The company has resolved this matter in a way that benefits the people who have suffered from abuse of opioids and to help stop the effects of the opioid crisis. Teva continues to keep the long-term stability of the company at the forefront," Teva said.
Teva is one of two defendants that settled prior to Tuesday's trial, following Purdue Pharma's agreement and $270 million payment in March. The trial is expected to still begin against Johnson & Johnson
(JNJ)
.
5. -- Huawei Reportedly Reviewing Its Relationship With FedEx
Huawei, the Chinese telecommunications giant, is reviewing its relationship with FedEx  (FDX) after it claimed the shipping company diverted two parcels destined for Huawei addresses in Asia to the United States and attempted to reroute two others, Reuters reported.
Huawei told Reuters that FedEx diverted two packages sent from Japan and addressed to Huawei in China to the United States, and attempted to divert two more packages sent from Vietnam to Huawei offices elsewhere in Asia, all without authorization. Huawei provided images of FedEx tracking records.
Reuters said it couldn't verify the authenticity of the records. Shown the images of the tracking records, FedEx declined to make any comment, saying company policy prevented it from disclosing customer information, according to Reuters.
FedEx issued an apology on Tuesday saying it regrets "that this isolated number of Huawei packages were inadvertently misrouted, and confirm that we were not requested by any external party to divert these packages which are in the process of being returned to the shippers."
Huawei said the four packages only contained documents and "no technology."
Reuters said it was given no evidence the incident was related to the move earlier this month by the U.S. Commerce Department to blacklist Huawei, effectively banning U.S. companies from selling it technology without government approval.