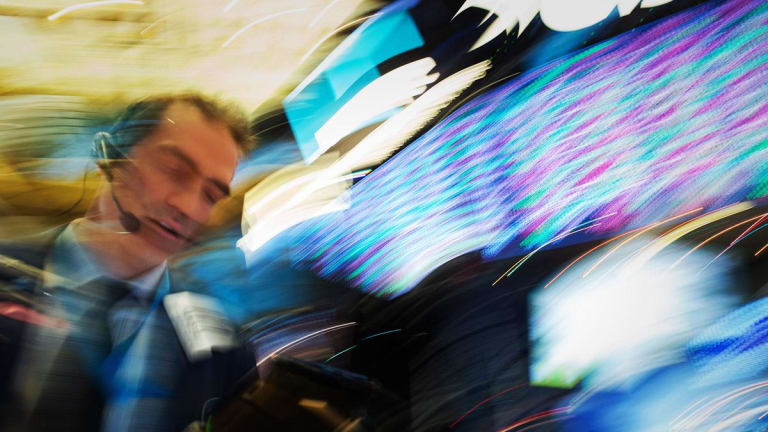 Home Depot, Kohl's, Nike, General Motors and Huawei - 5 Things You Must Know
U.S. stock futures rise after the U.S. eases restrictions on China's Huawei; Nike leads a group of athletic apparel and shoe companies in an effort to urge Donald Trump to reconsider placing tariffs on footwear; Home Depot, Kohl's and Nordstrom report earnings.
Here are five things you must know for Tuesday, May 21:
1. -- Stock Futures Rise as U.S. Eases Restrictions on Huawei
U.S. stock futures rose on Tuesday and global stocks snapped back following a move by the Commerce Department to ease restrictions on the ability of China's Huawei Technologies to do business with U.S. companies, soothing concerns of an all-out tech war between Washington and Beijing.
Commerce Secretary Wilbur Ross said Huawei will be able to access U.S. technology and purchase equipment from American companies for up to 90 days in order to maintain existing network and update handsets. U.S. corporations, meanwhile, will use the time to source alternative suppliers and prevent domestic systems - especially in rural areas - from crashing.
Contracts tied to the Dow Jones Industrial Average rose 144 points, futures for the S&P 500 were up 16.35 points, and Nasdaq futures gained 63.25 points.
The optimism was tempered, however, given China's hint about reprisals for the broader U.S. decision to lock Huawei out of U.S markets - which accounted for about 15% of its $70 billion in business last year - and its pressure on allies around the world to do the same.
"This is wrong behavior, so there will be a necessary response," China's EU Ambassador Zhang Ming told Bloomberg. "Chinese companies' legitimate rights and interests are being undermined, so the Chinese government will not sit idly by."
2. -- Nike Leads Push Against Tariffs on Footwear
Nike  (NKE) led a group of athletic apparel and shoe companies in an effort to urge President Donald Trump to reconsider placing tariffs on footwear made in China and imported into the United States, calling the levies a "catastrophic" move that will cost U.S. consumers $7 billion a year.
Nike joined Under Armour (UAA) , Foot Locker (FL) , J.C. Penney (JCP) and other U.S. footwear and apparel retailers in the letter to Trump and senior members of his economic team, including Commerce Secretary Wilbur Ross, Treasury Secretary Steven Mnuchin and economic adviser Larry Kudlow, caling for shoes to be removed from a list of products that could face a 25% tariff over the coming months.
The group said the levy will add $7 billion in additional costs, which will have to be passed onto consumers, and argued they fall "disproportionately" on working- class families, who already bear the brunt of rising duties on consumer products.
"There should be no misunderstanding that U.S. consumers pay for tariffs on products that are imported," the letter read. "As an industry that faces a $3 billion duty bill every year, we can assure you that any increase in the cost of importing shoes has a direct impact on the American footwear consumer."
3. -- Home Depot, Kohl's and Nordstrom Report Earnings
Home Depot (HD) posted stronger-than-expected first-quarter earnings and confirmed its full-year earnings guidance, but unfavorable weather in February hit same-stores sales growth rates for the world's biggest home improvement retailer. The stock fell slightly in premarket trading to $190.38.
Kohl's (KSS) posted weaker-than-expected first-quarter earnings and slashed its 2020 profit guidance, as comparable-store sales at the struggling retailer slumped amid a "slower" start to the year. The stock tumbled 10.2% to $56.50 in premarket trading.
Earnings are also expected Tuesday from Nordstrom (JWN) , TJX Cos. (TJX) , J.C. Penney (JCP) , Toll Brothers (TOL) , Autozone (AZO) , Williams-Sonoma (WSM) and Urban Outfitters (URBN) .
Kohl's and Home Depot are holdings in Jim Cramer's Action Alerts PLUS member club. Want to be alerted before Jim Cramer buys or sells the stocks? Learn more now.
The economic calendar in the U.S. Tuesday includes Existing Home Sales for April at 10 a.m. ET.
4. -- GM's Car-Sharing Service Maven to Exit Some Markets
Maven, the app-based car-sharing service of General Motors (GM) , plans to exit some markets after launching in 2016.
Maven began leaving or reducing its services in some of its 24 global markets in May. The company said it would take a few months to complete the moves.
"This is not an announcement, just the course of business," Jordana Strosberg, Maven spokeswoman, told the Detroit Free Press. "We want to give customers and members a heads-up and the right amount of time so people can be aware of when or if their reservations can be made or not."
The Wall Street Journal reported that Maven plans to terminate its business in major markets such as Chicago and Boston within the next few months. It will wind down service in eight of its 17 North-American cities.
The service will continue to operate in Los Angeles, Washington, D.C., Detroit, Toronto and other cities, a spokeswoman told the Journal.
5. -- Dressbarn to Close All 650 Stores
Ascena Retail Group undefinedplans to wind down its Dressbarn business and close all 650 or so of the women's clothing stores.
Ascena also owns Ann Taylor and Lane Bryant and the company said in a statement that the decision to close Dressbarn "has no impact on the operations of any of Ascena's other brands and will strengthen the company's overall financial performance."
"This move is in line with the company's commitment to comprehensively assess and optimize its portfolio by focusing resources on its most profitable brands to position the business for long-term growth and enhance shareholder value," Ascena added.
Shares of Ascena jumped 2.6% to $1.17 a share in after-hours trading Monday after closing the session down 9.5%.