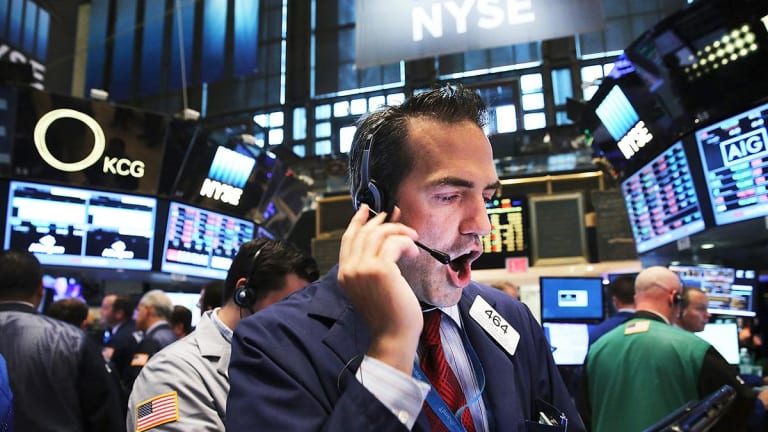 Boeing, Brexit, Tesla, Apple and Stitch Fix - 5 Things You Must Know
U.S. stock futures turn mixed ahead a vote in the U.K. Parliament on the fate of Britain's divorce agreement with the EU; Singapore and Australia join China in grounding Boeing's 737 MAX 8 jet; Tesla's Elon Musk argues he didn't violate his settlement with the SEC and shouldn't be held in contempt for a questionable tweet he made in February.
Here are five things you must know for Tuesday, March 12: 
1. -- Stocks Mixed Ahead of Brexit Vote 
U.S. stock futures turned mixed on Tuesday, March 12, and shares in Asia rallied after Britain and the European Union announced they had agreed to changes in their Brexit deal ahead a vote in the U.K. Parliament on the fate of the divorce agreement.
Contracts tied to the Dow Jones Industrial Average fell 2 points, futures for the S&P 500 slipped 1.75 points, and Nasdaq futures were up 5.20 points.
Theresa May said new documents to be added to the deal provided "legally binding changes" to the part relating to the Irish border, the biggest roadblock to the Brexit divorce deal, the Associated Press reported. May will now try to persuade British lawmakers on Tuesday to back her withdrawal agreement, which they rejected in January.
European shares were mixed in early trading. Stocks in London were down 0.34%.
Back in the U.S., stocks finished broadly higher on Monday, snapping a five-day losing streak after tech shares - including Apple (AAPL) - Get Apple Inc. Report - climbed sharply, offsetting a slump in shares of Boeing (BA) - Get The Boeing Company Report .
The economic calendar in the U.S. Tuesday includes the Consumer Price Index for February at 8:30 a.m. ET. Economists surveyed by FactSet expect consumer prices to have risen 0.2% last month, following no changes in the last three reports. Core CPI is forecast to have increased 0.2%.
Earnings reports are expected Tuesday from Dick's Sporting Goods (DKS) - Get Dick's Sporting Goods Inc Report and Momo Inc. (MOMO) - Get Hello Group Inc. Report .
2. -- Singapore Grounds Boeing's 737 MAX 8 Jet
Singapore and Australia have joined China and other countries in banning the Boeing (BA) - Get The Boeing Company Report 737 MAX 8 from entering and leaving their airports after the aircraft model crashed for the second time since October.
Nearly 40% of the in-service fleet of 371 Boeing 737 MAX jets globally has been grounded, according to industry publication Flightglobal, including 97 jets in China, the biggest market, Reuters reported.
Singapore's Civil Aviation Authority said it was "closely monitoring the situation" and the ban will be "reviewed as relevant safety information becomes available." Australia's Civil Aviation Safety Authority followed Singapore's lead by temporarily suspending the plane to review the risks.
The Federal Aviation Administration issued a "continued airworthiness notification" late Monday for the Boeing 737 MAX 8 jet following a fatal crash of one of the aircraft over the weekend in Ethiopia - the second such crash in six months.
The FAA said that "external reports are drawing similarities between this accident and the Lion Air Flight 610 accident on October 29, 2018. However, this investigation has just begun and to date we have not been provided data to draw any conclusions or take any actions."
Shares of Boeing were down 2.1% in premarket trading Tuesday after tumbling 5.3% to close at $400.01 on Monday.
3. -- Tesla's Elon Musk Says He Didn't Violate SEC Agreement
Tesla (TSLA) - Get Tesla Inc. Report CEO Elon Musk argued in a court filing late Monday that he didn't violate his settlement with the Securities and Exchange Commission and shouldn't be held in contempt for a questionable tweet he made in February.
In a filing with a federal court in New York, Musk argued that the Feb. 19 tweet "only repeated publicly disclosed information, and was a reflection of my pride in Tesla's success and its future. I did not believe that it contained, or reasonably could contain, any information material to Tesla or its shareholders."
Musk tweeted last month that "Tesla made 0 cars in 2011, but will make around 500k in 2019." Several hours later he tweeted again, this time saying, "Meant to say annualized production rate at end of 2019 probably around 500k, ie 10K cars/week. Deliveries for year still estimated to be about 400k."
Related.Why Executives Should Respect the SEC, According to Jim Cramer
The first tweet immediately prompted speculation that Musk might have violated the terms of an earlier settlement with the SEC over tweets last fall falsely claiming he had funding to take Tesla private at $420 a share.
Under the terms of that September 2018 securities fraud settlement, Musk agreed to step down as Tesla's chairman, pay a $20 million fine and to abide by "controls and procedures to oversee Musk's communications," including his Twitter account that has 25 million followers.
In the court filing Monday, Musk said he put out the second tweet on Feb. 19 "out of an abundance of caution and because pundits and others were consistently looking for any reason to criticize me or Tesla."
4. -- Apple Expected to Announce TV Streaming Service at March 25 Event
Apple (AAPL) - Get Apple Inc. Report said it will hold an event March 25, where it's expected the tech giant will announce its TV streaming service and an Apple News subscription service.
Invitations for the event contained few details except to say that it would be held at the Steve Jobs Theater at Apple Park in Cupertino, Calif. But the invite did say that "it's show time." Apple previously used the "it's showtime" - notably without the space between "show" and "time" - tagline in September 2006 when it debuted the Apple TV, AppleInsider reported.
Apple's updating of its news offering into a subscription service is believed to be central to the event, according to AppleInsider, while the company's streaming video service is at least expected to be unveiled even if its actual launch may not be until later in the year.
Related. Why Roku Could Rebound in 2019
Apple is a holding in Jim Cramer's Action Alerts PLUS member club. Want to be alerted before Jim Cramer buys or sells AAPL? Learn more now.
5. -- Stitch Fix Soars on Earnings and Revenue Beat
Stitch Fix (SFIX) - Get Stitch Fix Inc. Report  jumped 28% to $34.54 in premarket trading Tuesday after the subscription fashion service topped analysts' earnings and sales forecast in its fiscal second quarter, and issued a strong third-quarter outlook.
The company earned 12 cents a share in the second quarter on revenue of $370.3 million. Analysts were calling for profit from Stitch Fix of 5 cents a share on revenue of $365 million. 
Active clients for Stitch Fix were 2.96 million, beating estimates of 2.95 million, and rising 18% from a year earlier.
Stitch Fix said it expects third-quarter revenue of between $388 million and $398 million vs. forecasts of $384 million. For 2019, the company said it expects revenue of between $1.53 billion and $1.56 billion, ahead of estimates of $1.51 billion.
**
A Special Invitation: Do you want to learn more about planning for and living retirement from the nation's top experts, including Ed Slott and Robert Powell, the editor of TheStreet's Retirement Daily? Want to learn how to create tax-efficient income in retirement and how to manage and mitigate all the risks you'll face in retirement? Then sign up to attend TheStreet's Retirement Strategies Symposium on April 6 in New York City. For a limited time, you can attend this extraordinary symposium for $149 - a cost savings of $50 off the general admission price of $199.
You can see the full day's agenda, learn about the guest speakers and sign up HERE for this special event.