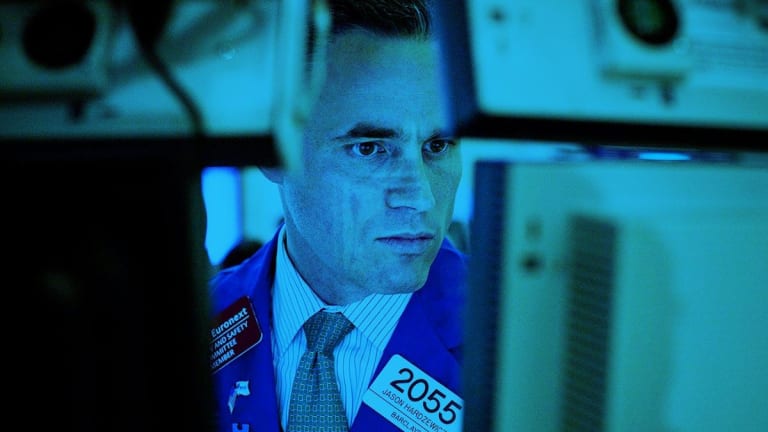 Google, Trade, Brexit, Under Armour and Delta Air Lines - 5 Things You Must Know
U.S. stock futures rise sharply Tuesday with investors reacting cautiously to progress in U.S.-China trade talks but remaining concerned by the ongoing political chaos surrounding Britain's Brexit vote; Google CEO Sundar Pichai will testify before a House panel on Tuesday; Under Armour reportedly ousts two sports-marketing executives.
Here are five things you must know for Tuesday, Dec. 11:
1. -- Stocks Rebound but Worries Remain on Trade, Brexit
U.S. stock futures traded sharply higher on Tuesday, Dec. 11, with investors reacting cautiously to progress in U.S.-China trade talks but remaining unnerved by the ongoing political chaos surrounding Britain's Brexit vote.
Contracts tied to the Dow Jones Industrial Average rose 202 points, futures for the S&P 500 were up 19 points, and Nasdaq futures gained 66.50 points.
China's chief trade negotiator, Liu He, spoke with U.S. Treasury Secretary Steve Mnuchin and Trade Representative Robert Lighthizer by phone Monday night, China's Commerce Ministry said in a statement, and agreed to work toward the framework of talks set during the G-20 leaders' summit in Argentina.
"Both sides exchanged views on putting into effect the consensus reached by the two countries' leaders at their meeting, and pushing forward the timetable and road map for the next stage of economic and trade consultations work," the ministry said.
Meanwhile, U.K. Prime Minister Theresa May was left fighting for her political life Tuesday as she began a series of 11th-hour pleas to EU leaders for further assurances on a Brexit deal that has little support at home and little desire from change from Brussels. May called off a key parliamentary vote on Brexit that was scheduled for Tuesday because she knew the deal would have been rejected.
Stocks finished higher on Monday, Dec. 10, as strength in the tech sector led to a Wall Street rally after the Dow slumped as much as 507 points during the session.
The economic calendar in the U.S. on Tuesday includes the Producer Price Index for November at 8:30 a.m. ET. Economists surveyed by FactSet expect no changes for producer prices last month. Prices at the wholesale level jumped 0.6% in October.
DSW Inc. (DSW) - Get Report  jumped 16.2% in premarket trading after the shoe retailer posted fiscal third-quarter earnings that topped forecasts and the company lifted guidance for the full year.
Earnings reports are also expected Tuesday from American Eagle Outfitters Inc. (AEO) - Get Report  and Dave & Buster's Entertainment Inc. (PLAY) - Get Report  .
2. -- Google CEO Sundar Pichai Heads to Capitol Hill Hearing
Alphabet Inc.'s (GOOGL) - Get Report said it will shut down its Google+ social network in April rather than the originally planned August after a bug inadvertently exposed the names, email addresses, ages and other personal information of about 52.5 million users.
Google said in a blog post Monday that the bug resulted from a software update introduced in November.
"We discovered this bug as part of our standard and ongoing testing procedures and fixed it within a week of it being introduced," Google said. "No third party compromised our systems, and we have no evidence that the app developers that inadvertently had this access for six days were aware of it or misused it in any way."
The announcement came a day before Google CEO Sundar Pichai was set to testify before a House panel on issues stemming from Alphabet's transparency with consumers, or lack thereof. But the questioning could easily go beyond that, according to TheStreet's Annie Gaus.
Pichai was originally scheduled to testify on Dec. 5, but the hearing was rescheduled around memorial services of former President George H.W. Bush. Now, the Google chief is due on Capitol Hill Tuesday for questioning before the House Judiciary Committee intended to address "potential bias and the need for greater transparency regarding the filtering practices of tech giant Google," according to committee chairman Bob Goodlatte (R-Va.). 
Alphabet is a holding in Jim Cramer's Action Alerts PLUS member club. Want to be alerted before Jim Cramer buys or sells GOOGL? Learn more now.
3. -- Under Armour Reportedly Ousts 2 Executives After Expenses Review
Under Armour Inc. (UAA) - Get Reportousted two sports-marketing executives who were long-time associates of CEO Kevin Plank, The Wall Street Journal reported, after the apparel brand conducted an internal review of their department's spending.
Ryan Kuehl, senior vice president of global sports marketing, and Walker Jones, senior director of sports marketing, were both removed from their roles last week, people familiar with the matter told the Journal. Employees were informed of their departure last Thursday, but Under Armour didn't tell employees why the changes were being made.
Management questioned the way the two men had been running the sports-marketing department and whether some of their spending was appropriate, some of the people told the Journal. The funds at issue included events, gifts to athletes and nights out, the people said.
The Journal reported last month that employees received an email earlier in the year that upended a longstanding practice: They could no longer charge visits to strip clubs on their corporate cards.
4. -- Stitch Fix Tumbles on Weaker-Than-Forecast Client Growth
Stitch Fix Inc. (SFIX) - Get Report  tumbled 17.2% in premarket trading on Tuesday after its client growth disappointed Wall Street.
Stitch Fix said it had 2.9 million active clients in its fiscal first quarter using its subscription clothing services, an increase of 22%, but below analysts' forecasts of 2.95 million. The company also said its active client count would remain relatively flat in its fiscal second quarter from the first quarter.
The company said it expects fiscal second-quarter revenue of $360 million to $368 million vs. expectations of about $363 million, and adjusted Ebitda of $8 million to $12 million, below forecasts of $12.8 million.
First-quarter earnings and sales at Stitch Fix beat analysts' forecasts.
5. -- Delta to Ban Emotional-Support Animals on Longer Flights
Delta Air Lines Inc. (DAL) - Get Report said passengers can't bring emotional-support animals with them on flights longer than eight hours.
In addition, neither support animals nor trained service animals will be allowed on any Delta flights if they are under 4 months old.
Delta said the changes take effect Dec. 18.