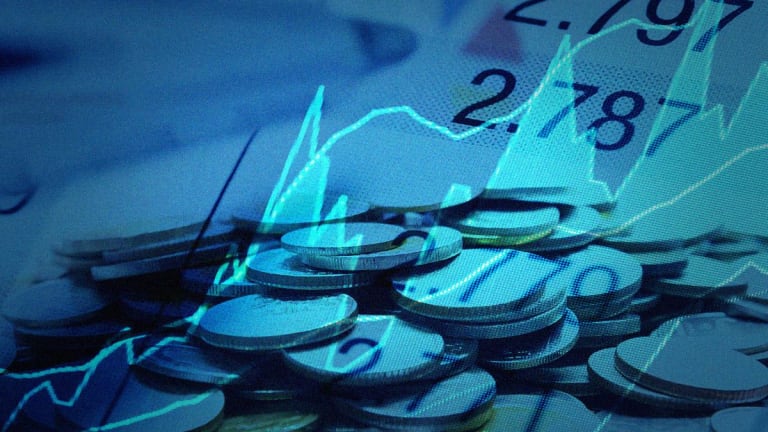 Dow Futures, Disney, Qualcomm, Google, Roku - 5 Things You Should Know Thursday
U.S. stock futures are up sharply following a report that says China agreed with the United States to roll back tariffs on each other's goods in phases as they work toward a trade pact; Walt Disney reports earnings Thursday; Qualcomm's earnings beat Wall Street expectations; Alphabet's board opens probe into how allegations of sexual misconduct were handled.
Here are five things you must know for Thursday, Nov. 7: 
1. -- Stock Futures Jump as China and U.S. Agree to Roll Back Tariffs in Phases
U.S. stock futures were up sharply Thursday following a report that said China agreed with the United States to roll back tariffs on each other's goods in phases as they work toward a trade agreement.
A Chinese government spokesman said Beijing and Washington would remove the tariffs in phases "as progress is made on the agreement."
"In the past two weeks, top negotiators had serious, constructive discussions and agreed to remove the additional tariffs in phases as progress is made on the agreement," spokesman Gao Feng said Thursday, Bloomberg reported. "If China, U.S. reach a phase-one deal, both sides should roll back existing additional tariffs in the same proportion simultaneously based on the content of the agreement, which is an important condition for reaching the agreement," Gao said.
The report Thursday followed indications that a meeting between Chinese President Xi Jinping and Donald Trump could be delayed until December as the two sides can't agree on a venue at which to sign "phase one" of the trade pact.
Contracts tied to the Dow Jones Industrial Average jumped 147 points, futures for the S&P 500 were up 12.40 points, and Nasdaq futures rose 40 points.
Stocks finished mixed Wednesday as investors balked at the possible delay in U.S.-China trade negotiations.
The Dow, which hit closing high on Tuesday, ended down 0.07 points to 27,492.56. The S&P 500 ended up 0.07% and the Nasdaq dropped 0.29%. 
The economic calendar in the U.S. Thursday includes weekly Jobless Claims at 8:30 a.m. ET, and the Federal Reserve's Balance Sheet for the week ended Nov. 6 at 4:30 p.m.
2. -- Walt Disney, Activision Blizzard, GoPro Report Earnings Thursday
Earnings reports are expected Thursday from Walt Disney (DIS) - Get Free Report , Activision Blizzard (ATVI) - Get Free Report , GoPro (GPRO) - Get Free Report , Take-Two Interactive Software (TTWO) - Get Free Report , Ralph Lauren (RL) - Get Free Report , Monster Beverage (MNST) - Get Free Report , Dropbox (DBX) - Get Free Report , Keurig Dr Pepper (KDP) - Get Free Report , Zillow (ZG) - Get Free Report , Booking Holdings (BKNG) - Get Free Report , Trade Desk (TTD) - Get Free Report , Cardinal Health (CAH) - Get Free Report , News Corp. (NWSA) - Get Free Report , SeaWorld Entertainment (SEAS) - Get Free Report and Tradeweb Markets (TW) - Get Free Report .
Walt Disney and Activision are holdings in Jim Cramer's Action Alerts PLUS member club. Want to be alerted before Jim Cramer buys or sells the stocks? Learn more now.
3. -- Qualcomm Rises as Earnings Beat Expectations
Qualcomm (QCOM) - Get Free Report  rose 6.23% in premarket trading Thursday to $89.90 after the chipmaker posted stronger-than-expected fourth-quarter earnings and fiscal first-quarter profit guidance.
Adjusted earnings in the quarter were 78 cents a share, down from 90 cents a share a year earlier but ahead of Wall Street estimates of 71 cents.
Revenue fell 17% from a year earlier to $4.8 billion but topped analysts' expectations of $4.76 billion. The company's adjusted operating margin was 22.9%, beating expectations of 22.5%.
Qualcomm said revenue for the fiscal first quarter of 2020 likely will rise to between $4.4 billion and $5.2 billion, just ahead of the consensus forecast of $4.82 billion. Qualcomm said the guidance excludes QTL royalty revenue from China-backed handset maker Huawei Technologies. The company also expects adjusted earnings in the quarter of between 80 cents and 90 cents a share, far better than analysts' expectations of 81 cents.
"We delivered a strong quarter, with non-GAAP earnings per share above the high end of our guidance range, primarily on solid performance in our QTL segment," said CEO Steve Mollenkopf. "We exit the fiscal year having successfully executed on our strategic priorities: helping to drive the commercialization of 5G globally, completing a number of important anchor license agreements and executing well across our product roadmap. Our technology and inventions leave us extremely well positioned as 5G accelerates in 2020."
Qualcomm also announced Wednesday that interim Chief Financial Officer Akash Palkhiwala would take the post on a permanent basis.
4. -- Alphabet's Board Investigates How Sexual Misconduct Allegations Were Handled
The board of Google parent Alphabet (GOOGL) - Get Free Report  has opened an investigation into how executives handled claims of sexual harassment and other misconduct, including the behavior of Chief Legal Officer David Drummond, who has been accused of having relationships with employees, CNBC and The New York Times reported.
Alphabet's board formed a Special Litigation Committee of independent directors this year and hired the law firm Cravath, Swaine & Moore to investigate the allegations made in one such shareholder lawsuit, according to documents seen by the Times.
Alphabet confirmed in a statement that its board had formed a committee "to consider claims made by shareholders in various lawsuits relating to past workplace conduct." 
Shareholders of the internet and search giant sued the board in January for allegedly covering up sexual misconduct from executives, including former Android co-founder Andy Rubin, CNBC noted. The company let go of Rubin and paid him $90 million after an internal investigation found sexual assault claims credible, according to a report in the Times. Rubin denied any wrongdoing in statements at the time of the report. The report of Rubin's payout set off a walkout by Google employees last November.
Alphabet is a holding in Jim Cramer's Action Alerts PLUS member club. Want to be alerted before Jim Cramer buys or sells GOOGL? Learn more now.
5. -- Roku Tumbles Even After Posting Narrower-Than-Expected Loss
Roku (ROKU) - Get Free Report  declined sharply in premarket trading even after the TV streaming service posted a narrower-than-expected third-quarter loss.
Roku's loss in the quarter was $26.5 million, or 22 cents a share, vs. analysts' estimates that called for a loss of 28 cents. A year earlier, Roku reported a loss of $9.5 million, or 9 cents a share.
Revenue rose 50% to $260.9 million and topped forecasts of $256.4 million.
The company reported average revenue per user of $22.58, topping estimates, while streaming hours rose 68% to 10.3 billion. Roku added 1.7 million active accounts sequentially, bringing its total to 32.3 million.
Roku said it expects fourth-quarter revenue of $380 million to $396 million vs. analysts' forecasts of $386 million.
Roku shares fell 13.31% in premarket trading to $122.27. They have risen more than 360% so far in 2019.