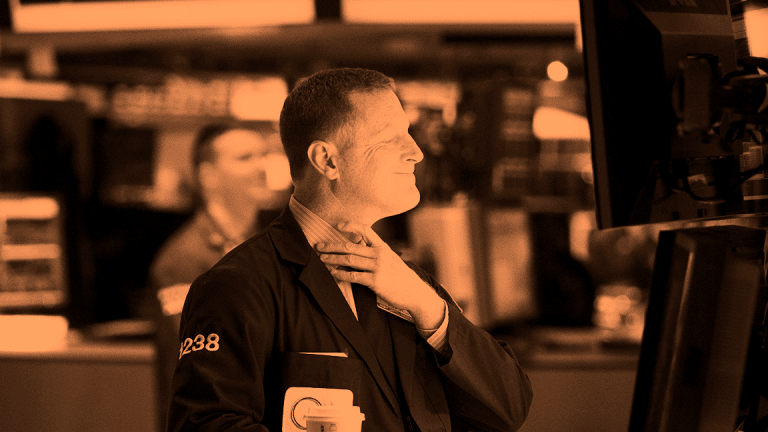 IBM, Netflix, Morgan Stanley, Honeywell, Brexit - 5 Things You Must Know
U.S. stock futures rise after a Brexit deal is reached; Netflix boosts international subscriber growth but sees U.S. weakness; IBM posts a third-quarter revenue miss; Honeywell and Morgan Stanley report earnings.
Here are five things you must know for Thursday, Oct. 17: 
1. -- Stock Futures Edge Higher After a Brexit Deal Is Reached
U.S. stock futures rose Thursday after U.K. Prime Minister Boris Johnson said that Britain has reached a Brexit deal with the European Union that will allow the country to leave the bloc by the end of the month.
"We've got a great new deal that takes back control," Johnson said in a tweet posted from his officially verified account. "Now parliament should get Brexit done on Saturday so we can move on to other priorities like the cost of living, the NHS, violent crime and our environment."
EU Commission President Jean-Claude Juncker called it a "fair and balanced" agreement, just hours ahead of an EU leaders' summit in Brussels.
UK lawmakers must now approve the deal, with Johnson's teaming hinting at a special Saturday session - the first since the Falklands War - in order to seek a final sign-off.
Stock futures had wavered earlier over concerns about U.S. growth and the fate of Donald Trump's "phase one" trade detente with China.
Treasury Secretary Steven Mnuchin told reporters in Washington that it was the "objective" of the administration to have a text of the trade pact, which was reached after two days of intense talks, ready for Trump and Chinese President Xi Jinping to sign next month at the APEC summit in Chile.
Trump himself, however, said such a text might not be ready for his signature by then, raising questions as to whether planned tariffs on $156 billion in China-made goods, which are set to kick in on Dec. 15, will be implemented.
Contracts tied to the Dow Jones Industrial Average rose 74 points, futures for the S&P 500 were up 7.85 points, and Nasdaq futures gained 25.50 points.
The economic calendar Thursday in the U.S. includes Housing Starts for September at 8:30 a.m. ET, weekly Jobless Claims at 8:30 a.m., the Philadelphia Fed Business Outlook Survey for October at 8:30 a.m., Industrial Production for September at 9:15 a.m., and Oil Inventories for the week ended Oct. 11 at 11 a.m.
2. -- Netflix Jumps on Strong International Subscriber Growth
Netflix (NFLX) - Get Netflix, Inc. Report jumped 8.11% in premarket trading Thursday to $309.50 after the streaming giant reported better-than-expected third-quarter earnings and international subscriber growth but weak gains in the domestic market.
Total net paid subscribers added in the third quarter were 6.77 million, beating analysts' expectations of 6.7 million. International subscriber additions were 6.3 million, beating estimates of 6.05 million, while domestic subscriber adds were 500,000, below forecasts.
Netflix said some of its subscriber weakness in the United States was related to price hikes, but downplayed the notion that new streaming rivals would force significant changes to its business model or its near-term expectations.
"It is interesting that we see both Apple (AAPL) - Get Apple Inc. Report and Disney (DIS) - Get Walt Disney Company Report launching basically in the same week after 12 years of not being in the market," CEO Reed Hastings told investors on a conference call. "Fundamentally, it's more of the same, and Disney is going to be a great competitor. Apple is just beginning, but they'll probably have some great shows, too."
"But, again, all of us are competing with linear TV," Hastings argued. "We're all relatively small to linear TV. So just like in the letter we put about the multiple cable networks over the last 30 years not really competing with each other fundamentally but competing with broadcast, I think it's the same kind of dynamic here."
Earnings in the quarter were $1.47 a share on sales of $5.25 billion, up from year-earlier profit of 89 cents a share on revenue of $3.91 billion. Analysts were expecting Netflix to report earnings of $1.03 a share on sales of $5.25 billion.
Average revenue per user in the quarter rose 9% from a year earlier. Average streaming paid memberships jumped 22%.
Netflix guided for fourth-quarter revenue of $5.44 billion, below analysts' estimates of $5.51 billion, while earnings for the period were projected at 51 cents a share, below expectations of 81 cents.
The company said it expects global paid net subscriber additions of 7.6 million in the fourth quarter, below estimates of 9.5 million. Netflix added 8.8 million subscribers in the fourth quarter of 2018.
3. -- IBM Slides After Third-Quarter Revenue Misses Estimates
Shares of International Business Machines (IBM) - Get International Business Machines Corporation Report  fell 4.61% in premarket trading to $135.56 after the tech giant's third-quarter adjusted earnings topped analysts' forecast but revenue missed.
Adjusted earnings in the period were $2.68 a share on revenue of $18.03 billion, down 3.9% from a year earlier. Analysts had been expecting earnings of $2.66 a share on revenue of $18.23 billion.
IBM's cloud and cognitive software unit, the division in which it placed Red Hat, saw revenue rise 6.4% to $5.28 billion, while the company's cloud services revenue rose 11% to $5 billion. Global technology services, IBM's biggest division, posted a revenue decrease of 5.6% to $6.7 billion.
"In the third quarter, the in-quarter revenue did not come in as expected we had lower customer business volumes in certain markets and some multi-national clients vs. our expectations. And this impacted the growth rate by an additional point," Chief Financial Officer James Kavanaugh told investors on a conference call. "Because this work leverages existing resources, it has a higher margin profile. And so these lower volumes impacted our gross margin, which was down about a point from the prior year."
"We're very pleased with Red Hat overall," he added. "And I guess I would conclude most importantly, the confidence in the workforce, in IBM and Red Hat."
IBM said it expects full-year adjusted earnings of "at least $12.80" a share, in line with Wall Street forecasts.
4. -- Honeywell and Morgan Stanley Report Earnings Thursday
Earnings reports are expected Thursday from Honeywell International (HON) - Get Honeywell International Inc. Report , Morgan Stanley (MS) - Get Morgan Stanley Report , Philip Morris International (PM) - Get Philip Morris International Inc. Report , Union Pacific (UNP) - Get Union Pacific Corporation Report , SunTrust Banks (STI) - Get SunTrust Banks, Inc. Report , BB&T (BBT) - Get BB&T Corporation Report , KeyCorp (KEY) - Get KeyCorp Report and E*Trade Financial (ETFC) - Get E*TRADE Financial Corporation Report .
Honeywell is a holding in Jim Cramer's Action Alerts PLUS member club. Want to be alerted before Jim Cramer buys or sells the stock? Learn more now.
5. -- Alcoa Plans Asset Sales of Up to $1 Billion
Aluminum giant Alcoa (AA) - Get Alcoa Corporation Report reported a wider-than-expected third-quarter loss but also said it would undertake an extensive portfolio review designed to lower costs and sustain profitability.
Alcoa posted an adjusted loss in the period of 44 cents a share vs. year-earlier earnings of 82 cents. Analysts had been calling for an adjusted loss of 42 cents a share. Third-quarter sales declined 24% to $2.57 billion from $3.39 billion.
Alcoa said that over the next 12 to 18 months it would aim to sell non-core assets and generate $500 million to $1 billion in net proceeds.
Over five years, Alcoa said it would realign its operating portfolio. It is reviewing 1.5 million metric tons of smelting capacity and 4 million metric tons of alumina-refining capacity.
The review will consider moves including curtailments, closures and divestitures, Alcoa said.
The stock rose 2% in after-hours trading Wednesday to $19.55.