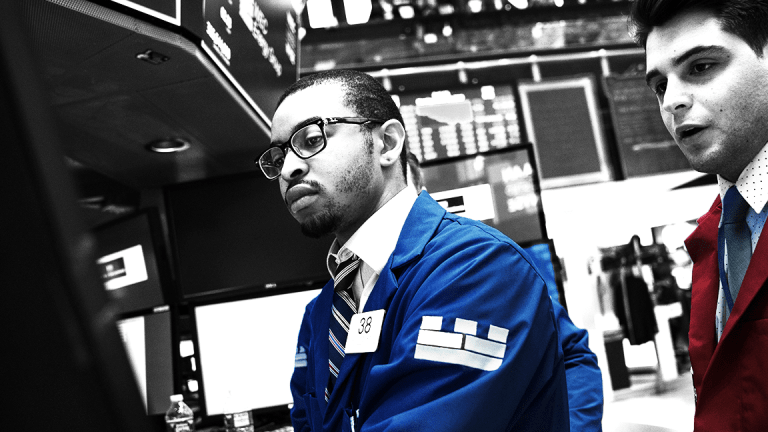 Delta, French Digital Tax, the Fed, Oil Prices, Lockheed: 5 Things You Must Know
U.S. stock futures point higher following dovish testimony from Federal Reserve Chairman Jerome Powell; Delta boost outlook; Bed Bath & Beyond issues a gloomy forecast; the U.S. launches a probe of France's proposed digital tax which appears to target U.S. tech giants such as Alphabet and Amazon.com.
Here are five things you must know for Thursday, July 11: 
1. -- Stock Futures Rise After Powell's Dovish Testimony 
U.S. stock futures pointed higher on Thursday, a day after the S&P 500 crossed 3,000 for the first time ever and the Nasdaq ended at an all-time high following Federal Reserve Chairman Jerome Powell's testimony on Capitol Hill that rekindled hopes of deeper near-term interest rate cuts.
Powell told lawmakers on the House Financial Services committee that slowing global manufacturing growth, tame inflation readings and the lingering U.S.-China trade dispute were all having an impact on business confidence and investment. If those continued, Powell said, near-term growth and inflation levels could slow further, and there then could be some merit in an "insurance" rate cut in order to prevent those conditions from developing even more.
"Based on incoming data and other developments, it appears that uncertainties around trade tensions and concerns about the strength of the global economy continue to weigh on the U.S. outlook," Powell said. "Manufacturing, trade and investment are weak all around the world ... we have agreed to begin discussions again with China, and that is a constructive step. It doesn't remove the uncertainty."
The Fed chairman will sit before the Senate Banking committee on Thursday.
Powell's comments on Wednesday were buttressed by minutes from the Fed's meeting on June 19 that indicated central bank officials perceived economic risks as having "increased significantly" even as they voted nearly unanimously to keep benchmark U.S. interest rates at their current low levels.
The release of the minutes and Powell's testimony came amid intense investor speculation over whether the Federal Reserve will cut official interest rates at its next monetary-policy meeting, scheduled for July 30-31.
Contracts tied to the Dow Jones Industrial Average rose 88 points, futures for the S&P 500 gained 8.10 points, and Nasdaq futures were up 25.25 points.
Besides Powell's congressional testimony, the economic calendar in the U.S. on Thursday includes the Consumer Price Index for June at 8:30 a.m. and Jobless Claims at 8:30 a.m.
2. -- Delta Jumps After Carrier Lifts Earnings Outlook
Delta Air Lines
(DAL)
 posted fiscal second-quarter adjusted earnings of $2.35 a share, beating estimates by 7 cents, and raised its earnings outlook for the fiscal year.
Shares of the carrier rose 2.51% to $60.96 in premarket trading.
Delta raised its profit guidance for the fiscal year to between $6.75 and $7.25 a share, up from previous guidance of $6 to $7 a share.
Bed Bath & Beyond (BBBY)  was falling 2.78% to $11.20 in premarket trading Thursday after the household-goods retailer topped analysts' fiscal first-quarter earnings estimates but said it expects fiscal-year earnings on the lower end of its guidance of $2.11 to $2.20 a share.
3. -- France's Approves Digital Tax on Tech Giants
France will press ahead with a planned tax on big U.S. tech companies despite warnings of retaliation from the White House.
France's Senate approved the plan Thursday after Finance Minister Bruno Le Marie argued the proposed 3% levy, which targets companies that earn at least €750 million in annual revenue from digital services, is within international taxation rules and should not be countered by trade measures from governments abroad.
"Between allies we can and should solve our disputes not by threats but through other ways," Le Maire told French lawmakers ahead of the final vote in Paris. "France is sovereign country, its decisions on tax matters are sovereign and will continue to be sovereign."
The levy has opened a new rift between Washington and Paris, following ongoing disputes over subsidies for planemakers Airbus SE (EADSY) and Boeing  (BA) and the potential targeting of European automakers with fresh import levies under the pretext of national security concerns.
The Trump administration has launched a probe of France's digital tax which appears to target U.S. tech giants such as Alphabet (GOOGL) and Amazon.com (AMZN) and is projected to raise around $560 million each year for the French Tresor.
Alphabet and Amazon are holdings in Jim Cramer'sAction Alerts PLUS Charitable Trust Portfolio. Want to be alerted before Cramer buys or sells the stocks? Learn more now.
4. -- Oil Prices Extend Gains Amid Hurricane Watch in Louisiana 
Global oil markets extended gains, lifting U.S. crude prices to six-week highs on Thursday, as a tropical depression that could develop into a hurricane headed for the Louisiana coast, forcing the evacuation of key drilling platforms in the Gulf of Mexico.
The National Hurricane Center in Miami has issued a hurricane watch for areas around the Gulf coast near the Louisiana-Texas border, indicating the chance for tropical-storm-force winds conditions over the next 48 hours. The potential hurricane, named Barry, could strike the area this weekend while affecting rig and platform operations in the Gulf coast, which home to nearly a fifth of the nation's oil production.
The U.S. Bureau of Safety and Environmental Enforcement has estimated that about 600,000 barrels of production have come offline as staff has been removed from platforms and rigs operated by Exxon Mobil (XOM) , Chevron   (CVX) and Anadarko Petroleum  (APC) .
Louisiana Gov. John Bel Edwards also declared a state of emergency in advance of the potential hurricane.
September contracts for Brent crude, the global benchmark, were rising 0.63% on Thursday to $67.43 a barrel, while August contracts for West Texas Intermediate crude, which is ore tightly linked to U.S. gas prices, were up 0.53% to $60.75 a barrel, after rising as much as 4.5% on Wednesday to a six-week high of $60.66.
5. -- Lockheed Martin to Keep Helicopter Plant Open After Meeting With Trump
Lockheed Martin (LMT) will keep its Sikorsky helicopter plant in Coatesville, Pennsylvania, open after CEO Marillyn Hewson held a discussion with Donald Trump, who requested the plant remain operating.
"At the request of President Trump, I took another look at our decision to close the Coatesville, PA, facility and have decided to keep it open while we pursue additional work," Hewson said. 
"It's a good operation with an excellent workforce," Hewson added. "We look forward to working with the government and PA Congressional delegation to find more work for this facility."
The Philadelphia Inquirer reported in early June that the Sikorsky facility in Coatesville would shut down by the end of 2019, affecting about 465 employees.
Trump said in a tweet: "I was just informed by Marillyn Hewson, CEO of Lockheed Martin, of her decision to keep the Sikorsky Helicopter Plant in Coatesville, Pennsylvania, open and humming! We are very proud of Pennsylvania and the people who work there ... Thank you to Lockheed Martin, one of the USA's truly great companies!"