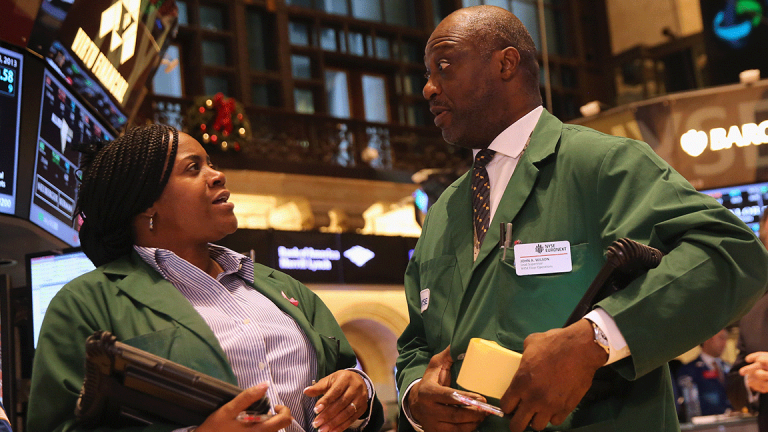 Fiat Chrysler, Five Below, Beyond Meat and Cloudera - 5 Things You Must Know
U.S. stock futures rise despite concerns over the impact of the various trade disputes being waged by the White House; Fiat Chrysler pulls out of merger talks with Renault; Five Below's earnings beat analysts' estimates but the discount retailer says the threat of additional tariffs on China-made goods could mean price increases.
Here are five things you must know for Thursday, June 6:
1. -- Stock Futures Rise Amid China and Mexico Trade Disputes
U.S. stock futures rose on Thursday despite concerns over the impact of the various trade disputes being waged by the White House.
Contracts tied to the Dow Jones Industrial Average gained 83 points, futures for the S&P 500 were up 9.55 points, and Nasdaq futures rose 31.75 points.
Donald Trump said late Thursday that "not nearly enough" progress had been made in talks between U.S. and Mexican officials aimed at solving a simmering border crisis that has raised tensions between Washington and its biggest trading partner.
With the threat of tariffs on all Mexican imports looming on June 10, and officials within the government of Andres Manuel Lopez Obrador preparing a list of products it will hit with reprisal levies that are aimed at Trump-supporting states, investors are increasingly growing concerned this latest trade spat could further derail a fragile global economy.
The president also threatened to hit China with tariffs on "at least" another $300 billion worth of Chinese goods but said he thought both China and Mexico wanted to make deals in their trade disputes with the United States, according to Reuters.
"Our talks with China, a lot of interesting things are happening. We'll see what happens ... I could go up another at least $300 billion and I'll do that at the right time," Trump told reporters on Thursday.
The economic calendar in the U.S. for Thursday includes International Trade for April at 8:30 a.m. ET, weekly Jobless Claims at 8:30 a.m., and Productivity and Costs for the first quarter at 8:30 a.m.
Earnings reports are expected Thursday from Beyond Meat (BYND) - Get Free Report , DocuSign (DOCU) - Get Free Report , Ollie's Bargain Outlet (OLLI) - Get Free Report , J.M. Smucker (SJM) - Get Free Report , Ciena (CIEN) - Get Free Report , Signet Jewelers (SIG) - Get Free Report , Guess (GES) - Get Free Report and Hovnanian Enterprises (HOV) - Get Free Report .
European stocks were rising, with investors betting on support ahead of the European Central Bank rate-setting meeting Thursday in Vilnius, Lithuania.
2. -- Fiat Chrysler Pulls Out of Merger Talks With Renault
Fiat Chrysler Automobiles (FCAU) - Get Free Report  dipped 0.3% in premarket trading after the automaker pulled out of its $35 billion merger proposal with France's Renault (RNLSY) amid accusations of meddling by the French government.
Fiat Chrysler's board "has resolved to withdraw with immediate effect its merger proposal made to Groupe Renault," the company in a statement.
The car company said that "political conditions in France" were stifling the ability for a successful merger.
France's finance minister, Bruno Le Marie, dismissed suggestions of interference by the French government, which owns a 15% stake in Renault, and said talks failed because Renault was unable to win support from its current alliance partner Nissan (NSANY) , one of the four conditions put in place when the merger proposal was announced last month.
But a statement on Renault's website seemed to at least partially support Fiat Chrysler's contention, with Renault saying its board "was unable to take a decision due to the request expressed by the representatives of the French State to postpone the vote to a later Council."
In late May, Fiat Chrysler pitched the merger deal to Renault, a move that would have created the world's third-largest carmaker.
Together, the two companies planned to sell 8.7 million vehicles annually -- surpassing the output of General Motors (GM) - Get Free Report -- and boast famous names such as Maserati, Fiat, and Jeep and Ram.
3. -- Five Below Posts Earnings Beat but Cites Tariff Threats
Five Below (FIVE) - Get Free Report  posted first-quarter earnings and revenue that beat analysts' forecasts but the looming threat of additional tariffs on China-made imports could hang over the discount retailer.
The company said earnings were 46 cents a share, beating Wall Street forecasts of 35 cents, while revenue rose more than 23% to $364.8 million, slightly higher than estimates of $364 million. Same-store sales in the period rose 3.1%, below estimates of 3.7%.
The retailer forecast fiscal second-quarter net sales of $417 million to $422 million, while saying it plans to open about 40 new stores. Earnings for the period were forecast at 48 cents to 51 cents a share.
Five Below said it expects fiscal-year sales in the region of $1.87 billion to $1.89 billion and earnings of between $3.11 and $3.18 a share, with both the top- and bottom-line forecasts coming in ahead of estimates compiled by Refinitiv. The threat of tariffs on $300 billion worth of China-made goods, however, alongside an increased levy on $250 billion in imports put in place last month, likely means price increases and offsets that could trim earnings potential.
"As a value-driven retailer we are concerned about higher tariffs as they will be impactful to our business and lead to higher prices," CEO Joel Anderson told investors on a conference call late Wednesday. "With the current $250 billion of products imported from China subject to tariffs, about 15% of our total receipts for 2019 are impacted including both directly and indirectly imported products."
"As we previously discussed we were able to fully mitigate both the dollar and the margin rate impact of the 10% tariff," he added. "We expect to mitigate the jump to 25% and are working on a number of options to do so including vendor negotiations, price increases on our $1 to $4 items, process efficiencies and overtime moving production to other countries."
"Overall, we thought this was a pretty good quarter for the company," said Jim Cramer and the Action Alerts PLUS team, which holds Five Below in its portfolio. "It's no secret that retail had a tough first-quarter earnings season due to weather and tariffs, but the Five Below business model with its discount prices and store expansions performed well and overcame the difficult conditions."
4. -- Wells Fargo Reportedly Considering Keeping Interim CEO in Place
Board members of Wells Fargo (WFC) - Get Free Report  are considering keeping interim CEO Allen Parker in the job permanently even after saying they would seek an outsider to fill the role, Reuters reported, citing two sources familiar with the board's thinking.
The board had set a goal of hiring an outsider, with Chair Betsy Duke saying the position should attract the top talent in banking. Reuters reported in April that Wells Fargo had hired search firm Spencer Stuart and was focused on finding female candidates.
Parker was named as interim chief in March when former CEO Tim Sloan abruptly resigned after just three years at the helm as the bank, which was attempting to put years of scandals and political criticism behind it.
U.S. Sen. Elizabeth Warren, a Democratic presidential candidate, had been a fierce critic of Sloan. "About damn time," Warren tweeted after Sloan stepped down.
5. -- Cloudera Slumps After Exit of CEO, Weak Guidance
Cloudera (CLDR) - Get Free Report  slumped 34.8% to $5.74 in premarket trading after the the company said CEO Tom Reilly would be retiring and it issued disappointing guidance for fiscal 2020.
Reilly will be replaced on a temporary basis by Chairman Martin Cole. Cloudera has begun a search for a permanent CEO.
"Tom and the board have always been committed to continually evaluating Cloudera's progress and ensuring that we are executing to drive long-term value. Accordingly, we have mutually agreed with Tom that this is the right time for a leadership transition," Cole said in a statement.
The cloud software company posted a first-quarter adjusted loss of 13 cents a share on revenue of $187.5 million. Analysts expected a loss of 23 cents a share on revenue of $188.4 million.
For the second quarter, Cloudera expects a loss of 8 cents to 11 cents a share on  revenue of $180 million to $183 million. Analysts forecast a loss of 10 cents a share on revenue of $202.9 million.
The company said it expects fiscal-year revenue of $745 million to $765 million, well below analysts' estimates of $844.7 million. The company expects to post an adjusted loss of 28 to 32 cents a share, narrower than Wall Street's calls for a loss of 35 cents.