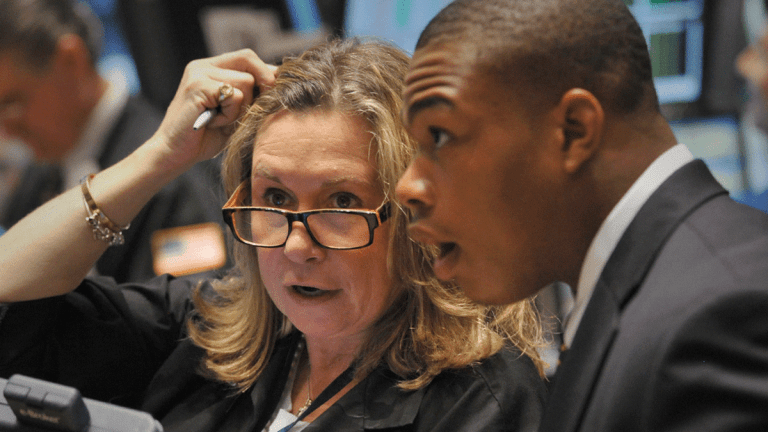 Uber, Palo Alto Networks, PVH, Disney and Dollar Tree - 5 Things You Must Know
U.S. stock futures rise but caution reigns amid suggestions China is ready to dig in for a protracted trade dispute with the United States; Palo Alto tumbles after guidance takes a hit from costs related to acquisitions; PVH tumbles after trimming fiscal-year guidance; Uber will issue its first earnings report as a public company.
Here are five things you must know for Thursday, May 30:
1. -- Stock Futures Rise Amid Signs China Ready for Prolonged Trade Battle
U.S. stock futures rose on Thursday but suggestions that China was ready to dig in for a protracted trade dispute with the United States has investors favoring safe-haven assets heading into the final trading days of May.
U.S. stocks have retreated more than 5.5% so far this month, with tech bellwethers such as Apple (AAPL) and Tesla (TSLA) slumping 16% and 20%, respectively, amid worries that Beijing's threat of tariff and trade reprisals could upend China-focused revenue and disrupt sector supply chains.
The China Daily newspaper added to those concerns Thursday, lending its voice to a state-led media effort to bolster the nation's position in what now looks to be a prolonged trade war between the world's two biggest economies.
"It would be naive to think that China does not have other countermeasures apart from rare earths to hand," the paper said, referring to Wednesday's threat from the People's Daily newspaper that the government could ban the export of the crucial metals and alloys. "As Chinese officials have reiterated, they have a 'tool box' large enough to fix any problem that may arise as trade tensions escalate, and they are ready to fight back 'at any cost.'"
Contracts tied to the Dow Jones Industrial Average rose 78 points, futures for the S&P 500 were up 11.40 points, and Nasdaq futures gained 30.75 points.
The economic calendar in the U.S. Thursday includes the second estimate of first-quarter GDP at 8:30 a.m. ET. Economists surveyed by FactSet forecast GDP growth of 3.2%, in line with the first estimate of 3.2%. 
The calendar also includes International Trade in Goods for April at 8:30 a.m., weekly Jobless Claims at 8:30 a.m., the Pending Home Sales Index for April at 10 a.m., and Oil Inventories for the week ended May 24 at 11 a.m.
2. -- Palo Alto Networks Tumbles as Acquisition Costs Hit Guidance
Palo Alto Networks (PANW)  posted fiscal third-quarter adjusted earnings of $1.31 a share, beating estimates by 6 cents a share, but the stock fell in premarket trading Thursday after the cyber security company issued guidance that was weaker than Wall Street forecasts.
Palo Alto Networks said it expects fiscal fourth-quarter adjusted earnings of $1.41 to $1.42 a share on revenue of $795 million to $805 million. The guidance includes a charge of 12 cents a share for its acquisition of Demisto earlier in 2019. Analysts were expecting earnings of $1.55 a share on revenue of $793.5 million.
The company also announced the acquisitions of container security company Twistlock for $410 million, and serverless security company PureSec for an undisclosed amount. Both deals are expected to close in the fiscal fourth quarter.
"Both Twistlock and PureSec will be important additions to helping protect our customers' journey to the cloud. Combining their capabilities with Prisma, our leading cloud security suite, is a huge win for all of our customers," said Nikesh Arora, chairman and CEO of Palo Alto Networks, in a statement. 
"Overall, this quarter is a bit tough to judge," said Jim Cramer and the Action Alerts PLUS team, which holds Palo Alto in its portfolio. "On one hand, the headline numbers and guidance forecast are suggesting that Palo Alto is continuing to win business and demand for its products and services is robust, however, there is a transition underway with the company's sales priorities and them focusing on new businesses instead of signing existing customers to multi-year bundles at discounts inherently is creating some unpredictability when it comes to billings. Nevertheless, what we believe to be is predictable is the secular demand for cybersecurity products and solutions which Palo Alto is a quintessential leader in and growing at roughly 2.5x the rate of the industry."
The stock fell 5.6% in premarket trading Thursday to $203.25.
3. -- PVH Slumps After Cutting Full-Year Forecast
PVH Corp. (PVH) , the owner of clothing brands Calvin Klein and Tommy Hilfiger, declined in premarket trading after issuing a fiscal second-quarter outlook below forecasts and trimming fiscal-year guidance.
PVH said it expects second-quarter earnings of $1.85 to $1.90, well below expectations of $2.40. Full-year earnings were forecast at $10.20 to $10.30 a share, down 10 cents from its prior forecast, and the company said it expects a foreign currency impact of around 32 cents a share as it translates overseas sales into U.S. dollars. Analysts had been calling fiscal-year earnings for $10.43 a share.
"Looking ahead, the volatile and challenging macroeconomic backdrop has continued into the second quarter, with particular softness across the U.S. and China retail landscape," CEO Emanuel Chirico said.
"Additionally, further volatility in foreign exchange rates is expected to pressure our full-year earnings per share by an incremental 10 cents compared to our prior expectations. As such, we believe it is prudent to factor this into our updated full-year earnings outlook," he said.
The apparel company posted first-quarter adjusted earnings of $2.46 a share, beating estimates by 1 cent. Sales of $2.36 billion came in just shy of estimates.
PVH shares slumped 10.5% to $88.85 in premarket trading.
4. -- Uber, Costco, Dollar General and Dollar Tree Report Earnings
Earnings reports are expected Thursday from Uber (UBER) , Costco Wholesale (COST) , Dollar General (DG) , Dollar Tree (DLTR) , Ulta Beauty (ULTA) , Designer Brands (DBI) , Dell Technologies (DELL) , Gap Inc. (GPS) , Marvell Technology (MRVL) , VMware (VMW) , Lululemon Athletica (LULU) and Zuora (ZUO) .
5. -- Disney CEO: Abortion Law Will Make It 'Difficult' to Film in Georgia 
Walt Disney (DIS) CEO Bob Iger told Reuters it would be "very difficult" for the media giant to keep filming in Georgia if a new abortion law takes effect because many people will not want to work in the state.
Disney has filmed blockbusters such as "Black Panther" and "Avengers: Endgame" in Georgia. 
"I rather doubt we will," Iger said in an interview. "I think many people who work for us will not want to work there, and we will have to heed their wishes in that regard. Right now we are watching it very carefully."
If the law takes effect, "I don't see how it's practical for us to continue to shoot there," Iger added.
The law is due to take effect on Jan. 1, if it survives court challenges, according to Reuters.
Netflix (NFLX) signaled earlier this week it too could back away from filming in Georgia.
Walt Disney is a holding in Jim Cramer's Action Alerts PLUS member club. Want to be alerted before Jim Cramer buys or sells DIS? Learn more now.