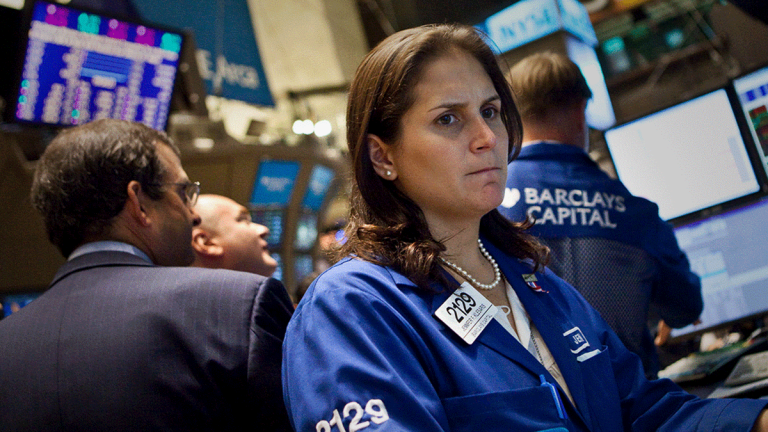 Tech Trade War, Best Buy, Tyson Foods, L Brands, Boeing - 5 Things You Must Know
U.S. stock futures point lower and global stocks decline as the U.S.-China trade dispute intensifies; Apple and Tesla extend declines amid worries of a damaging tech cold war; Tyson Foods is looking to set up a beef-processing plant in Kazakhstan to avoid Chinese tariffs, a report says; L Brands soars after lifting its earnings guidance.
Here are five things you must know for Thursday, May 23:
1. -- Stock Futures Sink as the Trade War Intensifies
U.S. stock futures pointed lower on Thursday and global stocks declined as investors hunkered down for a prolonged U.S.-China trade dispute.
Treasury Secretary Steven Mnuchin told the House Financial Services Committee that there were no scheduled talks with high level officials in Beijing, but added Wednesday that presidents Donald Trump and Xi Jinping likely would meet at next month's G-20. He also suggested that a decision for further tariffs on China-made goods won't be made "for another 30 to 45 days," a time-frame that overlaps with the late June summit in Japan.
However, with an increasing number of global companies joining the U.S. in blacklisting China's Huawei Technologies, including Japan's Panasonic and Toshiba and Britain's ARM Holdings,, and two U.S. warships currently patrolling the politically sensitive Taiwan Strait, there seems to be little hope for a near-term breakthrough in talks between the world's two biggest economies.
Apple (AAPL)  and Tesla (TSLA) , meanwhile, extended declines as investors grow increasingly concerned that the dispute between Washington and Beijing will ensnare iconic companies in a damaging tech cold war.
Contracts tied to the Dow Jones Industrial Average slumped 246 points, futures for the S&P 500 declined 25.90 points, and Nasdaq futures fell 90.50 points.
Investors also must navigate an increasingly complicated political backdrop, both at home and abroad, while reducing bets on monetary easing from the Federal Reserve, which indicated in minutes of its last rate-setting meeting that it was prepared to have a "patient approach" to low inflation "for some time."
2. -- Tyson to Set Up Kazakhstan Plant to Avoid China Tariffs - Report
The trade dispute has Tyson Foods (TSN) looking to set up a beef-processing plant in Kazakhstan to avoid Chinese tariffs, according to the Financial Times, which cited people with knowledge of the discussions.
Tyson's initial investment will be $200 million but sources told the Financial Times the total investment could hit several billion dollars as meat company seeks to produce about 5 million tons of beef in Kazakhstan, which would provide it with backdoor access into China.
The Financial Times noted that U.S. sales of beef to China fell 17% in the first quarter from a year earlier, partially due to a 25% retaliatory tariff that China imposed on U.S. beef exports last July.
A Tyson spokeswoman told the Financial Times the company has visited Kazakhstan, but doesn't have formalized plans to establish an operation there.
3. -- Best Buy, HP and Splunk Report Earnings
Best Buy (BBY) posted stronger-than-expected first-quarter earnings and confirmed its full-year profit guidance, as consumer electronics sales helped comparable-store revenue top analysts' forecasts. The stock rose 2% in premarket trading.
BJ's Wholesale Club's  (BJ) first-quarter earnings beat forecasts and same-store sales topped forecasts in a challenging environment for U.S. retailers.
Earnings reports are also expected Thursday from Hewlett Packard Enterprise (HPE) , HP Inc. (HPQ) , Autodesk (ADSK) , Medtronic (MDT) , Splunk  (SPLK) and Deckers Outdoor (DECK) .
The economic calendar in the U.S. Thursday includes weekly Jobless Claims at 8:30 a.m. ET, the PMI Composite FLASH for May at 9:45 a.m., and New Home Sales for April at 10 a.m.
4. -- L Brands Jumps After Posting a Surprise First-Quarter Profit
L Brands (LB)  jumped sharply in premarket trading Thursday after the parent of Victoria's Secret and Bath & Body Works posted first-quarter earnings that surprised Wall Street and lifted the low end of its earnings guidance for the fiscal year.
Earnings in the quarter were 14 cents a share vs. a break-even result expected by analysts. Sales of $2.63 billion topped forecasts of $2.6 billion. Same-store sales at Victoria's Secret declined 5% but jumped 13% at the company's Bath & Body Works outlets.
L Brands said it expects fiscal-year earnings of between $2.30 and $2.60 a share, vs. its previous guidance of $2.20 to $2.60.
The stock rose 13% to $24.30 in premarket trading.
5. -- Acting FAA Chief Can't Say When Boeing's MAX Jets Will Fly Again
The acting Federal Aviation Administration chief, Daniel Elwell, said he couldn't predict when Boeing's grounded 737 MAX jets would be flying again.
Elwell told reporters at a news conference Wednesday that the process of approving a proposed software fix for the aircraft remains open-ended and subject to various factors, The Wall Street Journal reported.
Some of his comments, the Journal noted, seemed to signal potentially months of additional delay, as Elwell appeared to distance himself from plans by some U.S. airlines to put the jets back into operation in August.
"If you said October, I wouldn't even say that" was a realistic deadline at this point, Elwell said, because "we haven't finished determining exactly what the training requirements will be." 
The FAA has called a closed-door meeting for Thursday with regulators from 30 countries to discuss progress in fixing the 737 MAX's software.