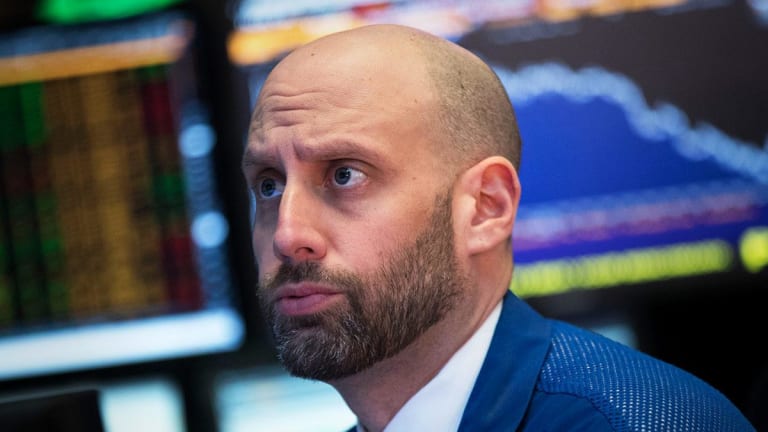 Stocks Sink, Disney Beats, Uber's IPO, Roku and Intel - 5 Things You Must Know
U.S. stock futures fall sharply as investors brace for the biggest escalation to date in the ongoing trade war between the U.S. and China; Walt Disney's fiscal second-quarter earnings and revenue beat Wall Street forecasts; Uber's IPO reportedly is likely to be priced at the midpoint of its target range.
Here are five things you must know for Thursday, May 9:
1. -- Stocks Sink as Trade War Escalates
U.S. stock futures were falling sharply on Thursday and global stocks tumbled as investors braced for the biggest escalation to date in the ongoing trade war between the U.S. and China.
China's vice premier and top trade official, Liu He, will arrive in Washington later Thursday for two days of talks aimed at saving the bulk of a months-long negotiation from complete collapse. However, with Donald Trump doubling down on his threat to boost tariffs to 25% from 10% on $200 billion worth of China-made goods during the vice premier's visit, and China vowing to respond with "'necessary countermeasures," the tone of the discussions likely won't bridge the now significant gaps between the two largest world economies.
"I just announced that we'll increase tariffs on China and we won't back down until China stops cheating our workers and stealing our jobs, and that's what's going to happen, otherwise we don't have to do business with them," Trump told a Republican rally in Florida on Wednesday. "They broke the deal. They can't do that. So they'll be paying. If we don't make the deal, nothing wrong with taking in more than $100 billion a year."
Stocks in Asia were hit hard again following Trump's comments. Japan's Nikkei 225 fell for a third consecutive session, down 0.93%, to take the benchmark to the lowest level since March 29. The Shanghai Composite declined 1.48%.
In the U.S., contracts tied to the Dow Jones Industrial Average slid 155 points, futures for the S&P 500 declined 17.45 points, and Nasdaq futures were down 54.75 points.
Stocks finished mostly lower on Wednesday. The S&P 500 declined 0.16% and the Nasdaq slipped 0.26%. The Dow gained less than 0.1% to close at 25,967.33. 
The economic calendar in the U.S. Thursday includes International Trade for March at 8:30 a.m. ET, weekly Jobless Claims at 8:30 a.m., and the Producer Price Index for April at 8:30 a.m. 
Earnings reports are expected Thursday from AMC Entertainment Holdings (AMC) , New Age Beverages (NBEV) , Booking Holdings (BKNG) , Callaway Golf (ELY) , Symantec (SYMC) , Cardinal Health (CAH) , News Corp (NWSA) , Keurig Dr Pepper (KDP) , Zillow Group (ZG) , GoPro (GPRO) , Yelp (YELP) , Trade Desk (TTD) and Tapestry (TPR) .
2. -- Disney Beats Earnings Estimates, Parks Revenue Jumps
Walt Disney (DIS)  was down 0.3% in premarket trading Thursday after the media giant reported fiscal second-quarter earnings and revenue that beat Wall Street forecasts.
Adjusted earnings in the quarter were $1.61 a share, beating forecasts by 2 cents. Revenue of $14.92 billion beat analysts' estimates of $14.54 billion.
Disney said revenue from its parks, experiences and consumer products business rose 4.5% to $6.17 billion, beating estimates of $6 billion. Movie-studio revenue in the quarter was $2.13 billion.
Net profit for the quarter was $5.45 billion, or $3.56 a share, which included a gain of about $5 billion from its acquisition of a controlling interest in Hulu.
Disney's near-term focus remains on the rollout of its new streaming service, Disney+, which will launch in November and cost $6.99 per month with a target of gaining between 60 million and 90 million subscribers by 2024. That drive, however, is likely to cost around $2 billion and weigh on profits in the near term.
"We're pleased with our results in Q2, which were impacted by our acquisition of Twenty-First Century Fox in late March as well as our ongoing investment in our direct-to-consumer business," CEO Bob Iger told investors on a conference call late Wednesday. "But I'd like to start by mentioning the phenomenal success of 'Avengers: Endgame,' which continues to exceed even our highest expectations."
"After delivering the biggest opening of all time, the movie has generated almost $2.3 billion in worldwide box office to date, making it the second-highest grossing film of all time, after just two weeks in theaters," Iger added. "And I'm happy to announce that 'Avengers: Endgame' will be available on Disney+ on Dec. 11, just a month after we launch the service."
"All in, we believe the quarter to be largely positive but mostly a non-event in comparison to the mammoth April Investor Day event where management unleashed its direct-to-consumer strategy to the public," said Jim Cramer and the Action Alerts PLUS team, which holds Disney in its portfolio. "But what's important here is that while funding costs of the direct-to-consumer initiatives will be steep and represent a drag on earnings growth, they can be tolerated because the rest of the company, and especially the consumer facing side of the business, continues to perform very well."
3. -- Uber's IPO Likely to Be Priced at Midpoint of $44 to $50 Target Range
The initial public offering for Uber Technologies, the ride-hailing giant, reportedly will price at the midpoint of its target range or lower.
Uber's debut is one of the tech sector's most highly anticipated, with its offering expected to raise as much as $9 billion and result in a potential valuation of $84 billion at the midpoint of its proposed target range of $44 to $50 a share. Uber shares are expected to be priced Thursday evening with the stock to begin trading Friday on the New York Stock Exchange.
Investors may be lukewarm on Uber's offering following the poor stock performance of rival Lyft (LYFT) since its IPO on March 29.
Lyft shares fell 11% on Wednesday, closing at their lowest level following Lyft's first earnings report as a public company. The company reported a wider-than-expected first-quarter loss but better-than-expected revenue and guidance.
Uber's IPO also could be affected by stock market declines this week, particularly in tech shares, as the trade war between the U.S. and China has escalated.
4. -- Roku Soars on Strong Results and Guidance
Roku  (ROKU) , the video streaming company, posted a first-quarter loss narrower than analysts' expectations and the stock was soaring in premarket trading Thursday.
The loss was 9 cents a share vs. analysts' expectations of 24 cents. Revenue jumped 51% to $206.7 million and topped forecasts of $189.8 million.
Average revenue per user, a key metric for Roku, rose 27% from a year earlier to $19.06 and Roku said active accounts jumped 40% to 29.1 million and streaming hours soared 74% to 8.9 billion.
"Roku platform engagement continues to strengthen, as more content shifts to streaming and more consumers cut the cord. Per household streaming grew to an average of roughly 3.5 hours a day per active account, representing nearly half of average U.S. per-household daily viewing, Roku said in a statement. "Although streaming hour growth does not correlate directly to ARPU on a period-by-period basis, increased user engagement reflects our popularity and brand affinity and should drive higher monetization over the long run."
Roku said it was confident in its previous outlook for reaching more than $1 billion in fiscal-year revenue for the fiscal year, while it raised its total gross profit outlook to $470 million from $453 million.
Roku said it expects second-quarter revenue of $220 million to $225 million, above estimates of $218 million.
The stock was rising 9.2% to $70.88.
5. -- Intel Says Move Away From PC Chips to Weigh on Profit Margins 
Shares of Intel (INTC)  fell 2.7% to $47.91 in premarket trading after the giant chipmaker cautioned that its move away from personal computer chips to more competitive markets in logic, memory and data centers will weigh on profit margins over the next three years.
Intel told analysts during a presentation in San Francisco that gross profit margins would ease to a range of 57% to 60% as it transitions from its traditional 10-nanometer chips to the smaller, more dynamic 7-nanometer offerings that challenge rivals such as Advanced Micro Devices (AMD) . Revenue will grow at a "low-single digit" pace over the next three years, to a range of $76 billion to $78 billion by 2021, as the PC business flatlines and data center markets expand.
Intel's market share, however, won't rise past 28% over the next three years, giving it the ability to reach $85 billion in sales in the faster-growing portions of the global chip market, a far cry from the near total dominance it once commanded in the global PC market.
"We believe in an expanded market opportunity we can play a bigger role in the success of our customers," CEO Bob Swan told analysts. "Our emphasis is on improving execution, accelerating innovation and evolving our strong culture while making disciplined investments in pursuit of profitable growth."