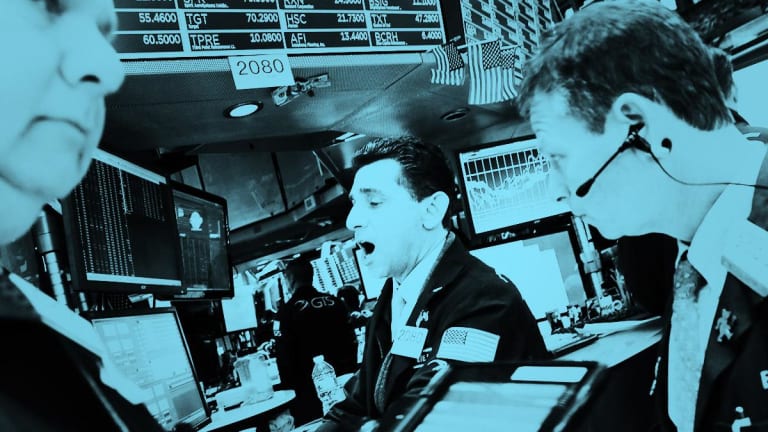 Amazon, Tesla, Kroger, Costco and Alex Trebek - 5 Things You Must Know
U.S. stock futures point lower Thursday, as the three main U.S. stock indexes come off their third straight day of losses; Amazon to close all its U.S. pop-up stores; Tesla unveils a new supercharger; Kroger and Costco report earnings.
Here are five things you must know for Thursday, March 7: 
1. -- Stock Futures Point to a Fourth Day of Declines
U.S. stock futures pointed lower on Thursday, March 7, as the three main U.S. stock indexes come off their third straight day of losses.
Contracts tied to the Dow Jones Industrial Average fell 51 points, futures for the S&P 500 were down 3.75 points, and Nasdaq futures declined 13.50 points.
A strong start to 2019 has fizzled this week as investors seek catalysts to drive the action as they await developments in trade negotiations between the U.S. and China. Hopes that the world's two largest economies would soon resolve their trade dispute has faded. Optimism rose last week on reports that said U.S. officials were putting together a final trade deal for Donald Trump and China's President Xi Jinping to sign in weeks, perhaps as soon as mid-March.
Meanwhile, Huawei, the Chinese telecommunications equipment and smartphone maker, sued the U.S. government over a ban of its products. The company  asked a federal court to reject as unconstitutional a portion of this year's U.S. military appropriations act that bars the government and its contractors from using Huawei equipment.
The Federal Reserve noted in its "Beige Book" on Wednesday that the U.S. economic expansion, the second-longest in history and approaching its 10th year, was continuing despite the recent government shutdown.
Ten of 12 Federal Reserve regions reported "slight-to-moderate" growth, while the Philadelphia and St. Louis branches reported "flat" activity, according to the Summary of Commentary on Current Economic Conditions, commonly known as the Beige Book.
The report, published eight times a year, offered a glimpse into how Trump's economy is performing as the initial impact wanes from his $1.5 trillion of tax cuts enacted in late 2017 - at the cost of a surging U.S. government budget deficit.
The economic calendar in the U.S. Thursday includes weekly Jobless Claims at 8:30 a.m. ET, and Productivity and Costs for the fourth quarter at 8:30 a.m. 
2. -- Amazon to Close All Its U.S. Pop-Up Stores
Amazon.com (AMZN) - Get Amazon.com Inc. Reportwill close all 87 of its U.S. pop-up stores as the company continues to retool its bricks-and-mortar strategy.
Amazon confirmed the closings to The Wall Street Journal, which first reported on the closings. The closings are expected by the end of next month, some employees at the Amazon stores said.
The pop-up shops tend to be on the small side, typically occupying small spaces in malls, Whole Foods and Kohl's retailers across the country. The company touted its pop-up shops as having "online prices, in-store convenience."
The Journal last week reported that Amazon was planning to open dozens of grocery stores across the country as it accelerates it drive into the food business following its $13.7 billion acquisition of Whole Foods in 2017.
The stock slipped 0.3% in premarket trading to $1,664.50.
Amazon is a holding in Jim Cramer's Action Alerts PLUS member club. Want to be alerted before Jim Cramer buys or sells AMZN? Learn more now.
3. -- Tesla's New Supercharger Cuts Charging Times by 50%
Tesla (TSLA) - Get Tesla Inc. Report  introduced V3 Supercharging, a new technology the electric carmaker said "will ultimately cut the amount of time customers spend charging by an average of 50%."
The company said in a blog on its website that the new supercharger can provide a Model 3 Long Range operating at peak efficiency 75 miles of charge in five minutes, at rates of up to 1,000 mph.
Tesla said the V3 Supercharger stations will allow owners to charge at the full power their battery can take, with no more splitting power between two cars.
"With these significant technical improvements, we anticipate the typical charging time at a V3 Supercharger will drop to around 15 minutes," Tesla said.
The company also introduced a new "On-Route Battery Warmup" software feature. Whenever a driver navigates to a Supercharger station, the vehicle "will intelligently heat the battery to ensure you arrive at the optimal temperature to charge, reducing average charge times for owners by 25%."
Tesla opened its first public beta station in the San Francisco Bay Area. Access will be expanded later in 2019.
4. -- Kroger and Costco to Report Earnings
Kroger (KR) - Get Kroger Company (The) Report  tumbled 8.4% in premarket trading after the grocer posted weaker-than-expected fourth-quarter earnings and issued guidance that disappointed investors.
Burlington Stores (BURL) - Get Burlington Stores Inc. Report  fell 6.1% after fourth-quarter sales at the off-price retailer came in below analysts' estimates.
Earnings are also expected Thursday from Costco Wholesale (COST) - Get Costco Wholesale Corporation Report , American Outdoor Brands (AOBC) - Get American Outdoor Brands Corp. Report , Marvell Technology Group (MRVL) - Get Marvell Technology Inc. Report , Barnes & Noble (BKS) - Get Barnes & Noble, Inc. Report , H&R Block (HRB) - Get H&R Block Inc. Report and Hovnanian Enterprises (HOV) - Get Hovnanian Enterprises Inc. Class A Report .
American Eagle Outfitters (AEO) - Get American Eagle Outfitters Inc. Report posted stronger-than-expected fourth-quarter earnings but said it expects first-quarter profit below Wall Street's forecasts.
American Eagle said Wednesday that earnings were 43 cents a share, 1 cent ahead of the Wall Street forecast. Revenue of $1.244 billion fell just shy of the consensus estimate of $1.26 billion, as same-store sales in the quarter rose 6%.
The retailer said it sees fiscal first-quarter earnings of between 19 cents and 21 cents a share, below analysts' estimates of 24 cents.. Comparable-store sales, the company said, are forecast to rise in the 'low single digits."
American Eagle shares fell 3.4% in premarket trading on Thursday.
5. -- 'Jeopardy' Host Alex Trebek Has Stage 4 Pancreatic Cancer
"Jeopardy!" host Alex Trebek has been diagnosed with Stage 4 pancreatic cancer but intends to fight the disease and keep on working.
The 78-year-old announced his illness in a video directly to "Jeopardy!" fans.
"Now normally, the prognosis for this is not very encouraging, but I'm going to fight this, and I'm going to keep working," Trebek said the video. "And with the love and support of my family and friends, and with the help of your prayers also, I plan to beat the low survival rate statistics for this disease."
Trebek has been host of the syndicated quiz show since 1984. He has won five Daytime Emmys for outstanding game show host.
**
A Special Invitation: Do you want to learn more about planning for and living retirement from the nation's top experts, including Ed Slott and Robert Powell, the editor of TheStreet's Retirement Daily? Want to learn how to create tax-efficient income in retirement and how to manage and mitigate all the risks you'll face in retirement? Then sign up to attend TheStreet's Retirement Strategies Symposium on April 6 in New York City. For a limited time, you can attend this extraordinary symposium for $149 - a cost savings of $50 off the general admission price of $199.
You can see the full day's agenda, learn about the guest speakers and sign up HERE for this special event.