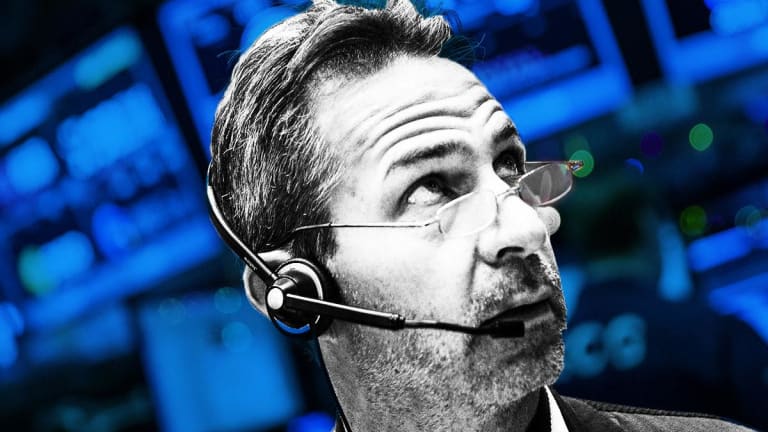 Twitter, T-Mobile, Chipotle and Home Depot - 5 Things You Must Know
U.S. stock futures decline as the earnings season draws to a close; Twitter, T-Mobile and Yum! Brands report earnings Thursday; Chipotle soars after earnings smash analysts' estimates.
Here are five things you must know for Thursday, Feb. 7:
1. -- Stocks Decline as Earnings Season Draws to a Close
U.S. stock futures declined on Thursday, Feb. 7, and shares in Europe tumbled after the European Commission slashed its growth forecast for the $19 trillion European economy as the region braces for the impending departure of its biggest trading partner when Britain leaves the bloc at the end of March.
Contracts tied to the Dow Jones Industrial Average fell 165 points, futures for the S&P 500 were down 18.25 points, and Nasdaq futures declined 46.25 points.
An all-stock merger of SunTrust Banks Inc. (STI) - Get SunTrust Banks, Inc. Report and BB&T Corp. (BBT) - Get BB&T Corporation Report  valued at $66 billion did little to lift sentiment. The merger, announced Thursday, would create the sixth-largest U.S. bank.
Stocks ended lower on Wednesday, as investors found little from Donald Trump's State of the Union Address to extend recent market gains. 
Fourth-quarter earnings, meanwhile, largely have surprised to the upside, with profits expected to rise by about 15.8%, according to Refinitiv data, with around 75% of the companies in the S&P 500 reporting so far this season. However, with 2019 forecasts coming in weaker than expected, thanks in part to slowing economic growth and the still-to-be-agreed-to trade deal with China, first-quarter earnings growth is currently estimated at just 0.3%, suggesting the prospect of so-called earnings recession -- where profits shrink for two consecutive quarters -- could now be a possibility.
The economic calendar in the U.S. Thursday includes weekly Jobless Claims at 8:30 a.m. ET.
2. -- Twitter, T-Mobile and Yum! Brands Report Earnings Thursday
Twitter Inc. (TWTR) - Get Twitter Inc. Report reported fourth-quarter adjusted earnings of 31 cents a share, beating estimates of 25 cents. Average monthly users in the quarter were flat at 321 million. The stock fell 7.2% in premarket trading.
The company said it expects first-quarter revenue of between $715 million and $775 million vs. estimates of $765 million. 
Yum! Brands Inc. (YUM) - Get Yum! Brands Inc. Report  posted fourth-quarter earnings of $1.04 a share vs. forecasts of 96 cents. Revenue was $1.56 billion vs. expectations of $1.59 billion.
Earnings are also expected Thursday from Dunkin' Brands Group Inc. (DNKN) - Get Dunkin' Brands Group, Inc. Report , Kellogg Co. (K) - Get Kellogg Company Report , News Corp. (NWSA) - Get News Corporation Report , World Wrestling Entertainment Inc. (WWE) - Get World Wrestling Entertainment Inc. Class A Report , Expedia Group Inc. (EXPE) - Get Expedia Group Inc. Report , Tyson Foods Inc. (TSN) - Get Tyson Foods Inc. Report , GrubHub Inc. (GRUB) - Get Grubhub, Inc. Report , T-Mobile US Inc. (TMUS) - Get T-Mobile US Inc. Report , Mattel Inc. (MAT) - Get Mattel Inc. Report , and Philip Morris International Inc. (PM) - Get Philip Morris International Inc Report .
3. -- Chipotle Jumps After Handily Beating Earnings Estimates
Chipotle Mexican Grill Inc. (CMG) - Get Chipotle Mexican Grill Inc. Report  rose 9.9% in premarket trading after the burrito chain posted adjusted fourth-quarter earnings that beat analysts' estimates.
Chipotle earned $1.72 a share on an adjusted basis with revenue rising 10% to $1.2 billion. Analysts had called for adjusted earnings of $1.40 a share on sales of $1.2 billion.
Same-restaurant sales rose 6.1% in the quarter vs. analysts' expectations of an increase of 4.5%. Chipotle said it expects comparable-restaurant sales growth in the mid-single digit range in 2019.
"I'm very pleased to report strong fourth quarter results with 6.1% comparable restaurant sales growth that included 2% transaction growth," said CEO Brian Niccol. "For the full year, Chipotle's average unit volumes exceeded $2 million with digital sales surpassing half a billion dollars." 
Digital sales in the quarter rose 65.6% to account for nearly 13% of all sales.
4. -- Home Depot Winding Down Exterior Installation Unit - Exclusive
Home Depot Inc.  (HD) - Get Home Depot Inc. (The) Report is quietly winding down its HDE exterior installation unit and laying off staff.
An employee told TheStreet that his division, which includes roofing, siding, and gutters sales under the HDE banner, was eliminated on Tuesday at a California location.
The source, who chose to remain anonymous, said the move cut many workers who had defected from Sears Holding Corp.  (SHLDQ) after its bankruptcy filing only months ago.
He added that the cut came unexpectedly as employees were alerted to their status on a conference call that was held with no warning.
Home Depot said it was laying off less than 1,000 people, but declined to give further specifics. However, a thread on TheLayoff, a website in which laid-off workers discuss developments, highlighted the national reach of the cuts. Postings about pink slips came from the unit's operations in California, Florida, Georgia, New England and Wisconsin.
Spokesman Stephen Holmes explained to TheStreet that the move was part of a shift in focus from outsourced installation to its core business in retail sales of materials for these products as well as more profitable installation segments aside from gutters, roofing, insulation, and siding.
"After reviewing the installation business, we've decided it's right to wind down our roofing, siding, insulation and gutters," he said. "[They are] just not going to be part of our focus moving forward."
5. -- NXP Slides on Downbeat Revenue Forecast
Shares of NXP Semiconductors NV (NXPI) - Get NXP Semiconductors N.V. Report  were down 2.7% in premarket trading after the chipmaker issued a downbeat revenue forecast for the first quarter.
The company reported fourth-quarter earnings of 94 cents a share on revenue of $2.4 billion, beating analysts' forecasts of 42 cents a share on sales of $2.38 billion. But CEO Richard Clemmer said in a statement that "demand has weakened for the first quarter, primarily in the automotive and industrial end-markets in China."
NXP guided for first-quarter revenue of between $2.02 billion and $2.16 billion vs. estimates of $2.24 billion.
While many chip companies have been lowering revenue estimates for the first quarter, the stocks have performed surprisingly well this earnings season because expectations were so low, according to RealMoneyPro's Eric Jhonsa. Click here to find out more about how to access Jhonsa's insights.