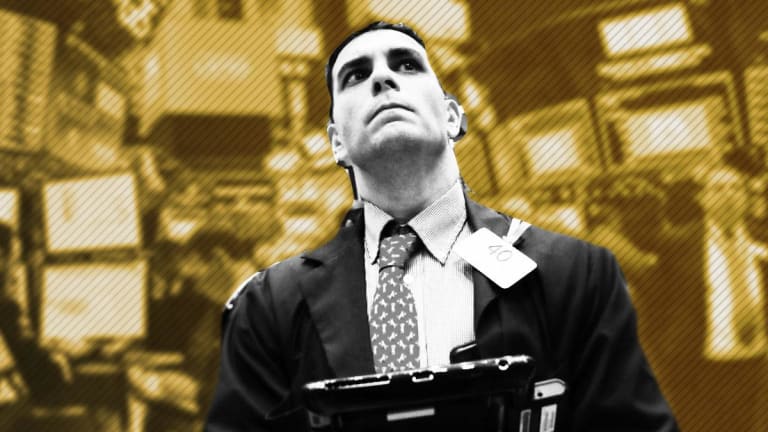 Dow Futures Slump, JPMorgan, Verizon and Disney, Huawei - 5 Things You Must Know
U.S. stock futures pull back sharply on Thursday, a day after the Dow Jones Industrial Average records its largest daily point gain in history; some economic data won't be issued because of the government shutdown, which has entered its sixth day; JPMorgan to pay $135 million in a settlement with the SEC.
Here are five things you must know for Thursday, Dec. 27:
1. -- Stock Futures Slump After Wall Street's Wild Surge
U.S. stock futures pulled back sharply on Thursday, Dec. 27, a day after the Dow Jones Industrial Average recorded its largest daily point gain in history and the three major stock indexes posted their largest percentage gains since March 2009.
Contracts tied to the Dow Jones Industrial Average slumped 290 points, futures for the S&P 500 were down 39 points, and Nasdaq futures tumbled 86.25 points.
The Dow on Wednesday soared 1,086 points, or 4.98%, to 22,878, the S&P jumped 4.96% and the Nasdaq climbed 5.84%. Stocks more than made up the steep losses suffered in a Christmas Eve plunge.
The gains came in a market suffering from extremely oversold conditions, according to many Wall Street analysts. Despite the sharp gains Wednesday, the Dow, the S&P 500 and the Nasdaq have declined more than 10% in December. 
Global stocks traded mixed Thursday as many of the same drivers of Wednesday's gains -  stronger-than-expected holiday spending, signals from the White House that Donald Trump wouldn't be firing either Treasury Secretary Steven Mnuchin or Federal Reserve Chairman Jerome Powell, and a Bloomberg report of a trade delegation heading to China for talks with Beijing early next week - were in evidence Thursday. But the underlying issues surrounding weakening growth, political uncertainty and trade-related tensions remained.
2. -- Jobless Claims, Consumer Confidence Lead Thursday's Calendar
The economic calendar in the U.S. Thursday includes weekly Jobless Claims at 8:30 a.m. ET, the FHFA House Price Index for October at 9 a.m., and Consumer Confidence for December at 10 a.m.
New Home Sales data for November were to be released Thursday but the Bureau of Economic Analysis said it wouldn't be releasing any data during the government shutdown. Therefore, the agency won't be issuing data on the U.S. trade deficit on Friday.
3. -- Trump Considers Barring Use of Equipment From Huawei, ZTE - Report
Donald Trump is considering an executive order in the new year to declare a national emergency that would bar U.S. companies from using telecommunications equipment made by China's Huawei Technologies Co. and ZTE Corp., three sources familiar with the situation told Reuters.
The United States has alleged that the two companies - two of China's biggest network equipment companies - work at the behest of the Chinese government and that their equipment could be used to spy on Americans.
The executive order has been under consideration for more than eight months, Reuters reported. It could be issued as early as January and would direct the Commerce Department to block U.S. companies from buying equipment from foreign telecommunications makers that pose significant national security risks, said sources from the telecommunications industry and the administration, according to Reuters.
Trump Mulling Order That Bans U.S. Companies From Dealing With Huawei - Report
4. -- JPMorgan Pays $135 Million in SEC Settlement
JPMorgan Chase & Co.  (JPM) - Get Report will pay more than $135 million to the Securities and Exchange Commission to settle charges related to what the agency contends was "improper handling" of American depositary receipts by the bank.
The New York-based bank "improperly" provided the ADRs to brokers "in thousands of 'pre-release' transactions when neither the brokers nor their customers had the foreign shares needed to support those new ADRs," the SEC said in a press release.
ADRs are U.S. securities that represent stocks in foreign companies. ADRs can be pre-released, meaning the U.S. securities can be released by a financial institution -- in this case JPMorgan Chase -- without brokers or their customers having to first deposit the foreign shares used to back up the securities.
However, while the regulations give brokers and their customers some flexibility when it comes to depositing those shares in a bank, they still must actually own the foreign stock used to back up the transaction.
Brokers and their customers were able to take advantage of this lending quirk to "inflate" the amount of foreign stock owned, which, in turn, led to "abusive practices like inappropriate short selling and dividend arbitrage," the agency stated.
"We're pleased to have resolved this matter, which is related to an industry practice we voluntarily ended a few years ago," JPMorgan said in a statement.
JPMorgan is a holding in Jim Cramer's Action Alerts PLUS member club. Want to be alerted before Jim Cramer buys or sells the stock? Learn more now.
5. -- Fios Warns TV Customers They Could Lose ESPN
Verizon Fios, a division of Verizon Communications Inc. (VZ) - Get Report , said its TV customers could lose access to ESPN, the Disney Channel and local ABC stations if a new deal can't be reached with Walt Disney Co. (DIS) - Get Report before the end of the year.
Fios, in an email sent to customers, said Disney has proposed that "Verizon pay hundreds of millions of dollars more for its programming, despite the fact that many of its key networks are experiencing declining viewership."  
"The rising cost of programming is the biggest factor in higher TV bills and we are standing up to networks like Disney, refusing to accept these huge increases," Fios added.
"Our proven history of providing extraordinary value to consumers and distributors is unmatched," said Disney. "Our negotiations continue in earnest and we remain optimistic that we can reach a deal."
Disney is a holding in Jim Cramer's Action Alerts PLUS member club. Want to be alerted before Jim Cramer buys or sells DIS? Learn more now.