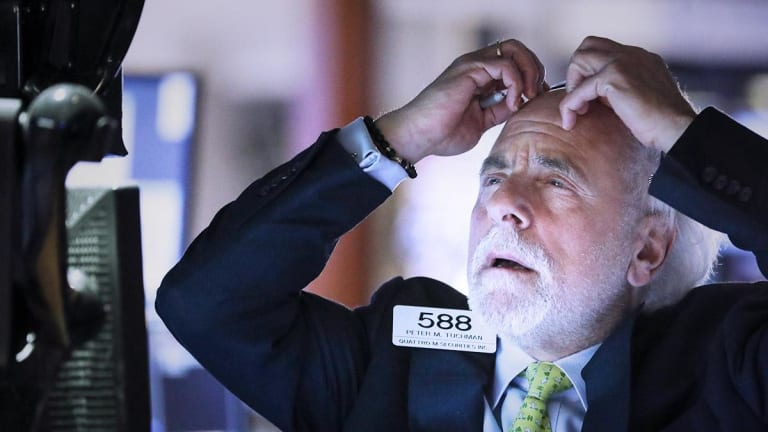 Fed Hikes Rates, Nike, Altria, Tilray and Pinterest - 5 Things You Must Know
U.S. stock futures turn higher Thursday, after the Federal Reserve raises its benchmark lending rate and signals tighter monetary conditions into 2019; Nike and Walgreens report earnings; Altria reportedly is nearing an agreement to buy a 35% stake in Juul Labs; Tilray surges on announcement of partnership with AB InBev.
Here are five things you must know for Thursday, Dec. 20:
1. -- Stock Futures Turn Higher After Fed's Fourth Rate Hike of 2018
U.S. stock futures turned higher Thursday, Dec. 20, while global stocks tumbled after the Federal Reserve raised its benchmark lending rate and signaled tighter monetary conditions into 2019.
Contracts tied to the Dow Jones Industrial Average rose 14 points, futures for the S&P 500 were up 3.25 points, and Nasdaq futures gained 14.25 points.
Fed Chairman Jerome Powell confirmed on Wednesday analysts' forecasts with a 25-basis-point increase in the fed funds rate, the fourth hike of 2018 and the eighth in the current tightening cycle. The hike was accompanied by a statement from the Fed that  "some further gradual increases" would be needed for the world's largest economy next year as well, defying critics who insisted the central should examine incoming data before committing to more interest rate increases. Powell also said the $50 billion a month pace of bond sales from the Fed's $4 trillion balance sheet was "smooth" and unlikely to change.
The hawkish tone of the decision - despite the fact that Fed officials trimmed their 2019 rate hike projections to two moves from three - hammered U.S. stocks Wednesday and spilled over into the Asia session. Stocks in Japan tumbled 2.84% on Thursday, and shares in China fell 0.52%.
Investors were rattled further by moves in the bond market that suggested the U.S. economy could turn to recession in the next 18 months as the difference between two-year and 10-year Treasury note yields narrowed to less than 10 basis points in overnight trading as short-term rates rose in sympathy with the Fed's rate projections and long-term rates fell amid concerns over medium-term growth as the central bank trimmed GDP projections for 2018 and 2019.
2. -- Nike and Walgreens Highlight Earnings Calendar
Walgreens Boots Alliance Inc. (WBA) - Get Report  posted fiscal first-quarter earnings of $1.46 a share, beating analysts' estimates by 3 cents. Sales rose 9.9% to $33.8 billion. The drugstore chain maintained that it expects 7% to 12% growth in fiscal 2019 adjusted per-share earnings at constant currency rates. 
The stock fell 1.8% in premarket trading.
Accenture PLC (ACN) - Get Report  earned $1.96 a share in its fiscal first quarter, 10 cents above estimates. The company said it raised the low end of its earnings outlook for 2019 to $7.01 to $7.25 a share from previous guidance of $6.98 to $7.25 a share. Shares fell 1%.
Earnings from Nike Inc. (NKE) - Get Report  are expected after Thursday's closing bell.
Nike will report fiscal second-quarter earnings after Thursday's closing bell and analysts surveyed by FactSet expect the sports apparel maker to earn 46 cents a share, flat with a year earlier, on sales of $9.17 billion.
The economic calendar in the U.S. Thursday includes weekly Jobless Claims at 8:30 a.m. ET, and the Philadelphia Fed Business Outlook Survey for December at 8:30 a.m.
3. -- Altria Reaches Agreement to Buy 35% Stake in Juul Labs 
Altria Group Inc. (MO) - Get Report , the maker of Marlboro cigarettes, confirmed it was investing $12.8 billion in Juul Labs Inc., valuing the e-cigarette startup at $38 billion.
The deal values Juul at more than double the roughly $16 billion valuation it received in July in a private funding round, according to Reuters.
Juul's vaping devices have helped it become the market leader in the U.S. e-cigarette business, holding a market share of 75% from just 13.6% in early 2017, Reuters reported, citing a Wells Fargo analysis of Nielsen retail data.
According to The Wall Street Journal, Altria's injection of $12.8 billion of capital into Juul would vault the company into the top ranks of privately owned firms, more valuable than Airbnb, Pinterest and Elon Musk's SpaceX..
4. -- Tilray Surges on Partnership With Budweiser Maker
Shares of Tilray Inc. (TLRY) - Get Report  jumped 12% in premarket trading after the Canadian cannabis company formed a research partnership with Budweiser maker Anheuser-Busch InBev SA (BUD) - Get Report .
Labatt Breweries of Canada, a subsidiary of AB InBev, will work with a Tilray unit to research non-alcoholic beverages that contain THC and CBD, both key chemicals found in marijuana but with very different purposes. THC is the psychoactive chemical in marijuana the produces the high, while CBD is non-psychoactive and blocks the high.
The companies said the partnership was confined to Canada, where, unlike the U.S., marijuana is now legal at the federal level. Decisions about the commercialization of the research will be made in the future.
Each company will invest $50 million in the partnership.
5. -- Pinterest Could Go Public in April
Pinterest could be going public in early 2019.
The popular photo-sharing service is actively planning for an initial public offering as soon as April 2019, according to a report from The Wall Street Journal, and is set to choose underwriters for the offering next month.
Pinterest CEO Ben Silbermann previously has said the company was likely to go public next year, but wasn't specific about the timing. In its latest round of private financing in June 2017, Pinterest was valued at $12.3 billion.
***
Save 66% with our '12 Days of Holiday Deals' Sale. Join Jim Cramer's Action Alerts PLUS club for investors and get our best deal of the year. Click here for details or to sign up.