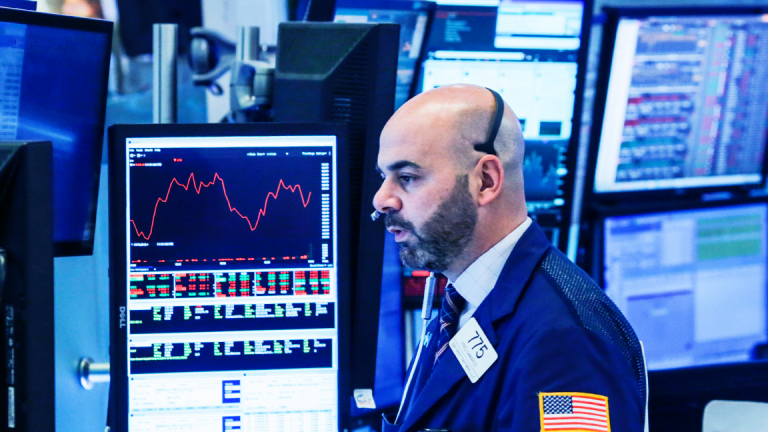 Rite Aid, Tesla, Tronc and Uber - 5 Things You Must Know Before the Market Opens
U.S. stock futures are mixed on Thursday as ongoing trade disputes between Washington and Beijing hold down gains; Rite Aid and Albertsons call off their merger; Tesla slides following a report the SEC potentially could probe Elon Musk's tweet about taking the company private.
Here are five things you must know for Thursday, Aug. 9:   
1. -- Stocks Mixed as Trade Disputes Cap Gains
U.S. stock futures turned mixed on Thursday, Aug. 9, as ongoing trade disputes between Washington and Beijing were holding down gains on Wall Street.
Contracts tied to the Dow Jones Industrial Average undefined   fell 1 point on Thursday, futures for the S&P 500 undefined rose 1.75 points, and Nasdaq undefined futures rose 3 points. The tech-heavy Nasdaq has closed higher for seven straight sessions.
The Shanghai Composite Index rose 1.83% on Thursday even as China detailed its tariff response to the U.S. with levies on a further $16 billion in imported goods that takes its planned or imposed tariff total to $110 billion.
"The two countries' trade conflict, which is merely push and shove at the moment, is likely to escalate into more than just a scuffle if the U.S. administration cannot marshal its mobster mentality," an editorial in the state-run China Daily said. "China continues to do its utmost to avoid a trade war, but in the face of the U.S.'s ever greater demand for protection money, China has no choice but to fight back."
In the U.S., the economic calendar on Thursday includes weekly Jobless Claims at 8:30 a.m. ET, the Producer Price Index for July at 8:30 a.m., and Wholesale Trade for June at 10 a.m.
Viacom Inc. (VIAB) - Get Viacom Inc. Class B Report posted fiscal third-quarter earnings of $1.18 a share, higher than estimates of $1.07. The stock rose 1.3% in premarket trading.
If you'd like to receive the free "5 Things You Must Know" newsletter, please register here.
2. -- Rite Aid, Albertsons Call Off Their Merger
Rite Aid Corp. (RAD) - Get Rite Aid Corporation Report and Albertsons Cos. terminated their merger agreement after Rite Aid stockholders expressed doubts about the $24 billion deal and a shareholder advisory firm opposed the tie-up.
The retailers announced late Wednesday, Aug. 8, they were canceling the merger.
"While we believed in the merits of the combination with Albertsons, we have heard the views expressed by our stockholders and are committed to moving forward and executing our strategic plan as a stand-alone company," said Rite Aid CEO John Standley in a statement.
Institutional Shareholder Services Inc. last month said Rite Aid investors should vote down the Albertsons merger because the deal wasn't going to give the drug store chain's shareholders a "fair ownership interest" in the combined company.
Rite Aid shares fell 13.8% in premarket trading. Albertsons is privately held. Its majority owner is private-equity firm Cerberus Capital Management LP.
3. -- SEC Could Probe Elon Musk's Tweet About Taking Tesla Private 
Tesla Inc.  (TSLA) - Get Tesla Inc. Report shares tumbled a further 0.5% in premarket trading on Thursday as investors reacted to a report of a potential probe into tweets by founder and CEO Elon Musk that claimed he had "funding secured" to take the electric vehicle maker private at $420 a share.
The Wall Street Journal reported Wednesday that the Securities and Exchange Commission was looking into the veracity of Musk's tweet, which was sent on Tuesday, Aug. 7, and why the CEO opted to inform investors of his plans via social media as opposed to a formal filing with regulators. Those questions were intensified by a statement signed by six members of Tesla's nine-member board on Wednesday that said "several" discussions about taking the group private were held last week.
SEC public affairs spokesman Chris Carofine told TheStreet the agency was declining to comment.
Tesla shares fell 2.4% on Wednesday to close at $370.34.
4. -- Tronc Weighs Offer to Sell Newspaper Business 
Tronc Inc. undefined  is weighing an offer to sell the Chicago Tribune and the rest of its newspaper holdings to a private-equity firm, sources close to the company told the Tribune.
A bid of between $19 and $20 a share, or about $700 million, is on the table, sources said. Tronc shares jumped 12.7% on Wednesday to $16.64 following the report.
A Tronc spokeswoman declined to comment. The company is scheduled to release second-quarter earnings after the closing bell on Thursday.
In addition to the Chicago Tribune, Tronc's other major daily newspapers include the Baltimore Sun, Hartford Courant, Orlando Sentinel, South Florida's Sun Sentinel and the New York Daily News. It sold the Los Angeles Times and San Diego Union-Tribune in June for $500 million.
5. -- New York Moves to Limit Uber, App-Based Ride Services
New York City moved Wednesday to regulate the explosive growth of Uber Technologies Inc. and other app-based ride services with a temporary cap on new licenses for ride-hailing services.
The City Council approved a package of bills that included a one-year moratorium on new licenses for for-hire vehicles while the city studies the rapidly changing industry. The legislation also will allow the city to set a minimum wage for app-based drivers, the Associated Press reported.
Backers of the proposals said both the traditional yellow cab industry and drivers for app-based services have suffered as Uber cars flood the city's streets. They said the growth of ride-hailing apps also has made traffic congestion worse.
New York is Uber's largest American market. It is the first U.S. city to attempt to regulate the growth of app-based rides, the AP noted.