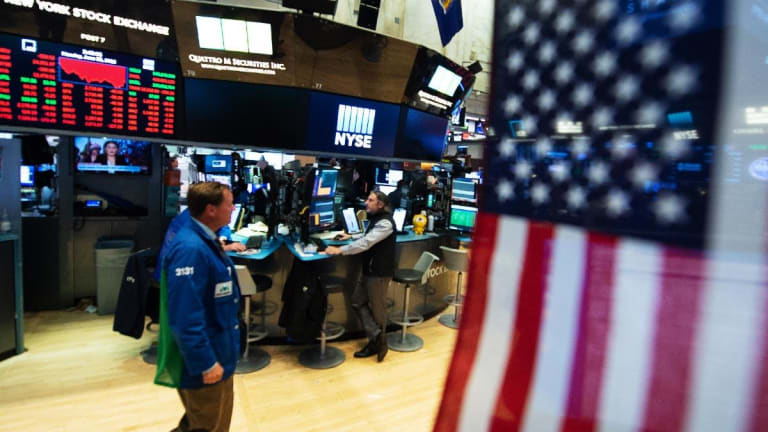 China Tariffs, Oil Prices, ZTE, Praxair and Starbucks - 5 Things You Must Know
U.S. stock futures rise as investors prepare for the first major wave of U.S. tariffs on China-made goods; global oil prices fall as Donald Trump attacks OPEC; ZTE replaces executives to comply with U.S. mandates, a report says.
Here are five things you must know for Thursday, July 5:   
1. -- U.S. Stocks Rise as China Tariffs Loom
U.S. stock futures suggested Wall Street would open higher on Thursday, July 5, while stocks in China declined as investors braced for the first major wave of U.S. tariffs on China-made goods and the potential for a reciprocal reply from Beijing.
China's Commerce Ministry spokesman, Gao Feng, told reporters Thursday that around 60% of the goods earmarked for tariffs from the White House, and set to kick in on Friday, July 6, were made by non-Chinese companies, including American-owned companies. The $34 billion in levies, he argued, were "essentially attacking global supply and value chains. To put it simply, the U.S. is opening fire on the entire world, including itself."
European stocks rose Thursday, getting a boost from the auto sector, following a report from Germany's Handelsblatt newspaper that said U.S. Ambassador Richard Grenell told executives at Germany's biggest carmakers that Donald Trump would suspend his threat to slap a new 25% tariff on imports if the European Union removed its levies on U.S. cars heading into the bloc.
Contracts tied to the Dow Jones Industrial Average undefined  rose 185 points, futures for the S&P 500 undefined  were up 20.45 points and Nasdaq undefined futures rose 58.50 points. 
Global oil prices traded higher Thursday after Trump attacked OPEC again, demanding the cartel cut crude oil prices.
2. -- ADP Jobs Report, Fed Minutes Highlight Thursday's Calendar
The U.S. economic calendar on Thursday includes the ADP National Employment Report for June at 8:15 a.m. ET, weekly Jobless Claims at 8:30 a.m., the PMI Services Index for June at 9:45 a.m., the ISM Non-Manufacturing Index for June at 10 a.m., and minutes from the June meeting of the Federal Open Market Committee at 2 p.m.
Earnings are expected Thursday from PriceSmart Inc. (PSMT) - Get Free Report .
3. -- ZTE Replaces Executives to Comply With U.S. Mandate
ZTE Corp. (ZTCOY)  named a number of new top executives, including a new CEO, as the Chinese telecommunications company presses ahead with U.S.-mandated leadership changes, The Wall Street Journal reported, citing a person familiar with the matter.
ZTE's new CEO is Xu Ziyang, the former head of the company's business in Germany, the person said. The company also named a new chief financial officer, as well as a new chief technology officer and a new head of human resources, the person told the Journal.
The new leadership comes less than a week after ZTE's board resigned and shareholders voted to install a new eight-person board. ZTE is required to name a new board and senior executives as conditions for the U.S. government to lift a ban on purchasing American-made parts, the Journal noted.
4. -- Praxair Sells European Businesses
Praxair Inc. (PX) agreed to sell the majority of its businesses in Europe to Taiyo Nippon Sanso Corp. of Japan for €5 billion ($5.85 billion) to address European regulators' concerns over its planned $80 billion merger with Germany's Linde AG.
"We are taking a constructive approach to address regulatory concerns with the merger in the European Economic Area," said Steve Angel, Praxair chairman and CEO, in a statement on Thursday. "Taiyo Nippon Sanso is a strong and capable global industrial gas buyer for our assets and we are pleased that they will continue to serve the needs of our customers in Europe."
Linde was even clearer about the purpose of the sale, with the Munich-based company saying in a regulatory statement that it and Praxair "consider a divestiture of such business to be necessary in order to allow merger clearance of the proposed business combination by the European Commission."
5. -- Starbucks Loses Another Key Executive
Starbucks Corp. (SBUX) - Get Free Report said its deputy general counsel in charge of ethics and compliance, Matthew Shay, has left the company, confirming Shay's departure to the New York Post.
Shay, 60 years old, told management he planned to retire in January, according to Starbucks. He had been with the company for 21 years. 
Last week, Starbucks announced the surprise retirement of Chief Financial Officer Scott Maw, who had served in the role since February 2014. Executive Chairman Howard Schultz, the company's former CEO, also stepped down last week.
The stock rose 0.5% in premarket trading on Thursday.
Free White Paper: 7 Things All Investors Must Know in 2018. Start the second half off right with our free white paper on seven key things to watch this year. From how much cash to have on hand to the three reasons this bull market might die, our white paper features key takeaways from an all-star panel that TheStreet and Fisher Investments recently hosted in New York. Click here to register for your free online copy.