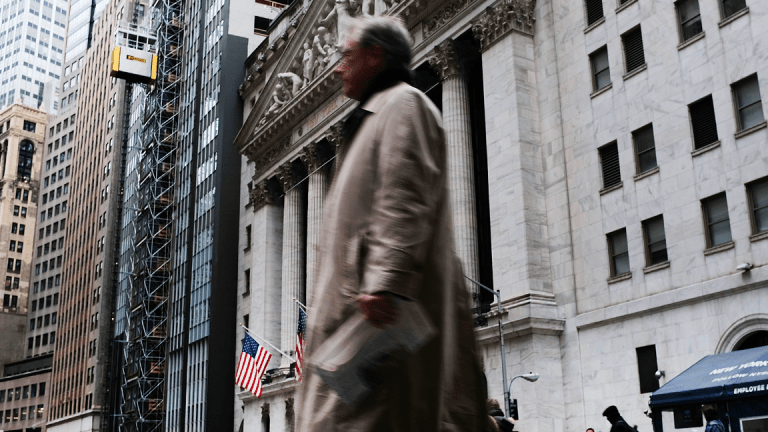 Delta, BlackRock, Facebook and Tesla - 5 Things You Must Know
U.S. stock futures rise; Delta Air Lines and BlackRock report earnings; Facebook's value soars during Mark Zuckerberg's congressional testimony; Tesla reportedly targets November 2019 for start of Model Y production.
Here are five things you must know for Thursday, April 12:  
1. -- Stocks Are Higher 
U.S. stock futures rose on Thursday, April 12, amid escalating tensions in the Middle East and signals from the Federal Reserve about the direction of its monetary policy.
Contracts tied to the Dow Jones Industrial Average rose 108 points, while those linked to the broader S&P 500 were up 12.50 points. Futures for the Nasdaq gained 37.25 points.
Stocks finished lower on Wednesday, April 11, after Donald Trump hinted the U.S. could intervene in the Syria crisis, saying in a tweet: "Russia vows to shoot down any and all missiles fired at Syria. Get ready Russia, because they will be coming, nice and new and 'smart!'"
The Dow Jones Industrial Average lost 218 points, or 0.90%, to finish at 24,189. The S&P 500 fell 0.55% and the Nasdaq declined 0.36%.
Investors were mulling signals from the Fed about when and how often the central bank plans to raise interest rates. Minutes from the Fed's meeting in March, released Wednesday, showed greater confidence that inflation would rise to the Fed's 2% target over the coming year.
If you'd like to receive the free "5 Things You Must Know" newsletter, please register here.
2. -- Delta and BlackRock to Release Earnings 
BlackRock Inc. (BLK) - Get BlackRock Inc. Report  , the world's largest money manager, reported first-quarter earnings of $6.70 a share, higher than Wall Street estimates of $6.39. The stock rose 1.9% in premarket trading on Thursday. 
Delta Air Lines Inc. (DAL) - Get Delta Air Lines Inc. Report reported adjusted earnings in the first quarter of 74 cents a share, 1 penny ahead of estimates. The carrier said it expects second-quarter profit of $1.80 to $2 a share. Analysts were calling for $1.92. Shares fell 0.5% in premarket trading.
Rite Aid Corp. (RAD) - Get Rite Aid Corporation Report  posted a fourth-quarter loss from continuing operations of 2 cents a share, narrower than estimates of a loss of 3 cents. The stock rose 1.2%.
The U.S. economic calendar on Thursday includes weekly Jobless Claims at 8:30 a.m. ET, and Import and Export Prices for March at 8:30 a.m.
3. -- Facebook's Value Rose $17 Billion During Zuckerberg's Testimony
Over the course of Facebook Inc. (FB) - Get Meta Platforms Inc. Report CEO Mark Zuckerberg's 11 hours of congressional testimony on Tuesday and Wednesday, Facebook's market cap increased by about $17.3 billion - or roughly $1.57 billion an hour, according to TheStreet's Francesca Fontana.
Shares of the social media giant, an Action Alert PLUS holding, closed with a gain of 0.8% on Wednesday following Zuckerberg's second day of testimony before U.S. lawmakers. Together with Tuesday's 4.5% spike, Facebook shares have now pared their year-to-date losses to 5.8%. 
Zuckerberg fielded a gauntlet of questions about Cambridge Analytica, data privacy, Russian interference in the U.S. presidential election, censorship political bias and possible regulation of the social media giant. Zuckerberg told lawmakers that regulation was "inevitable" but that it would have to be the "right regulation."
The stock rose 1% in premarket trading on Thursday.
4. -- Tesla Targets November 2019 for Start of Model Y Production
Tesla Inc. (TSLA) - Get Tesla Inc. Report has targeted November 2019 as the start of production for its Model Y sport utility vehicle, with production in China to begin two years later, Reuters reported, citing two sources.
Elon Musk's electric car company is accepting preliminary bids for supplier contracts on the Model Y, a compact crossover companion to the Model 3 sedan. Tesla has given suppliers scant details about the program and hadn't provided a production time frame, but now has indicated the vehicle would begin to be built at its plant in Fremont, Calif., in November 2019, year, the two sources with knowledge of the supply chain told Reuters.
Tesla declined to comment.
Musk has said he expects the Model Y to be Tesla's most in-demand vehicle among its fleet, ultimately helping the company achieve its goal of producing 1 million cars a year in 2020.
TheStreet's Executive Editor Brian Sozzi took Elon Musk to task, again, below. 
5. -- Bed Bath & Beyond Gets Hammered
Retirement is coming. It's never too early -- or too late -- to plan, save and invest for the retirement you want and deserve. Let TheStreet's new premium subscription newsletter, Retirement Daily, give you the insider's edge on how to maximize and protect your most important investment, your retirement savings. Learn more about Retirement Daily and get a free trial subscription.
Shares of Bed Bath & Beyond Inc. (BBBY) - Get Bed Bath & Beyond Inc. Report  were down 16.7% in premarket trading on Thursday after the home furnishings retailer said fiscal-year earnings would be about $2 to $2.50 a share, below analysts' forecasts of $2.77 a share.
Bed Bath & Beyond issued the guidance as part of the release of its fourth-quarter earnings, which came in at an adjusted $1.48 a share, beating estimates of $1.39. Net sales in the quarter were $3.7 billion, up 5.2% from a year earlier, while same-store sales fell 0.6%, narrower than estimates that called for a drop of 2.3%. 
The retailer's stock has lost roughly 68% in value over the last five years. Here's why heads need to roll at the company, according to TheStreet's analysis.