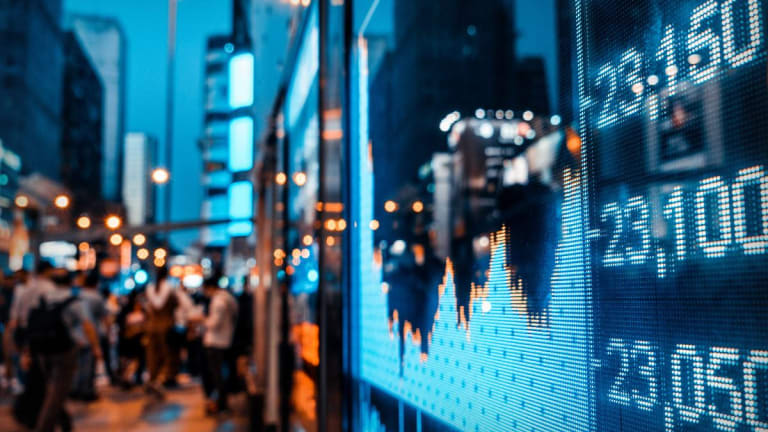 McDonald's, Under Armour, Aramco, Warren Buffett - 5 Things You Must Know Monday
U.S. stock futures rise as sentiment receives a boost from a stronger-than-expected U.S. jobs report and signs of progress in U.S.-China trade talks; McDonald's fires CEO Steve Easterbrook; Under Armour confirms it's being investigated by federal authorities over its accounting practices; Uber reports earnings.
Here are five things you must know for Monday, Nov. 4: 
1. -- Stock Futures Get Lift From Jobs Data, Progress in U.S.-China Trade Talks
U.S. stock futures were rising Monday and global shares moved higher as sentiment received a boost from a stronger-than-expected U.S. jobs report and signs of progress in U.S.-China trade talks.
Contracts tied to the Dow Jones Industrial Average rose 130 points, futures for the S&P 500 gained 15.30 points, and Nasdaq futures were up 51.50 points.
Stocks finished higher Friday and the S&P 500 and Nasdaq closed with record highs following the jobs report, which said the U.S. added 128,000 jobs in October, better than forecasts of 89,500. The data offset a weaker reading on U.S. manufacturing.
The S&P 500 advanced 0.97% on Friday to finish at a record 3,066.91, while the Nasdaq climbed 1.13% to 8,386.40.
Meanwhile, China said that it had reached a consensus with the U.S. on core trade concerns. The White House issued a statement saying the two sides had made progress in several areas and were "in the process of resolving outstanding issues."
U.S. officials said the "phase one" trade agreement could be signed this month.
Additionally, U.S. technology companies may soon get to resume selling their products to Chinese company Huawei, according to statements Commerce Secretary Wilbur Ross made to Bloomberg over the weekend.
The economic calendar in the U.S. Monday includes Factory Orders for September at 10 a.m. ET.
Earnings reports are expected Monday from Under Armour (UAA) , Uber Technologies (UBER) , Occidental Petroleum (OXY) , Sprint (S) , Bausch Health (BHC) , Gannett (GCI) , Tandem Diabetes Care (TNDM) , PG&E (PCG) , Groupon (GRPN) , Hertz Global (HTZ) , Shake Shack (SHAK) , RingCentral (RNG) and Marriott International (MAR) .
2. -- McDonald's Fires CEO Easterbrook Over Relationship With Employee
McDonald's (MCD)  fired CEO Steve Easterbrook following the board's finding that "he violated company policy and demonstrated poor judgment involving a recent consensual relationship with an employee."
Easterbrook also resigned from the board of the burger giant. He has been CEO since March 2015.
He sent an email to employees on Sunday saying that he violated company policy.
"This was a mistake," Easterbrook wrote. "Given the values of the company, I agree with the board that it is time for me to move on."
Chris Kempczinski, president of McDonald's USA, will take over as CEO, McDonald's said. Kempczinski has also been elected to the McDonald's board.
Kempczinski told The Wall Street Journal in an interview that he would maintain Easterbrook's focus on technology as CEO and believes the company's investments will pay off.
"There isn't going to be some radical, strategic shift. The plan is working," Kempczinski said.
McDonald's, which has been struggling with declining restaurant traffic, said the leadership transition was unrelated to the company's operational or financial performance.
The stock fell 2.75% to $188.61 in premarket trading Monday.
3. -- Under Armour Confirms It's Being Investigated for Accounting Practices
Under Armour  (UAA) confirmed it is under a federal probe for its accounting practices, following a story published Sunday evening in The Wall Street Journal, but said its practices were "appropriate."
The Justice Department and the Securities and Exchange Commission are both looking into the sportswear maker, according to the report, which cited people familiar with the matter.
Under Armour said it was "cooperating with the U.S. Securities and Exchange Commission and the U.S. Department of Justice investigations."
"The company began responding in July 2017 to requests for documents and information relating primarily to its accounting practices and related disclosures, and the company firmly believes that its accounting practices and disclosures were appropriate," a company spokesperson told TheStreet in a statement.
Under Armour reports its third quarter-earnings Monday.
Last month, Under Armour said that founder and CEO Kevin Plank would step down and be replaced by Patrik Frisk, president and chief operating officer, on Jan. 1.
Under Armour shares fell 14.47% to $18.08 in premarket trading.
4. -- Saudi Aramco Kicks Off Plans to Go Public
Saudi Aramco, Saudi Arabia's massive, state-controlled oil giant, officially kicked off its long-anticipated initial public offering in what is widely expected to be the world's largest-ever share sale.
In a brief statement Sunday, the oil producing conglomerate overseen by Saudi Crown Prince Mohammed bin Salman said it plans to move forward with an IPO on the kingdom's domestic exchange, the Tadawul, before the end of the year. It will then look proceed with an international IPO.
The oil giant, officially known as Saudi Arabian Oil Co., didn't disclose how much of the company it plans to list or at what price.
The decision to move forward with an IPO is part of bin Salman's plan to wean the Saudi economy off oil revenue, particularly as the country's lock on supply continues to be eroded by increased oil production and capacity in the U.S. and elsewhere, and as the world slowly shifts to alternative energy sources.
Approved in recent days by the crown prince himself, the IPO comes after four years of delays, though it has been widely expected to move forward in recent months. Aramco last month delayed the official announcement of its IPO plans until it had released its third-quarter earnings.
5. -- Berkshire Hathaway Posts Record Third-Quarter Profit
Warren Buffett's Berkshire Hathaway (BRK.A)  reported record third-quarter profit and also boosted its cash holdings as the company continued to post strong returns from its bets on traditional, large, consumer-oriented businesses.
In a Securities and Exchange Commission filing, the Omaha, Nebraska-based company reported third-quarter earnings of $16.5 billion, or $10,119 per Class A share, vs. $18.5 billion, or $11,280 a share, in the year-earlier period, which included unrealized investment gains.
Operating earnings, which exclude some investment results, rose to $7.9 billion from $6.9 billion.
Berkshire Hathaway held $128 billion in cash or short-term Treasurys as of Sept. 30, the company said in the filing, up from $122 billion at the end of the second quarter.
Berkshire bought back about $700 million of its own shares in the third quarter, bringing its total buybacks for the year to $2.8 billion, the company said.
Buffett, 89 years old, is the largest shareholder in Berkshire Hathaway, with nearly a third voting stake in the company.
Buffett and Berkshire are known for their investments in traditional staple businesses like Kraft Heinz (KHC) , Coca-Cola (KO) , General Motors (GM) and Costco (COST) , though the "Oracle of Omaha" has more recently been dabbling in less-traditional types of businesses, in particular e-commerce Amazon (AMZN) , which the company recently boosted its stake in by 11%.