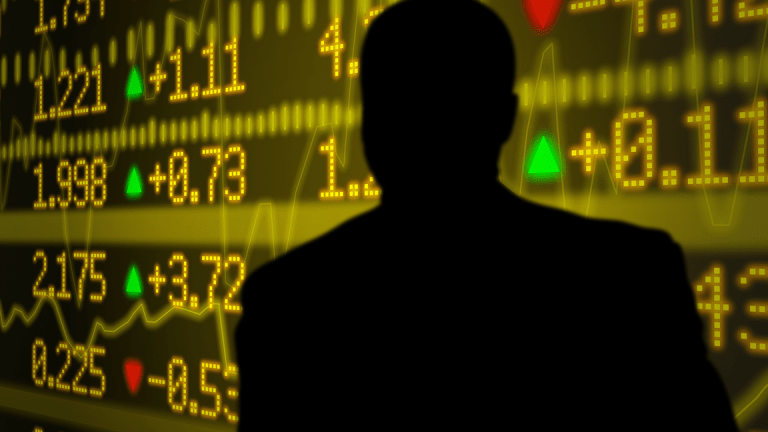 General Motors, U.S.-China Trade Talks, HSBC, 'Joker' - 5 Things You Must Know
U.S. stock futures point lower following a report that says China is prepared to narrow its terms of agreement on trade when negotiations resume this week in Washington; union says talks with General Motors take 'turn for the worse'; 'Joker' grosses an estimated $93.5 million in ticket sales over the weekend.
Here are five things you must know for Monday, Oct. 7: 
1. -- Stock Futures Lower on Report China Not Interested in Broad Trade Pact
U.S. stock futures pointed lower Monday following a report that said China was prepared to narrow its terms of agreement on trade when negotiations resume this week in Washington.
Bloomberg reported that Chinese officials were no longer interested in a broad-based trade pact with the United States, following months of stalled negotiations and tit-for-tat tariffs, and will instead pursue a more specifically defined agreement that removes any demands for China to tackle industrial reforms or the thorny issue of government subsidies for state-supported enterprises.
The re-focusing of talks so close to the start of high-level meetings, which are set to begin Thursday in Washington, bodes poorly for a near-term deal between the world's two largest economies. It also could suggest China sees itself as having a stronger hand owing to Donald Trump's current entanglement in an ongoing, and developing, impeachment process.
The trade uncertainty also blunted the impact of a solid U.S. jobs report, which on Friday showed headline unemployment falling to the lowest levels since December 1969 and 136,000 new jobs added in September, a steady number but one that gave Wall Street continued hopes the Federal Reserve will cut interest rates when it meets at the end of October.
Contracts tied to the Dow Jones Industrial Average fell 101 points, futures for the S&P 500 were down 11.50 points, and Nasdaq futures slumped 30 points.
2. -- Monday's Calendar Highlights
The economic calendar in the U.S. Monday is light but Federal Reserve Chairman Jerome Powell is expected to make an appearance at the premiere of KUED film "Marriner Eccles: Father of the Modern Federal Reserve" in Salt Lake City at 1 p.m. ET. Minneapolis Fed President Neel Kashkari, meanwhile, will participate at an event in Prior Lake, Minnesota, at 10:20 a.m.
Earnings are this week from Delta Air Lines (DAL) - Get Delta Air Lines, Inc. Report , Levi Strauss (LEVI) - Get Levi Strauss & Co. Class A Report , Domino's Pizza (DPZ) - Get Domino's Pizza, Inc. Report and Fastenal (FAST) - Get Fastenal Company Report .
3. -- GM, Union Talks Take 'Turn for the Worse'
Contract talks between General Motors (GM) - Get General Motors Company Report and the United Auto Workers took "a turn for the worse," a top union official said in a letter to members on Sunday, after rejecting the automaker's latest offer.
"We, in this Union, could not be more disappointed with General Motors who refuse to recognize the experience and talent of our Membership who make their world-class products and billions of dollars in profits," wrote Terry Dittes, UAW's vice president.
In his letter, Dittes also said that an "extensive package proposal" brought to GM on Saturday evening that addressed issues such as wages, signing bonuses, job security, profit sharing and other issues wasn't adequately responded to by Sunday morning.
"They reverted back to their last rejected proposal and made little change," said the union official in his letter, adding that GM's response "did nothing to advance a whole host of issues" that are important to GM workers and their families.
"These negotiations have taken a turn for the worse," said Dittes.
GM said in statement sent to TheStreet that it Continues "to negotiate in good faith with very good proposals that benefit employees today and build a stronger future for all of us. We are committed to continuing discussions around the clock to reach a resolution."
A spokesman for the union also told TheStreet on Sunday evening that the UAW and GM were "still meeting but no further updates."
The news follows a report of hopes on Saturday of a breakthrough in talks between the No. 1 U.S. automaker and the union.
4. -- HSBC Reportedly to Slash 10,000 Jobs
HSBC Holdings (HSBC) - Get HSBC Holdings Plc Report , Europe's biggest bank, is set to slash as many as 10,000 jobs from its global workforce, according to the Financial Times.
The reported cuts are much larger than the bank's official plans, unveiled in August, to eliminate about 4,700 people in a move HSBC said would cost between $650 million and $700 million in severance payments and would represent one of the biggest cost-cutting drives in nearly a decade.
The Financial Times said the job cuts would be made mostly in higher-paid positions.
Reports of the job cuts, as well as the bank's broader cost-reduction drive, follows the surprise summer departure of CEO John Flint, who stepped down after less than two years at the helm of the Asia-focused lender after failing to gain traction for a business strategy that relied heavily on growth in the region.
Flint was replaced by interim CEO Noel Quinn in a move the bank said was needed to order to accelerate HSBC's turnaround strategy, which will continue to focus on Asia growth and the underperformance of its U.S. businesses.
5. -- 'Joker' Scores Record Opening for October
"Joker," from AT&T's (T) - Get AT&T Inc. Report Warner Bros., grossed an estimated $93.5 million in ticket sales over the weekend despite concerns over the film's violent themes and ramped up theater security.
The strong opening for "Joker," starring Joaquin Phoenix, resulted in a record October opening. The previous October record-holder was the Spider-Man spinoff "Venom," which opened to $80 million last year, according to the Associated Press.
"Joker" earned $140.5 million internationally from 73 markets for a $234 million global debut.
"This was a much larger result at the box office than we had ever anticipated globally," said Jeff Goldstein, Warner Bros.' president of domestic distribution. "Putting records aside, we're just thrilled that audiences are embracing the movie as strong as they are."