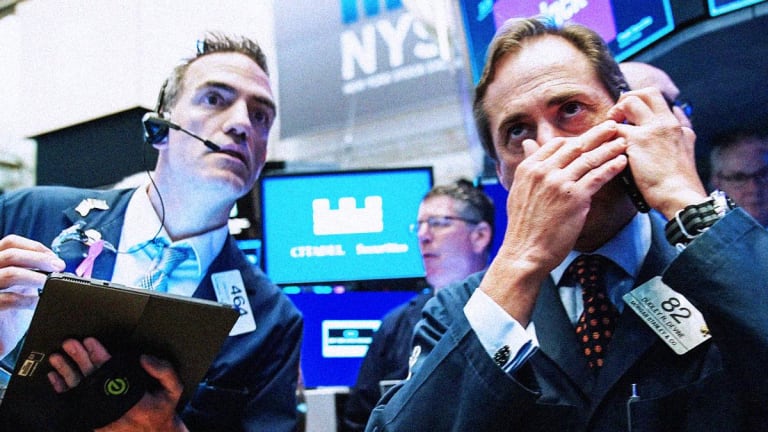 Beyond Meat, Pfizer, Mylan, Amazon, Federal Reserve - 5 Things You Must Know
U.S. stock futures are mixed as Wall Street prepares for a likely quarter-point rate cut from the Federal Reserve; Beyond Meat reports earnings on Monday; Pfizer will combine its off-patent drugs business with Mylan; Exact Sciences reportedly is in negotiations to buy Genomic Health.
Here are five things you must know for Monday, July 29: 
1. -- Stock Futures Mixed as Wall Street Gets Set for a Rate Cut
U.S. stock futures were mixed on Monday as close to a third of the companies in the S&P 500 are scheduled to report earnings this week while Wall Street prepares for a likely quarter-point rate cut from the Federal Reserve.
Contracts tied to the Dow Jones Industrial Average rose 4 points, futures for the S&P 500 declined 0.25 points, and Nasdaq futures fell 1.75 points.
The Federal Reserve will meet Tuesday and Wednesday, with an announcement on interest rates expected at 2 p.m. ET on Wednesday. Economists, Fed-watchers and pretty much everyone else expects the central bank to lower its benchmark interest rate by a quarter-point, which would mark the first cut in 10 years.
Janet Yellen, the former chair of the Federal Reserve, said Sunday she she supports an interest-rate cut of 25 basis points.
"The global economy has weakened. I think partly it's weakened because of conflicts over trade and the uncertainty that's caused for businesses," Yellen said at an Aspen Economic Strategy Group meeting in Aspen, Colorado.
Meanwhile, trade negotiations between the U.S. and China will resume Tuesday in Shanghai. Treasury Secretary Steven Mnuchin and Trade Representative Robert Lighthizer will meet with a delegation led by China's economy czar, Vice Premier Liu He.
"I don't know if they're going to make a deal," Donald Trump said Friday. "Maybe they will, maybe they won't. I don't care."
The economic calendar in the U.S. for Monday is light but data on U.S. payrolls for July - the biggest piece of economic data in any given month - will be issued by the Labor Department of Friday.
Earnings reports are expected Monday from Beyond Meat (BYND) , Baidu (BIDU) , AK Steel (AKS) , Del Taco Restaurants (TACO) , NXP Semiconductors (NXPI) , National Oilwell Varco (NOV) and Transocean (TXRH) .
Reports are expected later in the week from Apple (AAPL) , Advanced Micro Devices (AMD) , General Electric (GE) , Exxon Mobil (XOM) and General Motors (GM) .
2. -- Pfizer to Combine Off-Patent Drugs Business With Mylan
Mylan  (MYL) and Pfizer  (PFE) agreed to combine their off-patent drug businesses in an all-stock deal that will create a new company based in the United States.
Pfizer will include its Upjohn division, which includes key products such as Lipitor and Viagra, in the deal with Pfizer owning 57% of the combined entity. Michael Goettler will serve as CEO of the newly created group, with Robert Coury acting as chairman.
"We are creating a new champion for global health-one poised to bring world-class medicines to patients across a wide range of therapeutic areas. I believe that Mylan's unique profile and strategy has made it the obvious partner of choice in creating this powerful combination," said Pfizer CEO Albert Bourla.
"By bringing Mylan's growth assets to Upjohn's growth markets, we will create a financially strong company with true global reach. I'm also excited about the management team, which combines strong executive talent from both companies, whose commitment to improving global health for patients and to delivering returns to shareholders are great assets for the new company."
Mylan also released its second-quarter earnings on Monday, reporting a loss of 33 cents a share on a GAAP basis, but said on on adjusted basis profit came in at a stronger-than-expected $1.03 a share.
3. -- Amazon in Early Stage Talks to Acquire Uber Eats India
Amazon.com (AMZN) is in early stage talks to acquire Uber Eats India, according to a report from Business Standard.
The talks for a buyout are in the initial stages and a possible strategic alliance also could be explored, sources told Business Standard.
Amazon India is interested in entering the food delivery business so that it can add it to the list of services it provides, especially through its Prime membership, the report said, citing sources.
Amazon is a holding in Jim Cramer's Action Alerts PLUS member club. Want to be alerted before Jim Cramer buys or sells AMZN? Learn more now.
4. -- Exact Sciences in Negotiations to Buy Genomic Health - Report
Exact Sciences  (EXAS)  , the cancer diagnostics company, is in advanced talks to buy healthcare company Genomic Health (GHDX) for about $2.8 billion to bolster its cancer testing capabilities, according to Bloomberg.
A deal could be announced as early as this week but the talks could still be delayed or fall apart altogether, according to Bloomberg, which cited people familiar with the matter.
Shares of Genomic Health surged more than 20% last week, giving it a market value of about $2.55 billion, while Exact Sciences is worth $15.2 billion.
Genomic Health jumped 12.88% to $77.50 in premarket trading on Monday. Exact Sciences was declining 2.17% to $115.35.
5. -- Walt Disney's 'The Lion King' Remains Atop the Box Office
Walt Disney's (DIS) "The Lion King" took in $75 million over the weekend, making it the top movie for the second weekend in a row.
The film's domestic total of $350 million makes it the year's fourth highest-grossing film after just 10 days of release.
Quentin Tarantino's  "Once Upon A Time ... In Hollywood" came in second with $40 million but gave the director his biggest opening ever.
Disney is a holding in Jim Cramer's Action Alerts PLUS member club. Want to be alerted before Jim Cramer buys or sells the stock? Learn more now.
Save 76% with our Summer Break Sale. Subscribe to our premium site Real Money and become a smarter investor! Click here today to sign up!