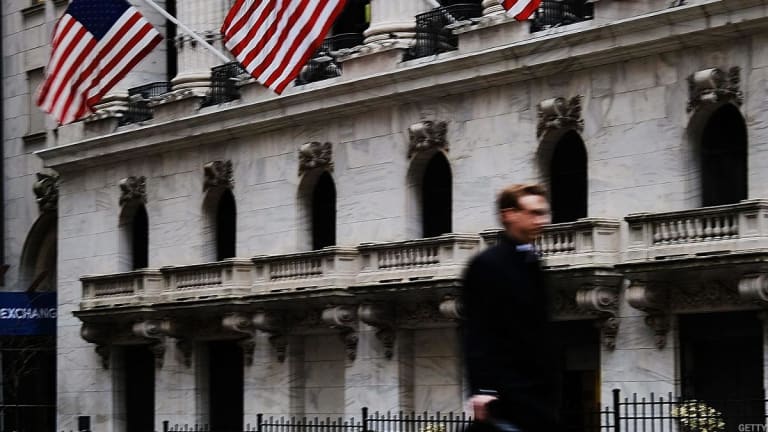 Google, Huawei, T-Mobile, Sprint and 'Game of Thrones' - 5 Things You Must Know
U.S. stock futures decline as optimism over a near-term breakthrough in trade talks with China wanes; Google has suspended business with China's Huawei, Reuters reports; T-Mobile and Sprint could announce concessions this week to help get their merger approved by regulators.
Here are five things you must know for Monday, May 20:
1. -- Stock Futures Fall as Optimism Over U.S.-China Trade Deal Wanes
U.S. stock futures declined on Monday as last week's move by the White House to remove tariffs on steel imports from Canada and Mexico failed to lift optimism for a near-term breakthrough in trade talks with China.
Contracts tied to the Dow Jones Industrial Average fell 11 points, futures for the S&P 500 were down 6 points, and Nasdaq futures declined 46.75 points.
Donald Trump said Sunday in an interview with Fox News that tariffs were "totally killing" China and causing U.S. companies to move production facilities to other countries in the region, such as Vietnam. He added that any agreement with Beijing had to be weighted in America's favor and couldn't be a "50-50" proposition.
The moves to remove tariffs on North American steel imports, which could pave the way for ratification of the new NAFTA agreement reached last year, as well as a decision to delay the imposition of tariffs on European- and Japanese-made cars heading into the United States had some investors looking for a surprise detente with China heading into next month's G-20 Summit in Osaka, Japan.
Oil prices traded higher Monday, with the jump linked to escalating tensions between the U.S. and Iran, and OPEC officials saying they  would recommend the cartel extend its agreement on production cuts into the second half of this year.
The economic calendar in the U.S. Monday is light but several Federal Reserve officials have speaking engagements. Fed Vice Chairman Richard Clarida will participate in a discussion on monetary policy strategy, tools and communication practices with New York Fed President John Williams in New York at 1 p.m. ET.
Earnings reports are expected Monday from International Game Technology (IGT) and Nordson (NDSN) .
2. -- Google Suspends Business With China's Huawei
Alphabet's (GOOGL) Google has suspended business with China's Huawei that requires the transfer of hardware, software and technical services except those publicly available via open source licensing, Reuters reported, citing a source familiar with the matter.
Donald Trump last week placed Huawei on a blacklist that prevents it from dealing with U.S. companies without prior approval.
Holders of current Huawei smartphones with Google apps, however, will continue to be able to use and download app updates provided by Google, a Google spokesperson told Reuters.
"We are complying with the order and reviewing the implications," the Google spokesperson said.
"For users of our services, Google Play and the security protections from Google Play Protect will continue to function on existing Huawei devices," the spokesperson said.
Bloomberg, meanwhile, reported that several U.S. companies, including Broadcom (AVGO) , Qualcomm (QCOM) , Intel (INTC) and Xilinx (XLNX) , will no longer supply Huawei with the components it needs to continuing building 5G networks around the world.
Shares of Alphabet fell 1% in premarket trading to $1,157.09 in premarket trading.
Alphabet is a holding in Jim Cramer's Action Alerts PLUS member club. Want to be alerted before Jim Cramer buys or sells GOOGL? Learn more now.
3. -- T-Mobile and Sprint Plan Concessions to Get Merger Approved - Report
T-Mobile US (TMUS) and Sprint (S) are planning to announce certain concessions including asset sales and rural-service guarantees to help secure regulatory approval for their $26.5 billion merger, Bloomberg reported, citing people with knowledge of the matter.
The concessions included thesale of one of their prepaid brands, a three-year 5G network buildout and a reiterated pledge to not increase prices while the network is being constructed, Bloomberg reported.
The new pledges from the telecommunications giants followed talks with the Federal Communications Commission.
The concessions could be announced as early as this week, according to Bloomberg.
The FCC and Department of Justice both have to sign off on the transaction. The FCC's 180-day review is scheduled to end in June, Bloomberg noted.
4. -- 'Game of Thrones' Finale Could Kill Productivity
You'll be happy there are no spoilers here.
But your boss may not be so thrilled that HBO's "Game of Thrones" could mean the death of productivity on Monday, according to two recent surveys.
The "Game of Thrones" series finale "will create the biggest storm of workplace disruption since the Super Bowl," according to a new survey from the Workforce Institute at Kronos Inc., conducted by the Harris Poll.
Many who participated in the survey said they planned to watch the finale on Sunday, and that it will "potentially have a direct impact on their work obligations."
Worse for bosses: According to the survey results, an estimated 27.2 million U.S. workers will have a severe case of the Mondays thanks to the HBO hit.
Of those hard-core "Thrones" fans, an estimated 10.7 million will call out on Sunday or Monday so they can watch the show or cheer (or sulk over) the ending the day after. (An estimated 5.8 million were expected to call out Sunday evening to watch the show). And an estimated 2.9 million also will call in late on Monday, while around 3.4 million will work from home, though they usually don't.
At the same time, over this final season, employers likely saw a $3.3 billion loss in productivity because of the show, according to an estimate from Challenger, Gray & Christmas.
5. -- Brooks Koepka Wins PGA Championship for Second Straight Year
Brooks Koepka won the PGA Championship on Sunday for the second straight year.
Koepka and Tiger Woods are the only golfers to win the PGA in back-to-back years since the tournament went to stroke play in 1958.
Koepka also won back-to-back U.S. Opens.