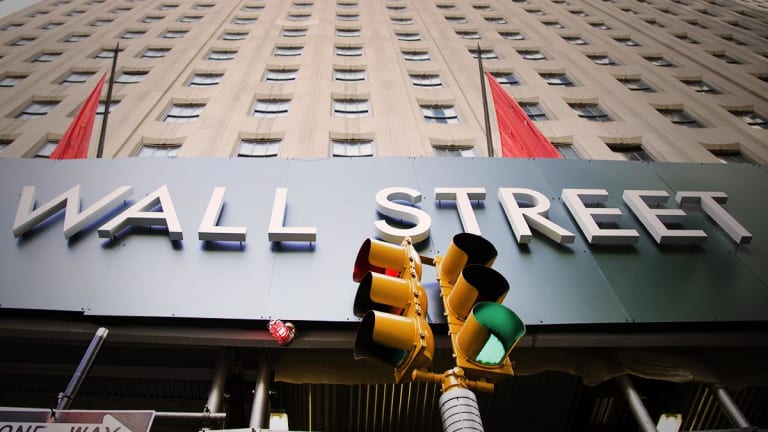 Stock Selloff, Trade War, Teva, Take-Two and Oil Prices - 5 Things You Must Know
U.S. stock futures fall sharply after China vows to stand its ground in the escalating trade war with the United States; oil prices surge after Saudi Arabia alleges two of its tankers were victims of a 'sabotage attack,' Teva and other drugmakers are alleged to have conspired to artificially inflate and manipulate prices for generic drugs.
Here are five things you must know for Monday, May 13:
1. -- Stocks Sell Off Amid Trade Talk Stalemate
U.S. stock futures fell sharply on Monday and global stocks tumbled after China vowed to stand its ground in the escalating trade war with the United States, casting doubt on a near-term agreement between the world's two biggest economies.
China's Vice Premier Liu He, who attended two days of talks in Washington last week that were punctuated by Donald Trump's decision to raise tariffs on $200 billion of China-made imports to 25%, said that while the negotiations hadn't broken down completely, there were "issues of principle" upon which China would not compromise.
"Right now, both sides have reached mutual understanding in many things, but frankly speaking, there are also differences. We think these differences are significant issues of principle," Liu said in an interview. "We absolutely cannot make concessions on such issues of principle."
Trump declared over the weekend on Twitter that the "only problem is that they know I am going to win ... and the deal will become far worse for them if it has to be negotiated in my second term. Would be wise for them to act now, but love collecting BIG TARIFFS!"
The president's top economic adviser, Larry Kudlow, told Fox News on Sunday that the tariffs put in place Friday will remain until a deal is reached, while Trump himself said he had ordered U.S. Trade Representative Robert Lighthizer to start marking preparations to apply levies to a further $300 billion worth of goods made in China and imported into the United States.
Contracts tied to the Dow Jones Industrial Average declined 275 points, futures for the S&P 500 fell 32.90 points, and Nasdaq futures sank 116.50 points. 
The Dow finished last week down 2.1% as the trade war escalated, the S&P 500 declined 2.2% and the Nasdaq fell 3%. 
2. -- Take-Two Leads Monday's Calendar
The economic calendar in the U.S. Monday is bare but later in the week will see the release of data on Import and Export Prices, Retail Sales, Housing Starts and Consumer Sentiment.
Two Federal Reserve officials - Boston Fed President Eric Rosengren and Fed Vice Chairman Richard Clarida - will give opening remarks Monday at the "New England Perspectives on Fed Policymaking" conference, at 9:05 a.m. ET.
Earnings reports are expected Monday from Take-Two Interactive Software (TTWO) , WageWorks (WAGE) and Tencent Music Entertainment Group (TME) .
3. -- Oil Prices Rise After Middle East Tanker Attack
Oil prices surged Monday as military tensions between Iran and the United States continued to escalate and Saudi Arabia alleged that two of its tankers were victims of a "sabotage attack" near a key transportation route in the Middle East.
Saudi Arabia's energy minister said two of his country's tankers were "attacked" near the Strait of Hormuz, a busy shipping route which separates the Persian Gulf states from Iran and the epicenter of military tensions between Washington and Tehran. Saudi Arabia didn't say who was responsible for the incident, while the United Arab Emirates added that four of its vessels also were sabotaged.
Iran's foreign ministry, which threatened to close the strait to oil traffic earlier this year, described it as ""worrisome and dreadful" and called for a full investigation.
Brent crude contracts for July delivery, the global benchmark for oil prices, rose 1.73% to $71.84 a barrel, while West Texas Intermediate crude contracts for June delivery were up 1.52% to $62.60 a barrel.
4. -- Teva, Other Drugmakers Alleged to Have Conspired to Inflate Prices
Teva Pharmaceuticals (TEVA) was falling sharply in premarket trading after attorneys general from more than 40 states alleged the nation's largest generic drugmakers conspired to artificially inflate and manipulate prices for more than 100 different generic drugs.
The lawsuit was filed Friday in federal court in Connecticut.
Connecticut Attorney General William Tong said investigators obtained evidence implicating 20 companies, according to the Associated Press.
"We have hard evidence that shows the generic drug industry perpetrated a multi-billion dollar fraud on the American people," Tong said. "We have emails, text messages, telephone records and former company insiders that we believe will prove a multi-year conspiracy to fix prices and divide market share for huge numbers of generic drugs."
A spokesman for Teva Pharmaceuticals USA said the company hasn't engaged in any conduct that would lead to civil or criminal liability.
"The allegations in this new complaint, and in the litigation more generally, are just that - allegations," Kelley Dougherty, a Teva vice president, said in a statement Saturday. "The company delivers high-quality medicines to patients around the world and is committed to complying with all applicable laws and regulations in doing so."
American depositary receipts of Teva declined 8.1% to $13.20 in premarket trading Monday.
Other companies named in the lawsuit include Sandoz, a unit of Novartis (NVS) , Mylan (MYL) and Pfizer (PFE) .
5. -- 'Avengers: Endgame' Earns $63.1 Million in Third Weekend
Walt Disney (DIS) said "Avengers: Endgame," the Marvel blockbuster earned an estimated $63.1 million from its third weekend in North American theaters, bringing its domestic box office to $723.5 million, surpassing the totals for "Black Panther" and "Avengers: Infinity War."
The film added $102.3 million internationally, bringing its global take to nearly $2.5 billion, where it remains the second biggest worldwide release of all time behind "Avatar's" $2.8 billion.
Walt Disney is a holding in Jim Cramer's Action Alerts PLUS member club. Want to be alerted before Jim Cramer buys or sells DIS? Learn more now.