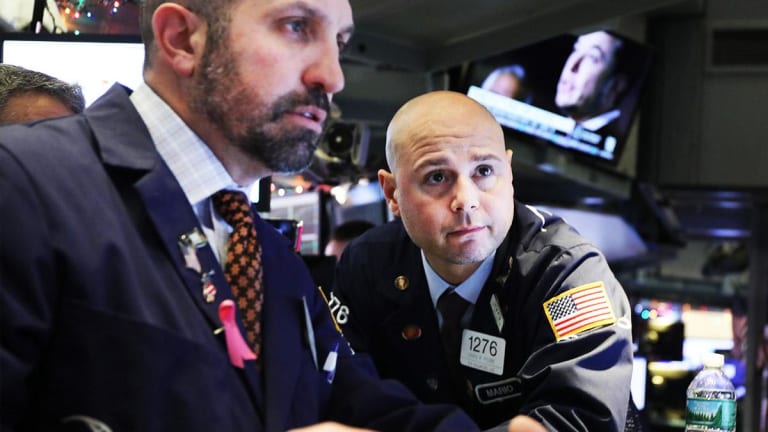 Trump's Tariff Threat, Warren Buffett, Anadarko, Boeing - 5 Things You Must Know
U.S. stock futures fall sharply after Donald Trump, in a surprise move, says tariffs on $200 billion worth of China-made goods would rise to 25% from 10% by Friday, just days after saying negotiations were 'going very well' between the world's two biggest economies; Occidental Petroleum revises its $57 billion offer to buy Anadarko Petroleum, adding more cash to its offer as it tries to push aside Chevron in a bidding war.
Here are five things you must know for Monday, May 6:
1. -- Stocks Plunge on Trump's Tariff Threat
U.S. stock futures fell sharply on Monday and global stocks plunged following a tweet from Donald Trump that could upend trade talks with China just days after saying negotiations between the world's two biggest economies were "going very well."
Contracts tied to the Dow Jones Industrial Average dropped 500 points, futures for the S&P 500 tumbled 53.10 points, and Nasdaq futures were down 176.25 points.
The president said in a tweet Sunday that tariffs on $200 billion worth of China-made goods would rise to 25% from 10% by Friday, and added that a similar levy on another $325 billion could be placed on China imports "shortly."
He said the trade talks between the U.S. and China, which were renewed with much fanfare in early December, had been moving "too slowly."
The Shanghai Composite tumbled on the news, closing down 5.58%, the index's biggest single-day slump in three years.
Trump's tweets surprised many Chinese officials, The Wall Street Journal reported, citing a person briefed on the matter, and China is considering canceling trade talks that were to resume in Washington starting Wednesday. There has been widespread expectations in recent days that a trade deal could be reached by Friday, the Journal noted.
The economic calendar in the U.S. Monday is bare.
Earnings reports are expected Monday from American International Group (AIG) , Bausch Health (BHC) , KLA-Tencor (KLAC) , Sysco (SYY) , Del Taco Restaurants (TACO) , Tyson Foods (TSN) , WageWorks (WAGE) and Hertz Global Holdings (HTZ) .
2. -- Occidental Adds More Cash in Bid for Anadarko
Occidental Petroleum (OXY) revised its $57 billion offer to buy Anadarko Petroleum (APC) to include $59 a share in cash, up from a previous $38 a share as it tries to push aside Chevron (CVX) in a bidding war.
Anadarko also said it reached an agreement to sell its Algeria, Ghana, Mozambique and South Africa assets to Total (TOT) for $8.8 billion.
Occidental amended the terms of its $76-a-share bid for Anadarko to $59 in cash and 0.2934 shares of common stock vs. a previous offer of $38 cash and 0.6094 shares of OXY stock.
The move comes even though Chevron entered into a definitive agreement to buy Anadarko for about $65 in cash and stock in April. Market moves since the bid was first announced have lowered the value of Chevron's offer a bit.
Occidental said Sunday that its revised rival bid would represent "a premium of about 23.3% to the $61.62 per share value of Chevron's pending offer as of market close on May 3."
"Our revised proposal and merger agreement represents our comprehensive response to all points that your counsel has raised with ours over the course of the past week," Occidental CEO Vicki Hollub said in a letter to Anadarko's board.
Anadarko is a holding in Jim Cramer'sAction Alerts PLUS Charitable Trust Portfolio. Want to be alerted before Cramer buys or sells APC? Learn more now.
3. -- Warren Buffett: Wells Fargo Made Mistake, Not Crime
Berkshire Hathaway (BRK.A) (BRK.B)  Chairman Warren Buffett and Charles T. Munger, Berkshire's vice chairman, said they don't think executives at Wells Fargo (WFC)  should face jail time for a series of blunders made over the past several years.
"It looks to me like Wells made some big mistakes," said Buffett, by giving incentives "to the wrong behavior."
"The problem is ... when you find a problem, you have to do something about it ... and I think that's where they made a mistake at Wells Fargo," Buffett said at the investment company's annual shareholders meeting on Saturday.
Buffett appeared to believe that people at the top - including former chief executive Tim Sloan -- were not at criminal fault for the scandals that date back to around 2016.
"I don't think people ought to go to jail for honest errors in judgment," said Munger, who defended Sloan as "an accidental casualty" and expressed his preference to have had him stay on the job.
Wells Fargo has been fined and penalized by government regulators primarily for a scandal in which accounts were created without consumers' consent and accusations the bank improperly repossessed service members' cars and trucks, charged auto-loan customers for insurance without telling them, and improperly made borrowers pay for "mortgage-rate lock" extensions.
Buffett also cautioned on Kraft Heinz (KHC) . Berkshire's first-quarter earnings report - which included nearly $21.7 billion in net earnings and nearly $5.6 billion in operating income - doesn't reflect the performance of Kraft Heinz, which hasn't yet filed its quarterly results with the Securities and Exchange Commission and has not made its financial statements for the first quarter of 2019 available to Berkshire, its largest shareholder.
"That's an unusual item," said Buffett during the shareholders meeting.
4. -- Boeing Didn't Tell Airlines That Safety Alert on 737 MAX Wasn't Working
Boeing (BA)  didn't tell pilots and airlines that a safety alert on its 737 MAX wasn't working until after one of the planes crashed in Indonesia last year.
The safety alert, called an "angle of attack" indicator, tells pilots if a sensor is transmitting bad data. It was designed to warn pilots about the kind of sensor malfunction that occurred in the crash in Indonesia and another in Ethiopia in March. It had been operational in previous versions of the 737, but was switched off in the 737 MAX.
Boeing said Sunday that the planes could be flown safely without the alert, but said it will be included in the 737 MAX before the planes are flown again, the Associated Press reported.
The Wall Street Journal reported that Boeing didn't publicly disclose the software error behind the problem for another six weeks after the crash in Ethiopia. The length of time between when Boeing realized the problem and when it shared that information previously hadn't been reported. 
5. -- 'Avengers: Endgame' Crosses $2 Billion in Box Office Sales
"Avengers: Endgame" - the film from Walt Disney's (DIS)  Marvel Studios - crossed $2 billion in ticket sales in its second weekend in theaters, moving ahead of "Titanic" as the second highest-grossing film ever worldwide.