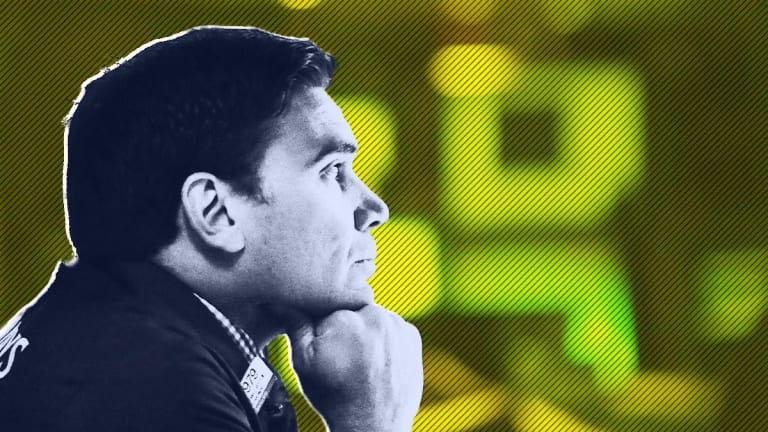 General Motors, Boeing, Worldpay, Caesars and the Fed - 5 Things You Must Know
U.S. stock futures are mixed on Monday; the Federal Reserve is unlikely to lift interest rates when it meets this week; a meeting between Donald Trump and Chinese President Xi Jinping may be pushed off until June, a report says.
Here are five things you must know for Monday, March 18: 
1. -- Stocks Mixed Ahead of Fed Meeting, Uncertainty Over U.S.-China Trade Talks
U.S. stock futures were mixed on Monday as investors weighed signals of further interest rate easing from the world's biggest central banks and some uncertainty surrounding U.S.-China trade talks.
The Federal Reserve will meet Tuesday and Wednesday, with investors anticipating another dovish statement from Fed Chairman Jerome Powell that could include new information on the bank's $3.8 trillion balance sheet, the unwinding of which has acted as a de facto interest rate increase in the world's biggest economy.
The Bank of England also will gather this week in London, with Gov. Mark Carney expected to reiterate the level of uncertainty surrounding the world's fifth- largest economy as it moves toward the final weeks of its 40-year relationship with the European Union.
Meanwhile, a meeting between Donald Trump and Chinese President Xi Jinping to end the trade war may be pushed back to June, as they will not be able to finalize an agreement by April, sources told the South China Morning Post.
One source briefed on the arrangement told the South China Morning Post that a meeting in April was less likely, while another said the summit could be held in June.
Officials from both nations have been stepping up negotiations on the text of the trade agreement, but a source said there was a divergence within the Trump administration regarding the deal with China.
Contracts tied to the Dow Jones Industrial Average fell 37 points, futures for the S&P 500 rose 3.20 points, and Nasdaq futures gained 9.25 points. 
The S&P 500 and the Nasdaq closed at five-month highs Friday. For the week, the S&P 500 gained 2.9%, the Nasdaq rose 3.8%, and the Dow rose 1.6%.
The economic calendar in the U.S. Monday includes the National Association of Home Builders Index for March at 10 a.m. ET.
Earnings reports are expected Monday from Tilray
(TLRY) - Get Tilray Brands Inc. Report
, Lumber Liquidators
(LL) - Get LL Flooring Holdings Inc. Report
, Steelcase
(SCS) - Get Steelcase Inc. Report
and Overstock.com
(OSTK) - Get Overstock.com Inc. Report
.
2. -- Boeing Finalizing Software Update for 737 MAX Jet
Boeing (BA) - Get The Boeing Company Report said Sunday it was wrapping up development of a software update and revised pilot training following the crash a week ago of its 737 MAX 8 jet in Ethiopia.
The fixes will address issues in how software systems respond "to erroneous sensor inputs," the aerospace giant said in a statement.
The 737 MAX 8 crash last weekend killed 157 passengers and crew and appears consistent with an accident in October of a Lion Air flight that crashed in Indonesia. Preliminary information from the flight data recorder of the Ethiopian Airlines plane that crashed shows "clear similarities" between the two disasters, Ethiopia's transport minister said.
The crash of Ethiopian Flight 302 on March 10 and the crash of a Lion Air plane in Indonesia in October - both of them Boeing 737 MAX 8 jetliners - moved the United States and other countries to ground the aircraft.
The Wall Street Journal reported that federal prosecutors and Department of Transportation officials are scrutinizing the development of Boeing's 737 MAX jetliners, unusual inquiries that come amid probes of regulators' safety approvals of the new plane.
A grand jury in Washington issued a broad subpoena dated March 11 to at least one person involved in the 737 MAX's development, seeking related documents, including correspondence, emails and other messages, a person familiar with the matter told the Journal. 
Boeing shares fell 2.3% to $370 in premarket trading. 
3. -- Eldorado and Caesars Reportedly Are Discussing a Merger
Eldorado Resorts (ERI) - Get Eldorado Resorts Inc Report  and Caesars Entertainment (CZR) - Get Caesars Entertainment Inc. Report  are in the early stages of exploring a merger, Reuters reported, citing people familiar with the matter.
Caesars is providing some limited confidential financial information to Eldorado, which is carrying out due diligence on the potential combination of the two companies, the sources told Reuters.
Eldorado has yet to make a binding offer for Caesars, and there is no certainty any bid will materialize or that a deal will be successfully negotiated, the sources added.
Earlier this month, Caesars struck a deal with billionaire investor Carl Icahn that will allow the activist investor and significant shareholder to add three directors to the board. Icahn also will have input on the selection of the company's next CEO.
Caesars rose 6.4% in premarket trading Monday to $8.60.
4. -- Fidelity National to Buy Worldpay in $43 Billion Deal
Fidelity National Information Services (FIS) - Get Fidelity National Information Services Inc. Report  agreed to acquire Worldpay  (WP) - Get Worldpay, Inc. Class A Report  in a stock-and-cash deal with an enterprise value of $34 billion.
Worldpay shares surged in premarket trading on news of the deal, which will see investors receive 0.9287 Fidelity National stock, as well as $11 in cash, for a total valuation of $112.12 each. The price represents a 13.62% premium to Worldpay's closing levels on Friday, and along with outstanding debt puts the enterprise value of the deal at around $43 billion. 
Worldpay, the U.K.-based payment processor, was rising 7.7% to $106.31 in premarket trading on Monday.
"Scale matters in our rapidly changing industry," said Fidelity National CEO Gary Norcross. "Upon closing later this year, our two powerhouse organizations will combine forces to offer a customer-driven combination of scale, global presence and the industry's broadest range of global financial solutions. As a combined organization, we will bring the most modern solutions targeted at the highest growth markets."
The deal marks one of the biggest transactions in the fast-consolidating payments sector that is under pressure to cut costs, develop new products and add customers, according to The Wall Street Journal.
The combined company will have annual revenue of about $12.3 billion. It expects $500 million of revenue synergies, $400 million of run-rate expense synergies and nearly $4.5 billion of free cash flow in three years.
5. -- GM Tells Trump the Automaker and Union Will Decide Future of Lordstown Plant
Donald Trump took aim at General Motors (GM) - Get General Motors Company Report , urging the automaker to reverse course on its closure of a plant in Lordstown, Ohio. But GM responded by suggesting the plant's future "will be resolved" between GM and the United Auto Workers union, which recently sued the automaker.
"Just spoke to Mary Barra, CEO of General Motors about the Lordstown Ohio plant. I am not happy that it is closed when everything else in our Country is BOOMING. I asked her to sell it or do something quickly. She blamed the UAW Union - I don't care, I just want it open!" wrote Trump over Twitter.
The plant closed earlier this month. According to a report in the Cincinnati Enquirer, GM rolled its last Chevrolet Cruz from production on March 6. The plant had employed more than 1,600.
"To be clear," GM responded in a statement provided by spokesman Pat Morrissey, "under the terms of the UAW-GM National Agreement, the ultimate future of the unallocated plants will be resolved between GM and the UAW. We remain open to talking with all affected stakeholders, but our main focus remains on our employees and offering them jobs in our plants where we have growth opportunities."
How Much Money Will I Need to Retire?
Want to learn about retirement planning from some of the nation's top experts? Join TheStreet's Robert "Mr. Retirement" Powell live in New York on April 6 for our Retirement Strategies Symposium. For a limited time, tickets are available for $99 for this full-day event. Check out the agenda, learn about the speakers and sign up here.