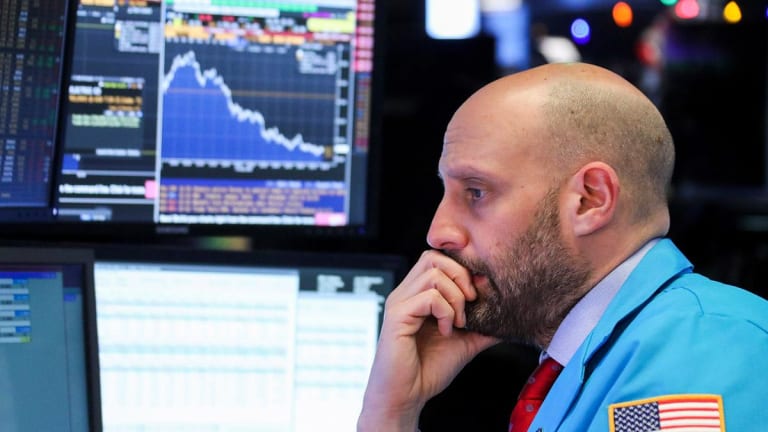 Boeing, Fed's Jerome Powell, Nvidia and Tesla - 5 Things You Must Know
U.S. stock futures trade mixed on Monday, but futures for the Dow Jones Industrial Average slump as shares of Boeing fall sharply following the second crash in six months of the aerospace giant's 737 MAX 8 jet; China's aviation regulator grounds all Boeing BA 737 MAX 8 jets operated by its airlines; Fed's Jerome Powell repeats refrain central bank will be 'patient' on interest rates; Tesla reverses course on its sales plan.
Here are five things you must know for Monday, March 11: 
1. -- Dow Futures Slump After Boeing Falls Following Airplane Crash
U.S. stock futures traded mixed on Monday, March 11, with futures for the Dow Jones Industrial Average slumping significantly as shares of Boeing (BA) - Get The Boeing Company Report fell sharply following the second crash in six months of the aerospace giant's 737 MAX 8 jet.
Contracts tied to the Dow Jones Industrial Average declined 153 points, futures for the S&P 500 rose 5.75 points, and Nasdaq futures were up 27 points.
Boeing shares tumbled 9.6% to $382 in premarket trading on Monday after the crash of its jet in Ethiopia killed all 157 on board and moved China to ground its entire fleet of 737 MAX 8 aircraft.
Wall Street is coming off its worst week of 2019, with the three main stock indexes declining for a fifth straight session on Friday after a disappointing U.S. jobs report pointed to further weakness in the global economy. For the week, both the Dow Jones Industrial Average and S&P 500 fell 2.2% and the Nasdaq tumbled 2.5%.
China's top central banker signaled that Beijing and Washington were getting close to reaching a currency deal as part of their continuing negotiations to settle the trade dispute, The Wall Street Journal reported.
"Both sides have reached consensus on many crucial and important issues," People's Bank of China Gov. Yi Gang said at a news conference Sunday.
As part of the agreement, Yi said, China won't engage in competitive devaluation to give Chinese exporters a leg up in foreign markets - a commitment Chinese officials have also made in multilateral agreements such as those among the G-20 industrial nations. "This is what we promised," he emphasized. "Absolutely we won't do this."
The economic calendar in the U.S. Monday includes Retail Sales for January at 8:30 a.m. ET, and Business Inventories for December at 10 a.m.
Meanwhile, Donald Trump is expected to propose his 2020 federal budget on Monday. Trump's proposal is reported to include a request for $8.6 billion to fund construction of his promised wall on the U.S.-Mexico border.
Earnings reports are expected Monday from Kronos Worldwide (KRO) - Get Kronos Worldwide Inc Report , Ascena Retail Group (ASNA) - Get Ascena Retail Group, Inc. Report , Stitch Fix (SFIX) - Get Stitch Fix Inc. Report and Coupa Software (COUP) - Get Coupa Software Incorporated Report .
2. -- China Grounds Boeing's 737 MAX 8 Jet After Ethiopian Airlines Crash
China's aviation regulator grounded all Boeing (BA) - Get The Boeing Company Report 737 MAX 8 jets operated by its airlines, about 100 aircraft, following a crash of one of the planes that killed all 157 on board.
The Ethiopian Airlines flight - en route to Nairobi, Kenya from Addis Ababa, Ethiopia -- took off Sunday morning and lost contact with air traffic controllers minutes later.
It was the second 737 MAX crash since last year. In October, a Lion Air flight crashed in Indonesia.
Ethiopian Airlines said it had grounded its fleet of Boeing 737 MAX 8 jets, while Cayman Airways also said it was doing the same "until more information is received."
"Boeing is deeply saddened to learn of the passing of the passengers and crew on Ethiopian Airlines Flight 302, a 737 MAX 8 airplane," the aerospace giant said in a statement. "We extend our heartfelt sympathies to the families and loved ones of the passengers and crew on board and stand ready to support the Ethiopian Airlines team."
The company said a technical team was headed to the crash site to help the Ethiopia Accident Investigation Bureau and U.S. National Transportation Safety Board.
3. -- Fed Chair Powell 'Patient' on Rates, Wary of Low U.S. Mobility
While the U.S. economy remains "in a good place" it's not nearly as mobile as it was in past generations, said Federal Reserve Chairman Jerome Powell in a sweeping interview Sunday evening on CBS News' "60 Minutes." 
"We think of ourselves and we've always been a country where anybody can make it to the top," said Powell. "But the data show now that actually, the chances of making it from the bottom to the top in the United States are lower than they are in many other comparable countries. This is not our national self-image."
At another point during the discussion, Powell also said that incomes for the "median" family have "gone up at a much slower rate than they had in generations over the last century, let's say. And that's not a good thing."
It was these sorts of side chats during his interview with correspondent Scott Pelley that offered a deeper understanding of Powell's views of the nation and economy but left no new clues about the future of interest rates or other potential policy maneuvers.
As for rates, Powell repeated his refrain that "we would be patient as we watch to see how global economic conditions evolve and how our own economy evolves."
When asked what patient means, the Fed chair responded: "Patient means that we don't feel any hurry to change our interest rate policy. What's happened in the last 90 or so days is that we've seen increasing evidence of the global economy slowing down, although our own economy has continued to perform well."
4. -- Nvidia to Buy Mellanox for $6.9 Billion
Nvidia (NVDA) - Get NVIDIA Corporation Report  reached a deal to acquire peer Mellanox Technologies (MLNX) - Get Mellanox Technologies, Ltd. Report for $6.9 billion, or $125 a share in cash.
The deal would be Nvidia's biggest-ever acquisition and bolster its business of making chips for data centers.
Nvidia has outbid Intel (INTC) - Get Intel Corporation Report in the auction for Mellanox. Financial news website Calcalist was first to report that Nvidia had outbid Intel for Mellanox.
In January, Calcalist reported that Intel extended a $6 billion offer for Mellanox.
Mellanox shares rose 8.7% to $118.93 in premarket trading on Monday.
5. -- Tesla to Raise Prices, Will Leave More Stores Open
Tesla (TSLA) - Get Tesla Inc. Report said Sunday in a blog post it would be raising prices prices by 3% and keeping more stores open than it had announced in late February.
"Last month, we announced that we would be winding down many of our stores and moving to online-only sales in order to pass the savings along to our customers," Tesla said in the post on its website.
Because it will be "keeping significantly more stores open," Tesla said it would need to raise vehicle prices by about 3% on average worldwide. "In other words, we will only close about half as many stores, but the cost savings are therefore only about half," Tesla said.
Tesla said current prices are valid until March 18. The $35,000 Model 3 won't see a price increase. "The price increases will only apply to the more expensive variants of Model 3, as well as Model S and X," Tesla said.
The company had announced on Feb. 28, that it would start shutting down its network of stores and showrooms to focus solely on online sales, a move that, along with the increased delivery costs linked to new Model 3 sales, would carve into first-quarter profit.
Tesla rose 1% to $287 in premarket trading.
**
A Special Invitation: Do you want to learn more about planning for and living retirement from the nation's top experts, including Ed Slott and Robert Powell, the editor of TheStreet's Retirement Daily? Want to learn how to create tax-efficient income in retirement and how to manage and mitigate all the risks you'll face in retirement? Then sign up to attend TheStreet's Retirement Strategies Symposium on April 6 in New York City. For a limited time, you can attend this extraordinary symposium for $149 - a cost savings of $50 off the general admission price of $199.
You can see the full day's agenda, learn about the guest speakers and sign up HERE for this special event.