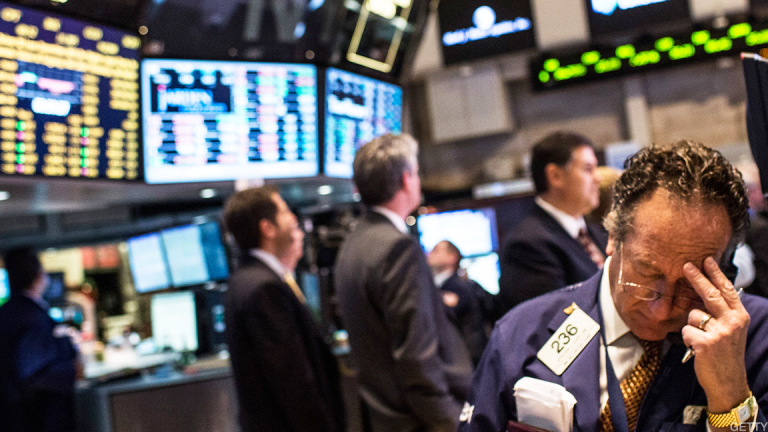 Trade Talks, Shutdown, NuVasive, Activision, Amazon - 5 Things You Must Know
U.S. stock futures are higher as U.S.-China trade talks resume; Republican and Democratic lawmakers are working to broker an agreement that will prevent another government shutdown on Friday; Smith & Nephew reportedly has held talks to buy NuVasive; Activision could announce job cuts when it reports earnings Tuesday.
Here are five things you must know for Monday, Feb. 11:
1. -- Stocks Rise Cautiously as Trade Talks Resume
U.S. stock futures rose on Monday, Feb. 11, and global stocks traded cautiously higher as investors eyed progress in this week's renewed U.S.-China trade talks.
U.S. Treasury Secretary Steven Mnuchin and Trade Representative Robert Lighthizer arrived in Beijing for trade talks Sunday that will focus on structural reforms and intellectual property protections in the world's second-largest economy. Negotiators are racing to meet the March 2 deadline when tariffs on $200 billion worth of China-made goods could increase to 25% from 10%.
With that in mind, investors also will watch for any mention of risks from China tariffs from a host of retail-focused earnings this week, the final major round of reporting for the December quarter. Walmart Inc.  (WMT) , Home Depot Inc.  (HD) , Lowe's Cos.  (L) , Coca-Cola Co.  (KO) , PepsiCo Inc.  (PEP) and Macy's Inc.  (M)  will be issuing earnings reports this week.
U.S. investors also will focus on talks between Republican and Democratic lawmakers this week as the two sides attempt to broker an agreement that will prevent another government shutdown on Friday. 
Mick Mulvaney, acting White House chief of staff, said on Fox News Sunday that "the government shutdown is technically still on the table -- we do not want it to come to that, but that option is still open to the president and will remain so."
The statement came after host Chris Wallace told Mulvaney that Democratic lawmakers reportedly were setting aside so far only about a third of the $5.7 billion amount Donald Trump has demanded for a wall along the border with Mexico.
Contracts tied to the Dow Jones Industrial Average rose 65 points, futures for the S&P 500 gained 6.75 points, and Nasdaq futures were up 23.50 points.
The economic calendar in the U.S. Monday is bare.
2. -- Restaurant Brands Is Highlight of Monday's Earnings 
Restaurant Brands International Inc. (QSR)  , which owns Burger King, Popeyes and Tim Hortons, reported adjusted earnings in the fourth quarter of 68 cents a share, 1 cent higher than analysts' estimates.
Earnings reports are also expected Monday from Diamond Offshore Drilling Inc. (DO) , Beasley Broadcast Group Inc. (BBGI) , Loews Corp. (L) , SINA Corp. (SINA) and Insperity Inc. (NSP) .
3. -- NuVasive Soars on Report Smith & Nephew Has Held Buyout Talks
NuVasive Inc. (NUVA) jumped 17.7% to $58.30 in premarket trading Monday following a report that said Smith & Nephew PLC (SNNUF) had held talks to buy the maker of medical instruments used in spinal surgery in a deal that would be worth more than $3 billion.
The deal would mark the largest acquisition by Smith & Nephew, the British medical devices company, the Financial Times reported, citing people with direct knowledge of the talks said. The exact terms of any discussions couldn't  be learned and talks between the two sides still could fall apart, thee people said. 
NuVasive, based in California, has a market value of about $2.5 billion, excluding debt of about $500 million. The stock has declined 32% an October high, when it named J. Christopher Barry as CEO, the Financial Times noted.
NuVasive told the Financial Times the company "does not comment on market speculation or rumors."
4. -- Activision Reportedly to Cut Jobs as Sales Slump
Activision Blizzard Inc.  (ATVI) plans to announce job cuts Tuesday in the face of slowing sales, Bloomberg reported, citing people familiar with the matter.
The layoffs, which could number in the hundreds, are part of a restructuring aimed at centralizing functions and boosting profit, one of the people told Bloomberg. Activision employed 9,800 people at the end of 2017.
The game maker has acknowledged that some of its top titles, such as "Overwatch" and "Hearthstone," have seen a decline in users.
Activision is scheduled to report earnings on Tuesday. Analysts surveyed by FactSet expect the company to report earnings of $1.29 a share on sales of $3.04 billion.
TheStreet's Jim Cramer wonders whether Activision "has something up its sleeve" when it reports.
Rivals Electronic Arts Inc. (EA) and Take-Two Interactive Inc. (TTWO) took sharp hits to their stock prices last week after the companies posted disappointing numbers.
5. -- Amazon Reconsiders New York as Site of HQ2
Amazon.com Inc. (AMZN) is reconsidering its decision to locate its second headquarters in Long Island City, Queens, according to report in the Washington Post, following increased opposition from politicians in New York.
Amazon chose New York as the location for one of its two satellite headquarters after striking a deal with New York Gov. Andrew Cuomo that would provide the company with more than $1.5 billion in incentives, including $1.2 billion in "performance incentives" for creating jobs as well as a cash grant of $325 million. The other HQ2 location will be in Alexandria, Virginia.
The deal was met with almost immediate opposition due to what lawmakers described as the secretive nature of the negotiations that left out input from local leadership groups.
"We're focused on engaging with our new neighbors - small business owners, educators, and community leaders. Whether it's building a pipeline of local jobs through workforce training or funding computer science classes for thousands of New York City students, we are working hard to demonstrate what kind of neighbor we will be," an Amazon spokesperson told TheStreet.
Jeff Bezos, Amazon's founder and CEO, also owns the Washington Post.
The New York State Senate last week nominated Sen. Michael Gianaris to a seat on the New York State Public Authorities Control Board. The HQ2 deal needs approval from that board and Gianaris, who represents Queens, has been a vocal opponent of the incentive package.